Hey you guys! Today's post is pretty special — it's a surprise birthday party hop for Monica Hunter! Monica is the owner of Hambo Stamps and tomorrow is her birthday. A bunch of us got together and decided to throw a little surprise party for her, and we'd like you to join us! Woo!
Every birthday has to have presents, and this one's for YOU! One random hopper that completes the hop will receive a Hambo Birthday surprise! The winner will be announced at the Hambo Hoedown on Wednesday, August 17.
Now then, here's the card I made using one of Hambo's fun digital images: The Party Elephant!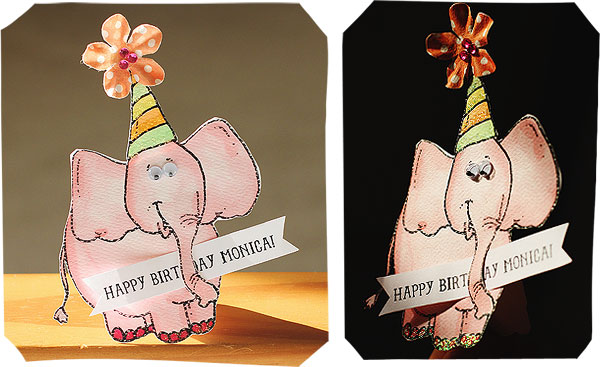 (free photo overlays from Katrina at Pugly Pixel over at Studio Sweet Studio)
I decided to turn this cute little ellie into a shaped card — just made her about 5 inches tall, printed her on watercolor paper, and painted away!  One of the things I love about digi images is how you can resize them however you like! To make the card back, I traced her body on white cardstock, cut it out, then adhered it to the back and scored a fold about 2″ from the top. I printed out the message, then cut slits on either side of her trunk so that she could hold it.
And then! Then I just had to give her some glittered toenails! Because a party elephant isn't fully dressed without 'em, right? Plus they go with her glittered party hat. :)
Now, I'm the last stop on the hop, so from here you can head on over to Hambo's blog,
Talk to the Ham
, and leave Monica some love! (That name just cracks me!) Here's the full hop in case you'd like to start from the beginning or you got here out of order:
Monica, hope your birthday is as happy as an elephant with hot pink glittery toenailes! Big hugs!
And to the rest of you: happy hopping!