In this post I'm sharing the tiny but mighty Pocket Palette from Expeditionary Art — I purchased it in January to take on a month-long road trip from here in Austin, Texas out to Joshua Tree and back with the thinking that it would be great to take on long hikes. I wanted to keep my pack light yet still be able to sketch — and I'm happy to report that this palette never let me down. Maria shipped it super fast, too!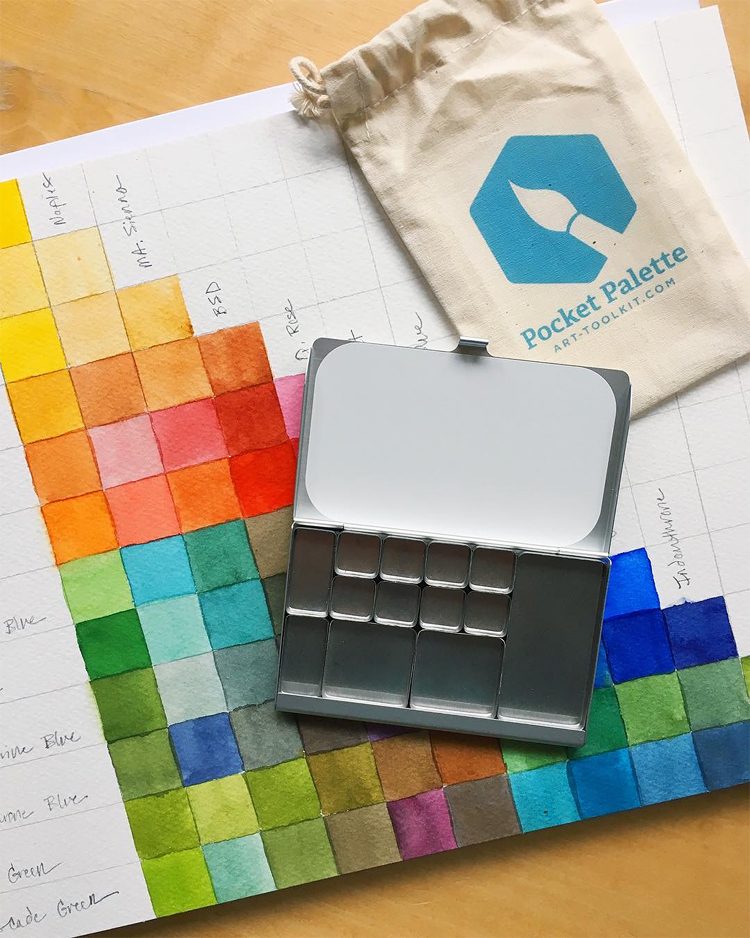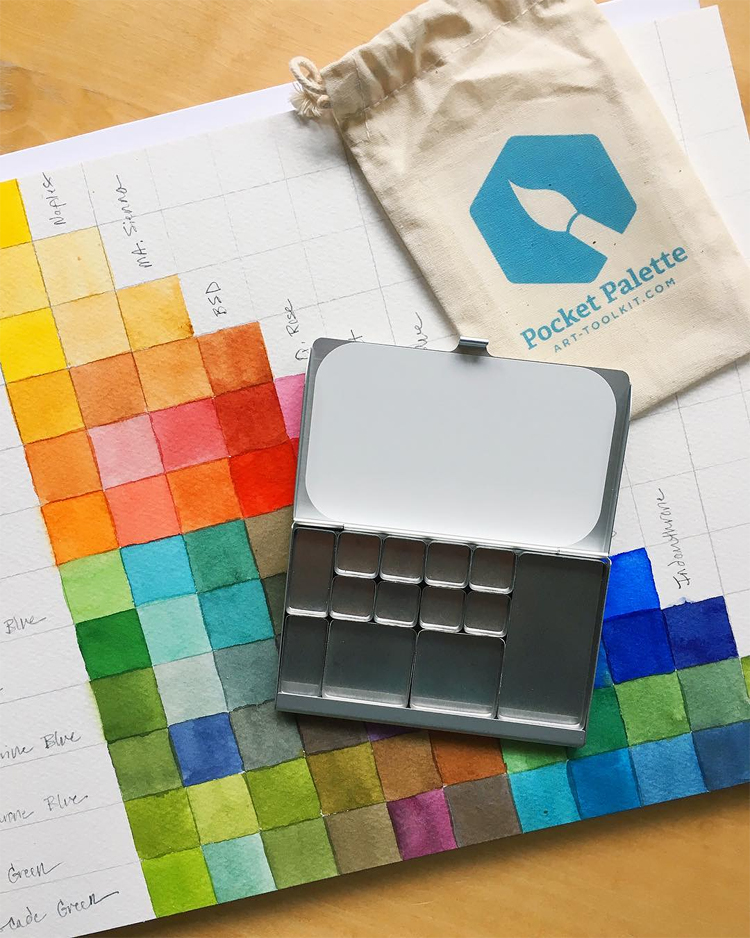 Even if you're not a hiker or going on a trip a small palette is still super handy to have as you really *can* throw it in a pocket and always have it with you — the Pocket Palette really does live up to it's name! And the best palette always is the one you have with you.
I've been using it almost every day since I got back because I wondered how long those pans would last — turns out that after 3.5 months of pretty much daily use it's still going strong:
This configuration of the palette has 13 colors plus two mixing areas, but of course since the palette is magnetized you can set it up however you like.
I did a ton of research trying to decide what colors to take with me as we were going through the high desert and I'd never been there before. When I first made this chart I "only" had 12 colors in the palette, but just look at the range it has! Talk about mighty!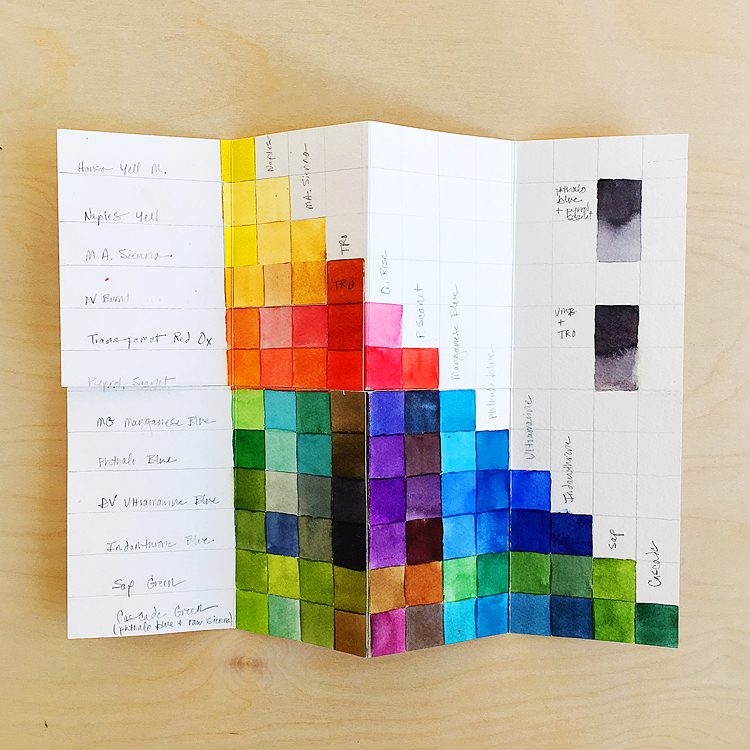 I took tubes of paint and kept them in the car in case I had to refill at some point but it turned out that I didn't need to — turns out it holds more paint than what you'd think!
Speaking of filling the pans — if you're all thumbs like me then it really helps to have a magnet to help hold 'em while you fill 'em:
I use this magnet that I also use with my MISTI tool.
Here are the colors that I finally settled on for the trip — I think of this as my "winter desert palette" and I'll probably reconfigure it I when I finally use this paint up.
All colors are by Daniel Smith except for Winsor Orange which is by Winsor & Newton. I added purchasing links to these where possible: AZ = Amazon and and EH = Ellen Hutson. These are referral links so if you make a purchase by clicking the link I'll receive a small commission at no charge to you — thank you!
These colors ended up being great for the desert and moutains, yay! Winsor orange and pyrrol scarlet were kinda redundant so I may replace one of them — the Winsor orange is the color I added at the last minute and it's not in the mixing chart above. Also just had to say that I'm really loving the Naples yellow. Kinda thinking I should have a larger pan of ultramarine blue hmmm. It's never ending but all part of the fun ha!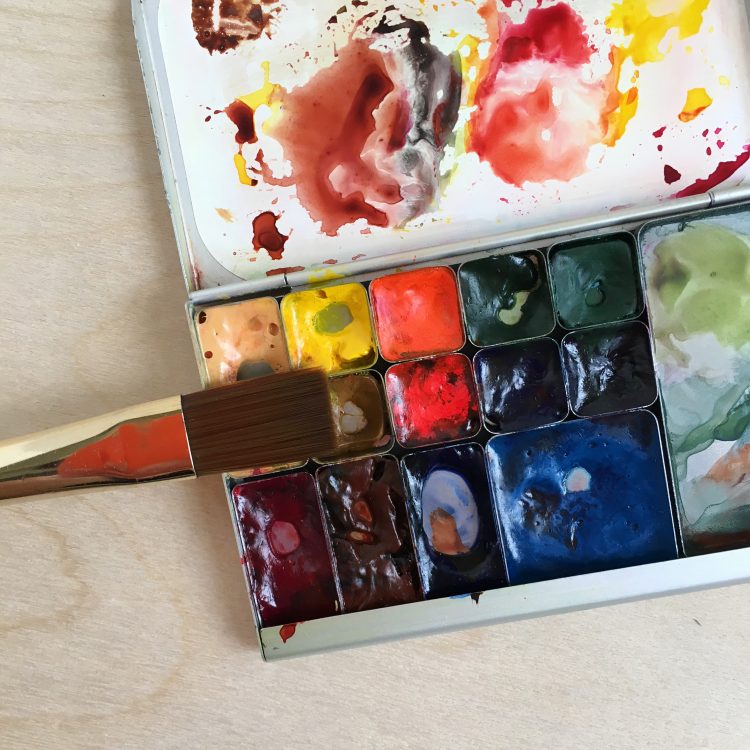 Here's a half-inch flat brush and small pan for comparison.The smallest pans in the palette work fine with a 1/2 inch flat brush and my pocket Isabeys (find out more about my brushes here).
I haven't had a single problem with the pans moving around or shifting, as they're made of metal and secured by a magnetic sheet that runs the whole area of the palette. The palette has been along on many rocky and windy hikes and I even dropped it — oops.
One other nifty thing about the pocket palette is that you can use a binder clip to attach it to your sketchbook and sketch standing up.
Here are just a few shots of the palette in the wild:
So many good times! Can't wait to see where this lil palette and I will go next. Also just had to add that there's something about doing a sketch — even if it's a quick one, it makes me feel more connected to the land and whatever I'm sketching. Looking at the sketch brings that moment back in a way that a photo never does for me. Even if the sketch doesn't turn out how I'd like, it's still a worthwhile experience.
Thank you so much for joining me in the Ode to Small But Mighty Palettes — please let me know if you have any questions, and be sure to check out Sandy's post for her small and mighty palettes too!
Want more?
Update! I switched things up to add 2 more mixing areas to the palette — find out more in this post.