Allow me to introduce you to the smallest palette I've ever purchased: The Greenleaf & Blueberry Sketch Palette: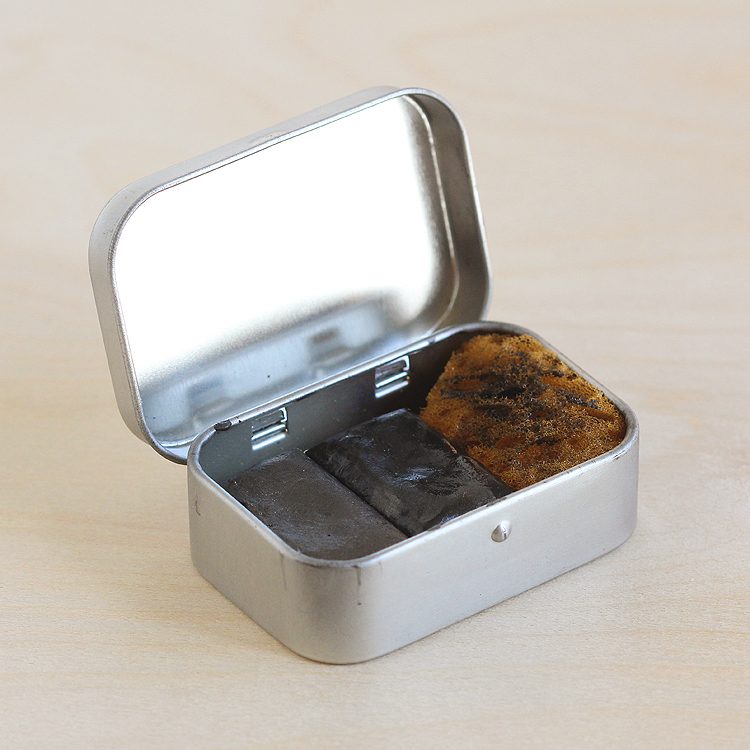 If you're not familiar with them, Greenleaf & Blueberry are a company based in Colorado and they sell sets and individual pans in their online shop. I feel super lucky to have scored this palette — whenever they do a shop update everything always seems to sell out super quick! Find out more about their colors here.
More on this Sketch Palette rom the Greenleaf & Blueberry website:
This set features a very minimal color collection focused on sketching.  It contains Graphite, just like painting with a pencil, although it does not erase.  Graphite also has a shiny, glistening quality (again, similar to your pencil).  Magnetite is a matte-finish black.  Enjoy suspending it in a wash and manipulating the pigment particles with a magnet (**make sure to use the magnet on the back side of the paper**).
I keep forgetting to try and play with a magnet — will do a future post and report back!
Here's a closeup so you can see the pans better — I've actually used this palette more than you could guess by looking at the pans, as G&B really overfills them — they arrived with muffin tops! :)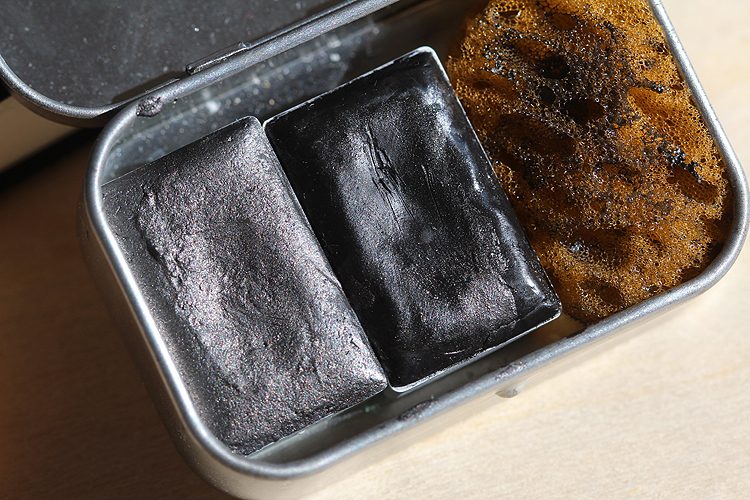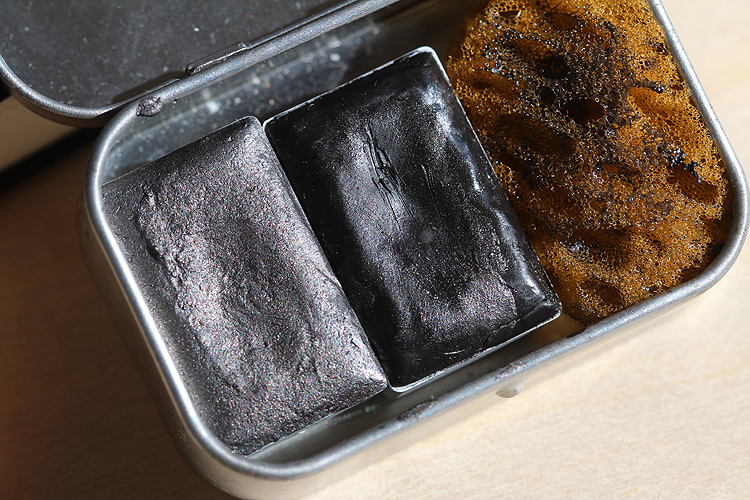 I took this tiny little palette on my neighborhood walk today and did some equally small sketches to share with you. These are both on Case For Making's Tiny Paper for Watercolor — this paper is so cute you all! I was given a pack as gift for Christmas and I must confess I've been been hoarding it — time to put it to use:  First up, frogfruit!
This is frogfruit (Phyla nodiflora, in the verbena family) — don't ask me why it's called frogfruit because I've never seen any fruit on a plant and I've never seen a frog hanging around one either ha!
It was in the upper 80's and sunny (as you can probably guess from the photo!) and while I was sketching a hawk flew overhead. Then a dog came bounding up and wanted to be petted — her human came along after and saw what I was doing and said "oh, cool" — there's something about sketching, right?
Here's a closeup so you can see the shimmer from the graphite: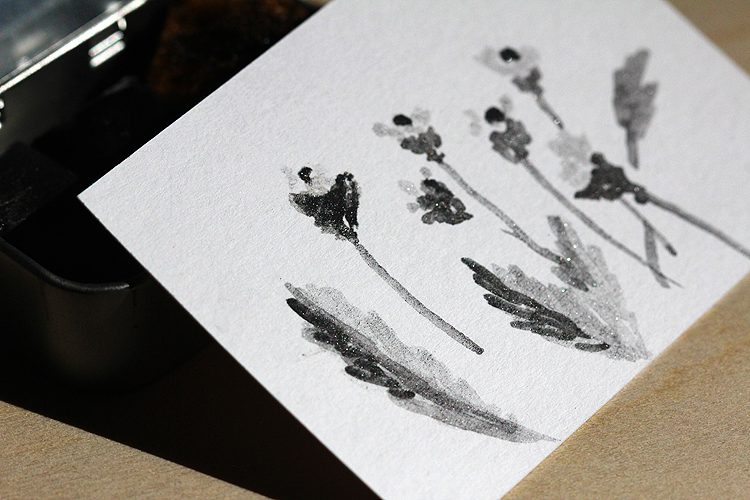 I did the frogfruit sketch sitting on the ground with the paper on my leg so I thought I'd do another one standing up. This palette is so small that it's easy enough to hold in your hand while you're sketching — I just propped the paper on the inside of the open lid and held the paper there with my thumb. If you were working in a sketchbook you could do the trick where you use a binder clip to hold the palette to the book.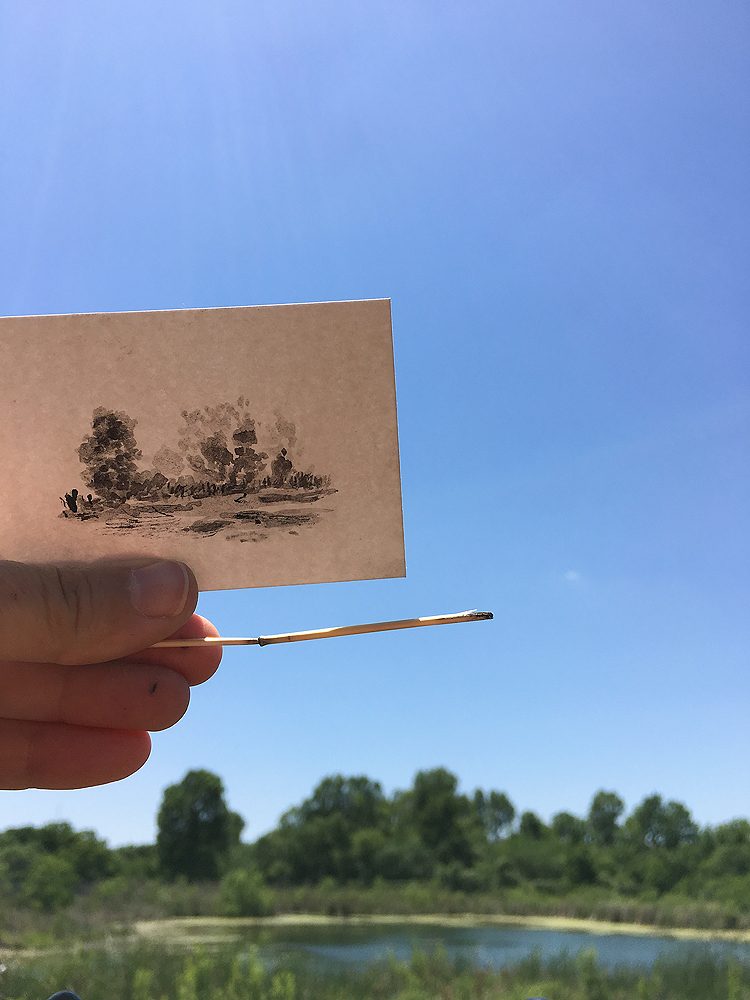 I wanted to lightly sketch the cattails in but my water brush was too big for this tiny painting so I looked around and spotted a piece of dried grass on the ground and sketched with that instead!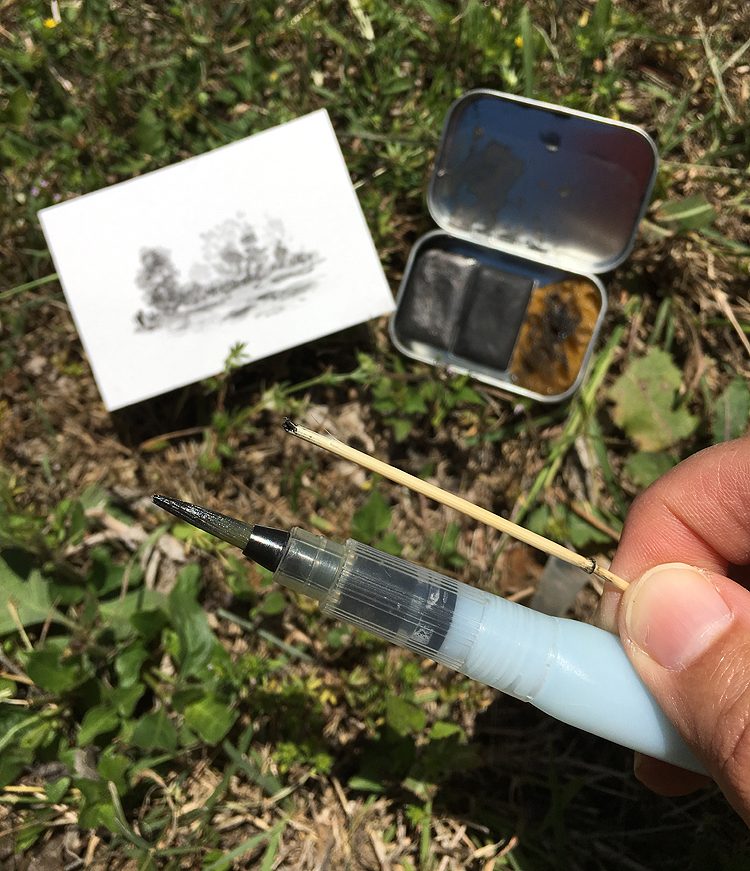 I've been wanting to sketch that cottonwood forever! Feels so satisfying to finally get it done, plus I'll always remember the redwing blackbirds singing, the hawks, and the Texas heat.
I wanted to add that I took this little palette on a backpacking trip when space and weight were at a premium and it was awesome having it along. There's just something about the feel of a brush and being able to do a sketch that really connects you with whatever you're sketching. Having "just" these two colors is very liberating and really frees your mind up to do other things. It's also great for doing value studies, although I always seem to jump in and start sketching in full color.
Want more?
Thanks for joining me, and let me know if you have any questions — or if you've seen a frog in/around frogfruit! :)