Hi everyone! Today I'm sharing my take on the Ellen Hutson May Color Badge — so many great colors and patterns this month! I was totally inspired by that lantern in the middle for these cards,  it's so pretty. Not to mention it's the perfect jumping off point for the new Mondo Sakura, right? I have a total of 3 cards to share with ya today, so let's get to it!
Thanks, Mom!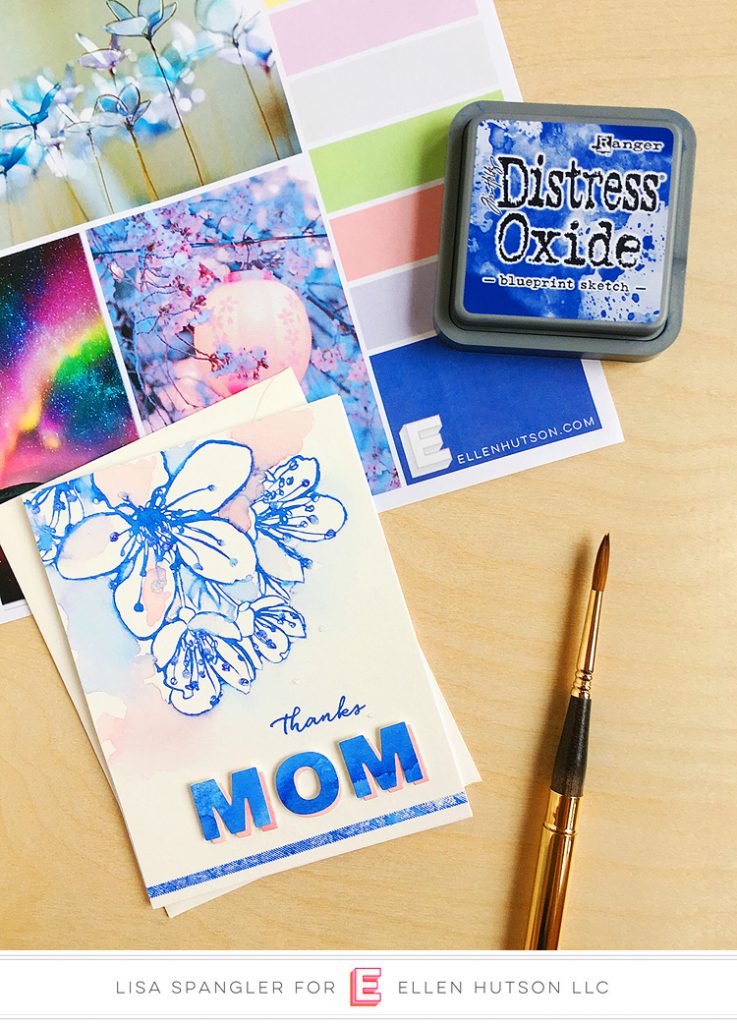 I ended up making these first two cards for Mother's Day, but you could use these all year round! Before I get to the card details I wanted to share a new favorite watercolor: the SILVER Kuretake Gansai Tambi. Oh whoa you all — I just want to mix it with everything! I'd say it's more of a white than a silver, but who cares what it's called when it looks like this!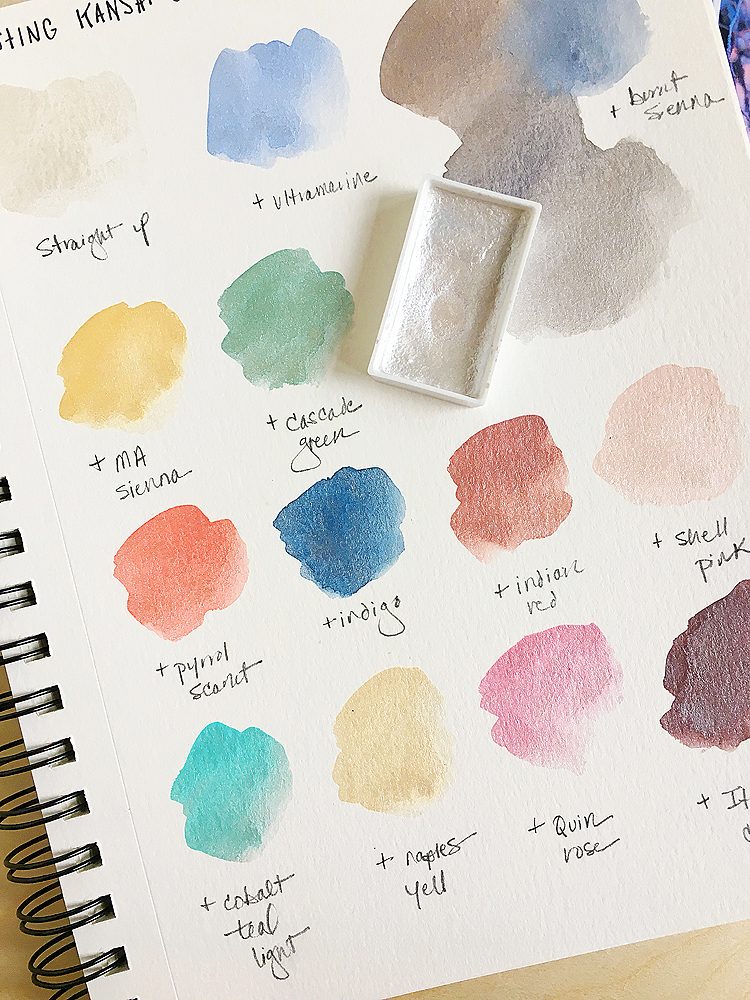 Just look at that shimmer when it hits the light! Love that! And love that you can purchase colors individually, too.
So now back to the card! All of the base cards and stamping was done on this watercolor paper — it's great for cardmaking because it has some texture to it but it's not over the top.
I stamped the new Mondo Sakura with Blueprint Sketch Distress Oxide ink to go with the color badge — it's perfect. Then I made a big puddle of clean water mixed with the silver Kuretake Gansai Tambi watercolor and pulled some of the blueprint sketch ink away from the sides. It's so cool how distress inks react with water.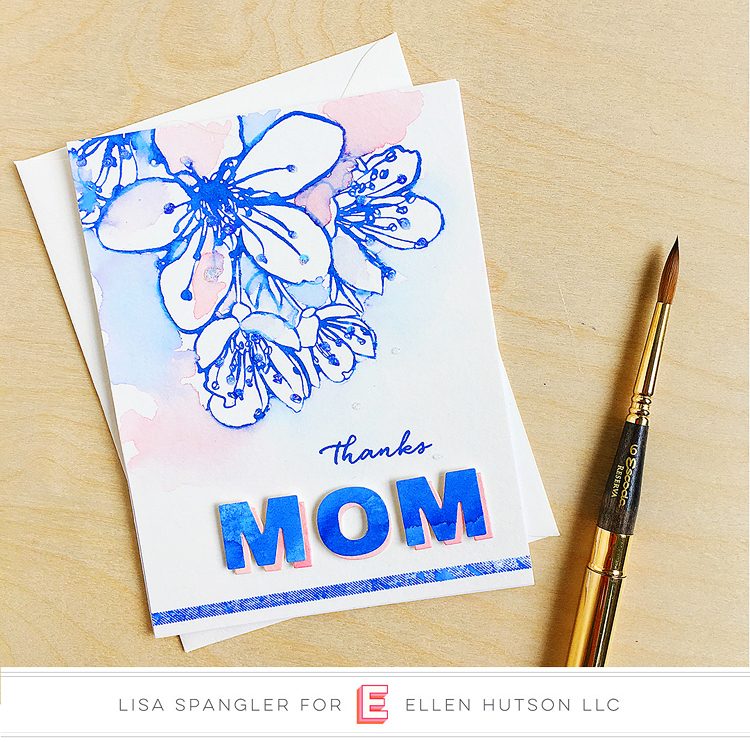 Then I mixed up a big juicy puddle of quinacridone coral + the silver watercolor and did the same thing.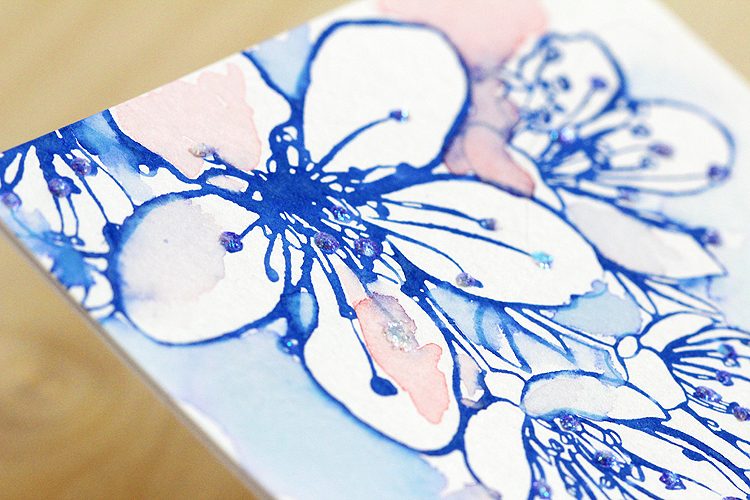 I finished off the card by adding some drops of glitter here and there, plus stamped the thanks sentiment — also from the new Mondo Sakura.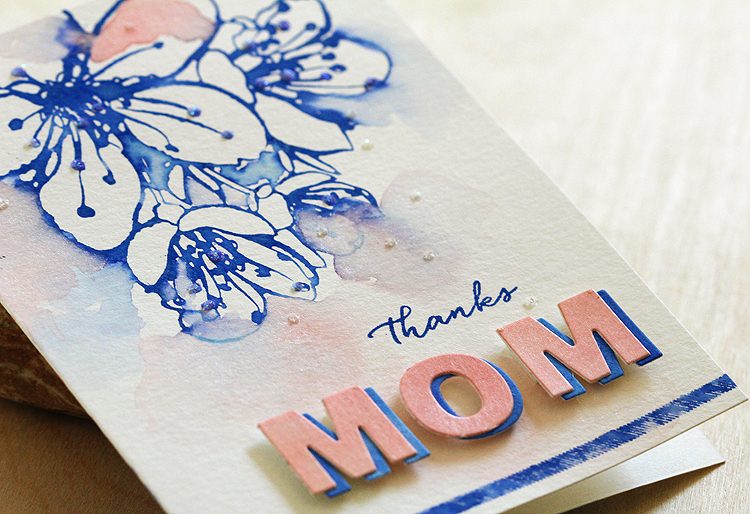 Next I used some of the leftover quinacridone coral + the silver and swiped it on some watercolor paper and die cut "MOM" using the Classic Block Alpha — this is just the best font you all — it'll never go out of style!
I made a drop shadow for the letters by swiping some blueprint sketch ink on watercolor paper and then die cutting them, then layering a little down and to the left. I varied these up a little by putting one card with the coral letters on top and the other with blueprint sketch — yeah, I couldn't make up my mind. :)
Annnd then! I finished off the card by inking up one of the border stamps from the Plaid Maker set with blueprint sketch ink, misted it, and stamped it across the bottom. I think it really grounds everything and just brings the whole card together — this stamp set is a keeper for sure.
And that was that for the first version!
Sakura Bokeh
For my second take on the Ellen Hutson May Color Badge I really wanted to try and get that out-of-focus/bokeh look that's in that lantern inspo…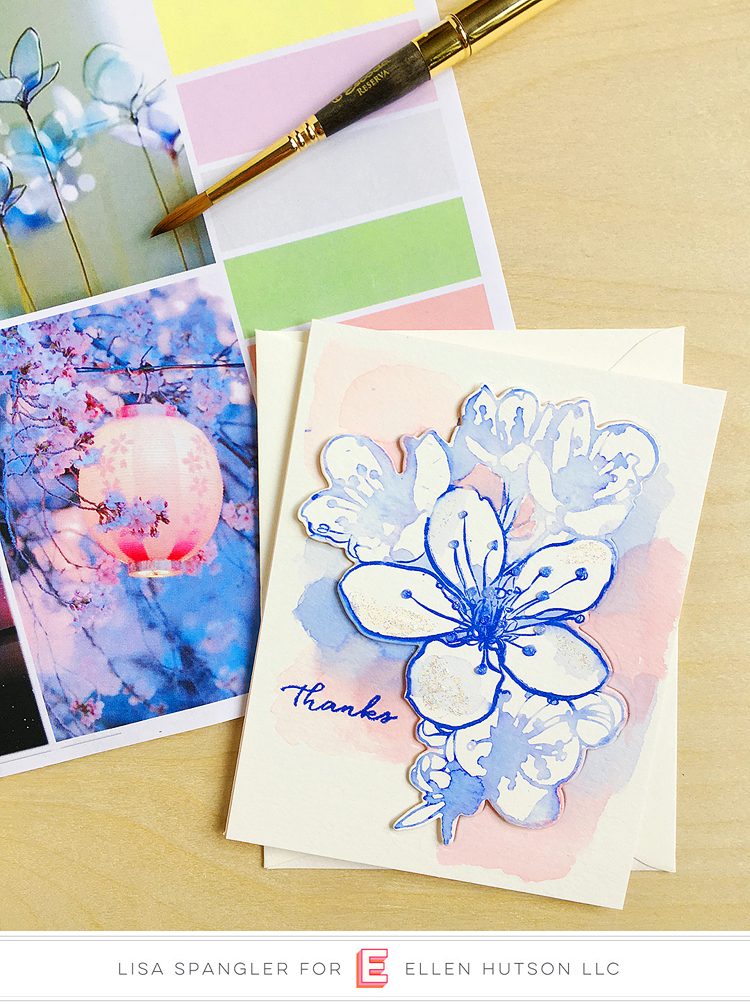 So this time I inked up the Mondo Sakura with Shaded Lilac Distress Oxide ink, misted it with water, and stamped it on watercolor paper. Then I inked the main flower with Blueprint Sketch and wiped away from the edge with my finger and stamped it again. I used the MISTI tool for my stamping, but you could totally get away with doing this freehand since it's supposed to be out-of-focus anyhow. :)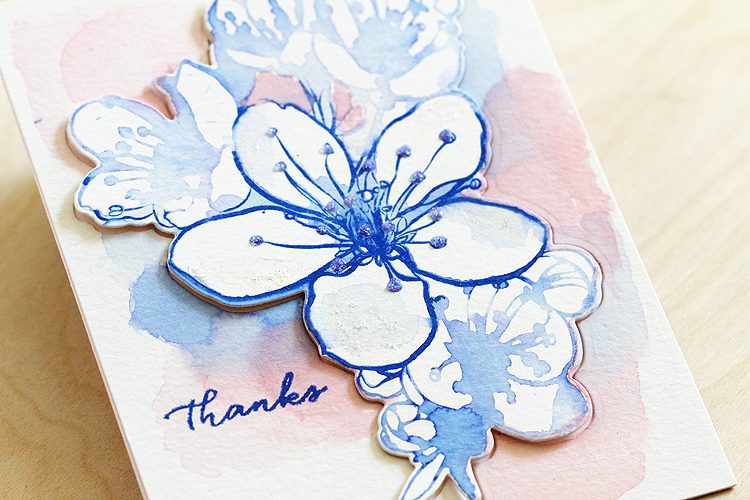 Then I did my same trick of using silver, coral and some blue and pulled color away from the edges and I added some glitter again too — only this time after everything was dry I die cut it with the matching Mondo Sakura die and then popped it on the card with foam tape. Cannot wait to give this to someone!
Hope you'll give these techniques a try, and thanks so much for joining me!
Supplies
Note: if you make a purchase by using a link below I'll receive a small commission at no charge to you. Thank you! :)