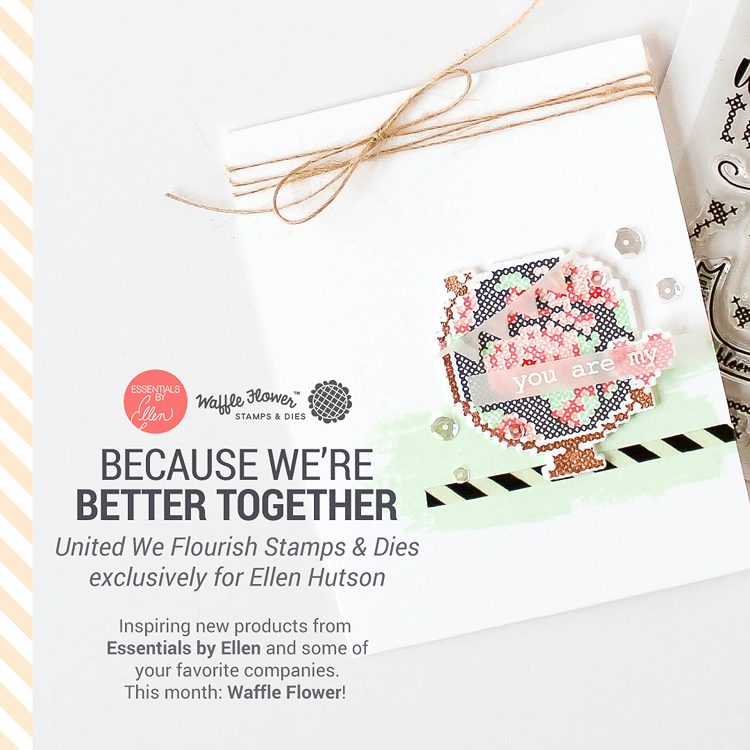 Hi all! I'm here today to celebrate the release of the latest Essentials by Ellen United We Flourish set, this time in collaboration with Waffle Flower, called Stitched Together! In case ya hadn't heard about the United We Flourish line before, here's the story — I had to quote this from EH because it just says it so well:
In 2016 we began celebrating our 10th anniversary with the theme United We Flourish. What does United We Flourish mean? It means that our company would not be here without the amazing companies we work with, the designers who create stunning projects showcasing the wonderful products being created AND you, our fabulous customers! YOU are such a vital part of our creative community – you inspire & encourage us! Your response to United We Flourish was overwhelming and heartwarming. We heard repeatedly from you that you appreciate how our little company works together with the other manufacturers we carry to bring you their products and education showing how to use those products. To thank you for your constant support and encouragement, we have partnered with some of our friends to offer exclusive limited edition stamp & die sets!!! It is our goal to release a new set each month for the next few months. These sets will be available for a limited time (most likely 3-6 months) after each release, depending on how quickly you snap them up. The theme of these stamps sets are uplifting and fun.
This is so true you all — this awesome creative community I'm so lucky to be a part of truly is better together. Love how we all come together and help each other. Just the best feeling.
Here's the Stitched Together stamp and die combo — it's so fun you all — check it out: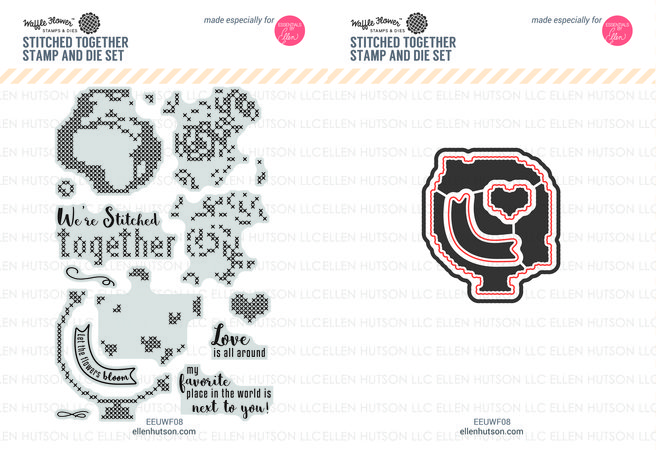 Also be sure to check out the idea page here at Ellen Hutson — there's a layering guide and a video too!
And now without further ado, I have TWO cards to share with you! These are both 4-bar size cards for a lil something different and to really put the focus on the stamps. Here's the first one: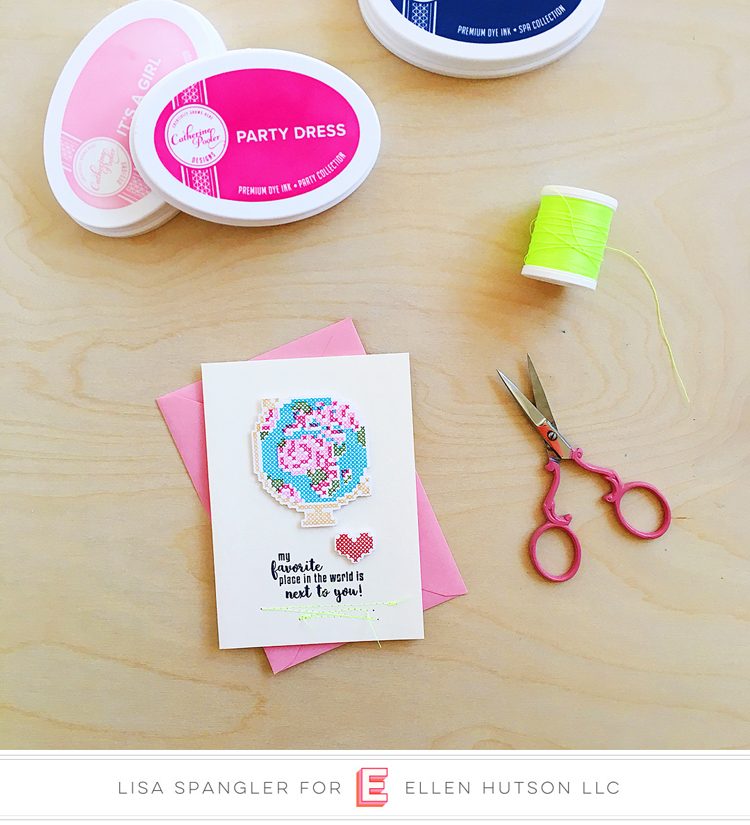 Love that globe so much! I have a thing for globes and maps, and that tapestry? Yeah I'm all over that! I didn't get the flowers lined up exactly right because I made this when the stamps were hot off the press and the layering guide was out so I wasn't sure what I was doing hahaha! — but still love how this turned out!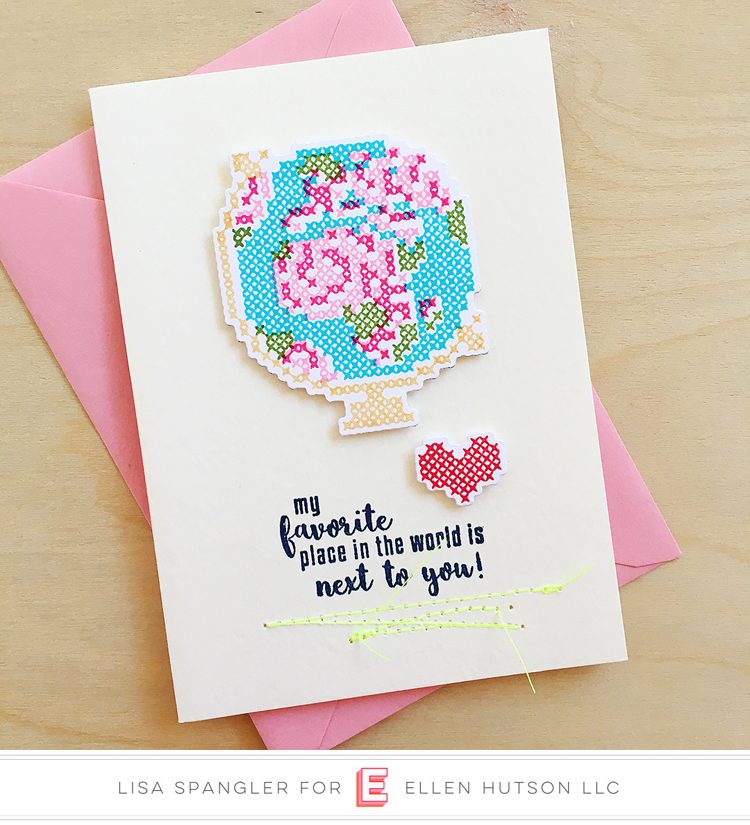 I used my new Catherine Pooler inks — those colors — ahhh! I was badly in need of some new inks and asked around to see what friends thought — so glad I got some of these to try — now I kinda want them ALL. They're just so pretty and vibrant! See the full lineup here. (Supply links below, but had to give a shout out to the fiesta blue that I used for the water.) I also stamped the stand for the globe with gold ink to give it that little extra something.
And I had to carry on that tapestry theme with a little sewing action — with NEON yellow thread!!! :)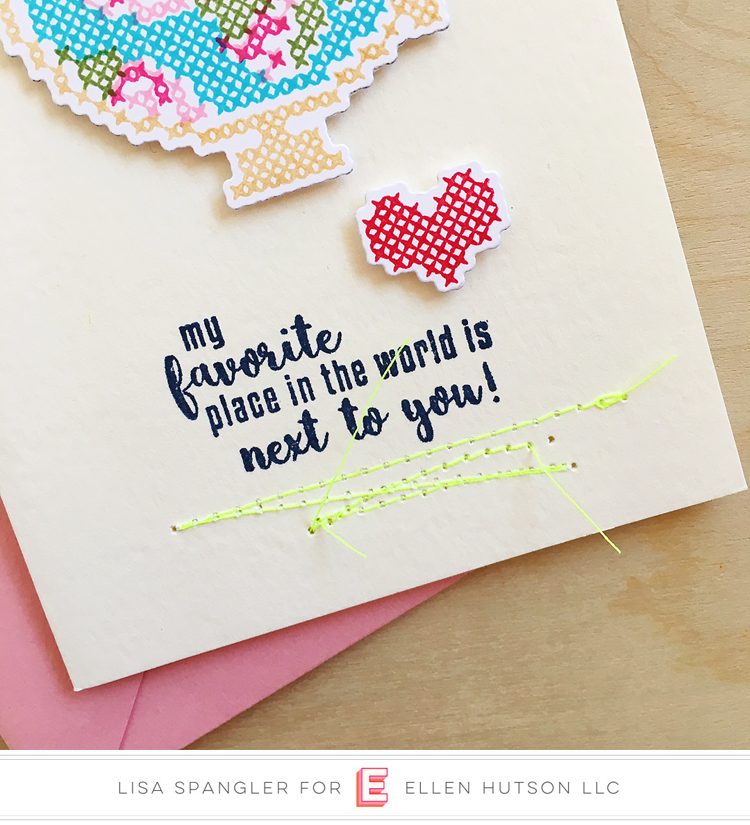 Now on to my second card — this one is super simple and I think it's pretty sweet — I gave it to J and he liked it too! Just goes to show ya that you can make a masculine card with hearts. :)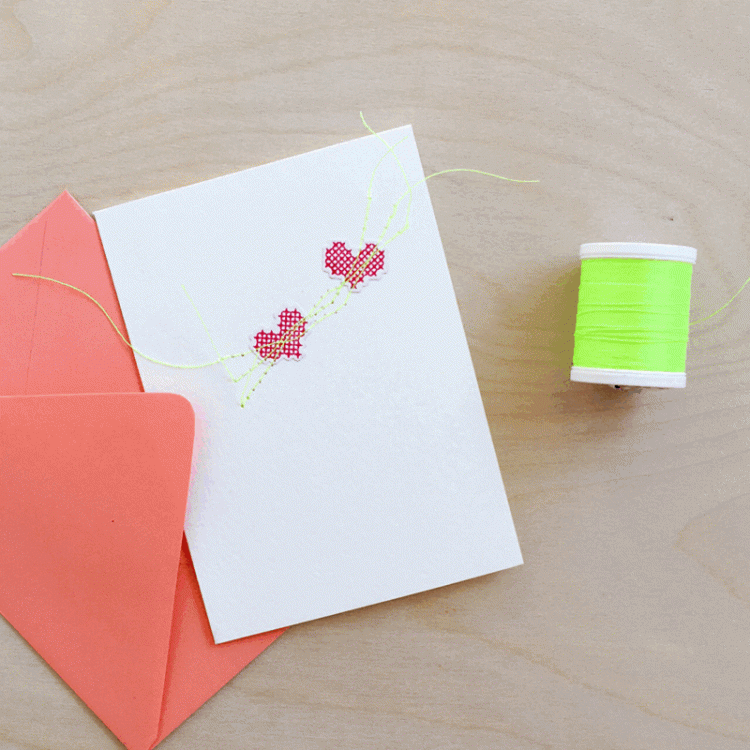 I simply stitched over two die cut hearts with more of that neon yellow thread and then when you open up the card…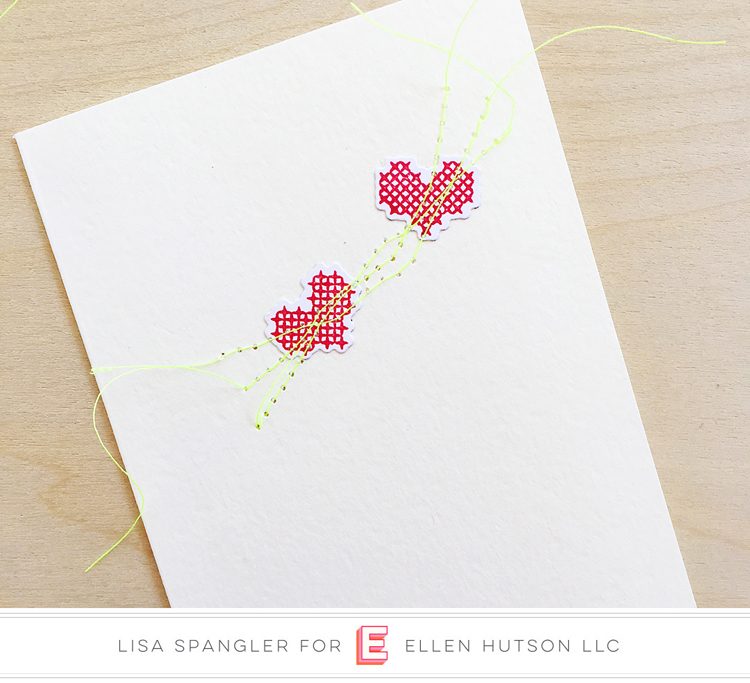 …there's the sentiment that brings it all together!
I put a coupla loose hearts inside for confetti, too! :)
And that's it for my cards! Thanks so much for joining me! See more of the release over on The CLASSroom blog where you'll also find ideas from Heather, Sharon, and Channin. xoxo
Supplies
In addition to the supplies for these cards I've also listed some past United We Flourish and Waffle Flower faves here below! PS. These stamps will only be available for a limited time — once they're gone, they're gone!
Note: These are my affiliate links, so if you make a purchase by using a link below I'll receive a small commission at no charge to you. Thank you! :)