In this post I'm sharing my favorite sketch bag to date — a fanny pack! :)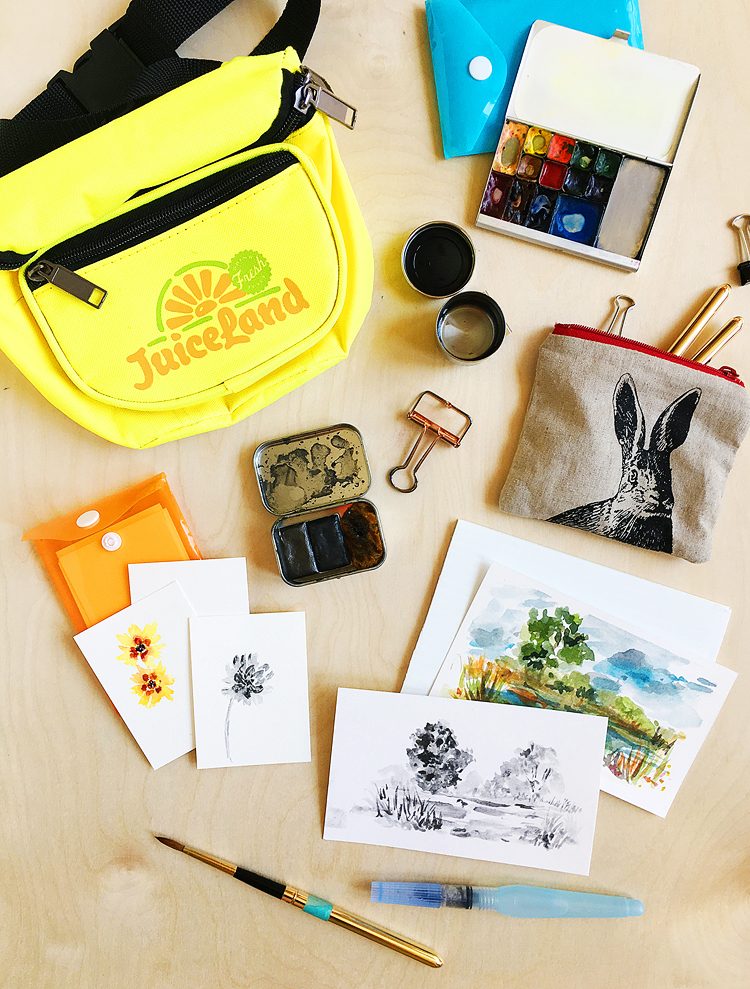 Best $10 gear bag ever! I got it at Juiceland, a local place that has amazing juice and small bites. I've been using it almost daily for a month now and I have to say that it's been a game changer. I've even taken it hiking — I wear my backpack as usual and then this in the front.
Here's the gear, clockwise from upper left:
Pocket palette from Expeditionary Art (more in this post) that I keep in this plastic business card holder from the Container Store — it's there just in case I have to put the palette away while it's still wet and something leaks — although this being Texas everything dries so fast I haven't had a chance to test that yet ha!
A water cup — this has a clip so I can put it right on a piece of coroplast when I'm working with sheets of paper — the coroplast is that white plastic piece right below the pouch with the bunny. The water cup has a rubber gasket and it hasn't leaked — yet…knocks wood :) A note about the coroplast — it's kinda like plastic cardboard and I clip my paper to it and even the palette depending on the size of paper that I'm working with. J had purchased some from the hardware store for another project and he made me this with one of the scraps. You can also use a yard sign/political sign or even regular cardboard.
Sketch palette from Greenleaf & Blueberry — for days when I want to be faster or do a value study (read more about it here)
Bunny pouch from Bookhou — this holds my brushes and binder clips and it makes me smile every time I use it
That coroplast and some finished sheets of paper — I've been working on postcard size pieces and testing paper out, but wanted to mention that a 3.5 x 5.5″ sketchbook would fit in the fanny pack no problem
A Pentel waterbrush and my Isabey #6 travel brush (read more about my brushes here)
Last but not least, some Tiny Paper for Watercolor from Case For Making in another business card holder from the Container Store. I've burned through a pack of this paper already that a friend got me for Christmas so there are a few rouge sheets in there that I cut myself too.  What is it about small sizes anyhow? So cute.
There's even room for my phone and keys.
The only negative about this fanny pack? It makes me hungry for Juiceland, ha!
Anyhow, hope that helps someone out there! Let me know if you have any q's and I'd love to see your sketch setup — link me up! :)