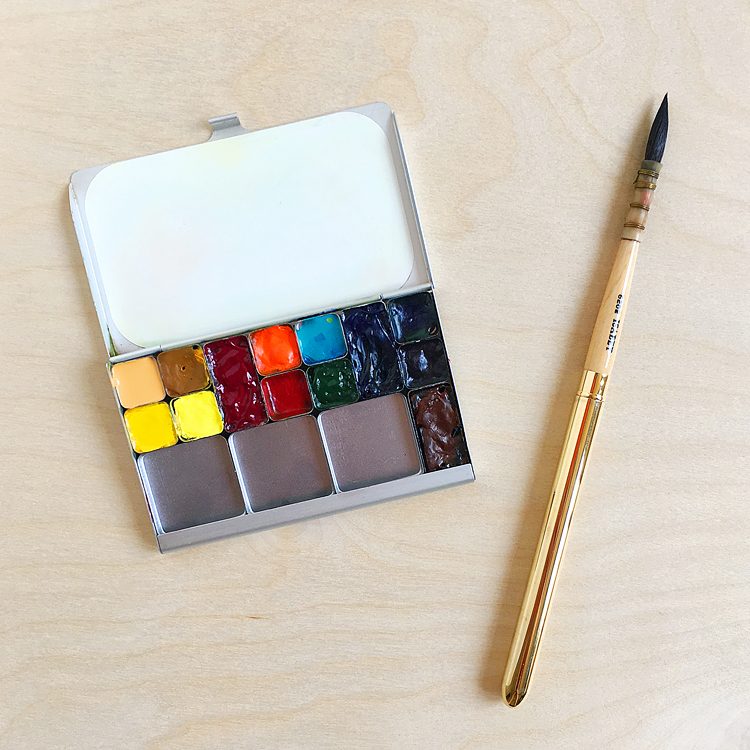 I just updated my Pocket Palette with 3 mixing areas — can't wait for the paint to set up so I can try it out in the wild! The mixing areas are empty double pans that I purchased separately from Expeditionary Art. Love you how can mix things up! (Yeah, bad pun intended haha!)
Here are the colors with affiliate links to Amazon (AZ) and Ellen Hutson (EH) when possible:
4 yellows:
Daniel Smith Naples yellow [AZ, EH] – I've really gotten into this color — it adds that "I've been out in the blazing Texas sun too long" to greens, is great for dried foliage and limestone buildings
PY74 – DaVinci Hansa yellow medium – I think of this as my "primary" yellow
PY184 – Winsor & Newton Bismuth Yellow – a cooler lemon shade of yellow — I just recently added this one and have been finding more and more uses for it. It's slightly opaque.
3 reds:
PV19 – Daniel Smith Quinacridone rose [AZ]  – I think of this as my "primary" red
P062 – Winsor Orange, red shade [AZ] – I love this clear, bright orange. Sure you can mix hansa yellow medium with PV19 or PR209 but it's not quite the same, plus it's nice to have an orange all ready to go!
PR209 – DaVinci quinacridone red (it's called quinacridone coral at Daniel Smith) – love this color for some of our red wildflowers and sunrises
3 blues:
PB29 – DaVinci Ultramarine blue [Find Daniel Smith here AZ] – pretty standard warm blue — love how well the DaVinci paint rewets
PB60 – Daniel Smith Indanthrone blue [AZ] – love adding this to skies and shadows
Plus:
Daniel Smith Sap green [AZ, EH] – it's nice to have a pre-mixed green when you're sketching on the go
PR101 – Daniel Smith Transparent red oxide [AZ] – I have this one in here instead of my standard burnt sienna and love how it flows
PB36 – DaVinci Cobalt Turquoise – I just recently replaced the Winsor & Newton version of this color with DaVinci — love how well it rewets. It's great for agaves, yuccas and other tough plants, plus I recently learned about mixing it with phthalo blue to get a manganese blue hue for skies
Find my initial setup of my Pocket Palette and more about it here in this post. 
I'll update this post after I've tried the palette with the added mixing areas, so stay tuned…!