Guess what! Jennifer and Kristina have cooked up a NEW card making class! And! Julie is going to be a special guest teacher! So excited since clean and simple cards are just The Best kind of cards — well, at least in my opinion.
Here's all the info!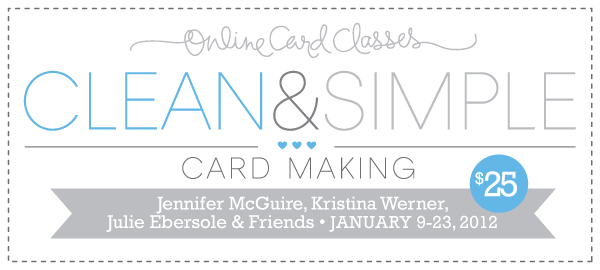 Join Kristina Werner, Jennifer McGuire and special guest teacher Julie Ebersole for Clean & Simple Card Making!
In this class we aim to take the mystery out of creating a minimalist card that looks "complete," and wow you with numerous tips and techniques for clean and simple cards!  This upbeat and inspirational class will include nine fabulous guest artists (including me!), discounts to our favorite retailers, giveaways and a few surprises along the way!  Clean and Simple Card Making will feature over 25 new card ideas and over 15 instructional videos.  What better way to start the new year than with a wealth of new ideas to add to your card making arsenal and simplify your creations!
Class is January 9-23, 2012, but class materials (videos, pdfs, etc.) will be accessible for a lifetime. Click HERE for an introduction video and more info!
Doesn't that sound fabulous?
And, guess what else? They've asked me to be a guest designer! I feel very honored, as clean and simple cards might look easy, but they can be super hard to do. (What until you see the card that I came up with, I am just *nuts* about it, ha!)
Annnnd, even better? I get to give away a spot in the class to one of YOU! Yeah! Leave me a comment on this post by midnight, December 26th with something that makes you happy about this time of year and I'll draw a lucky random winner and announce it on December 27th! Note that Kristina and Jennifer have generously said that if you have already registered you'll get a refund — yay!
Merry merry,