Hi! Hope you're having a great Labor Day weekend! I sure am! I've been cooking up a storm, today I'm making Hatch green chile rice — it uses these awesome green chiles from Hatch, New Mexico. Yum. While I was fire roasting the peppers I got to thinking that I should get some more to freeze — because they'll taste so good when winter comes. And that got me to thinking about how Christmas is right around the corner. And well THAT got me to thinking that I haven't shown you the neon Christmas cards I made for CHA!
So, here they are: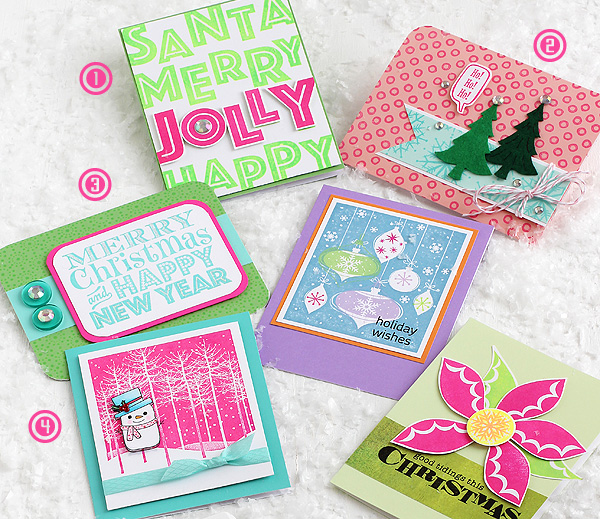 (Click on the thumbnails to see them bigger.)
And here's a bit about each one!
1 – It's a jolly card! Love how the BIG gem fits perfectly inside the "o"! And love this idea of cutting out the letters and popping them up — got the idea from the fabulous Shari! (Thanks Shari!)
2 – Hero Arts has had these felt trees for a while now, but I still like them. A lot. And this year they're updated with a neon polka dot background using this stamp. And who says trees can't talk? You just gotta listen. (Sounds kinda Zen, right? ha!)
3 – Here's that big gem again, this time I added them to the centers of pool buttons for a cool embellishment! (Yah, I heart these big gems!) Oh and! The message is stamped in the new tide pool ink and has glitter glue on it too. And the background? It's stamped in neon green with the new Snow Dots cling background — the whole Hero DT just loves this stamp! And I think it can be used all year long!
4 – This marshmallow snowman is one of the best snowmen that Hero Arts has had in years — at least in my opinion! Love him. Wish I could pinch his cute cheeks, ha! (And there's a different version in this clear set, and a sweet sleeping snowman wood stamp too!) And the forest stamp in neon? Who says forests can't be pink? :) And one last little trick! I added dots of black enamel accents for eyes — a little tip I picked up from the super talented Kathy. (Thanks so much Kathy!)
The other two cards in the photo are by the awesome Sally Traidman, who had the genius idea to make a poinsettia from this leaf! Too cool. I also love how she stamped little snowflakes inside the ornament background! (I took the photo to make a sign for the Hero Arts booth at CHA, but forgot to get individual shots of my cards, doh. So that's why I'm showing you them all in a group like this. And in case you were wondering, that white stuff scattered around is fake snow ha ha!)
Shop for supplies: