Hi and welcome to my little stop on the Simon Says Stamp Gratitude blog hop! You should have arrived here by the amazingly talented Kathy Racoosin's blog at The Daily Marker. If you are just now joining the hop, you can head back to the start at Simon Says Stamp.
I was so happy to be asked to be a part of the hop, as I have so much to be thankful for: my leg is slowly — but definitely! — healing from a second surgery, I get to spend Thanksgiving with my family, and I am so lucky to be a part of the stamping community. I can't begin to tell you how many friendships I've made through our wonderful craft of stamping. The whole industry is filled with the most kind and generous people — including Heidi, owner of Simon Says Stamp. My heart is full.
More on Heidi's generosity at the end of the post…but for now, on to my cards!
We were sent some awesome goodies to use for the hop, which included the Bella Bloom and Falling Stars dies, Lots of  Thanks message set, So Happy Together paper pad, and pool mixed gems — and I wanted to incorporate them ALL!!! But I was a little stumped on how to pull them all together until I saw this paperwhite bulb kit at Crate & Barrel. Check it out: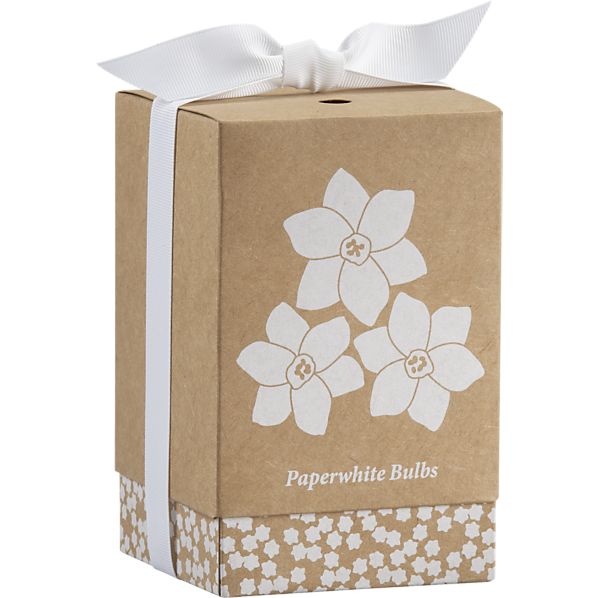 I loved the simplicity of white on kraft, and the shapes went perfectly with the Falling Stars and Bella Bloom dies that we were sent. (Oh and by the way, if you've never tried to grow paperwhites you really should! They are so easy and they smell so good.)
So, here's what I came up with first!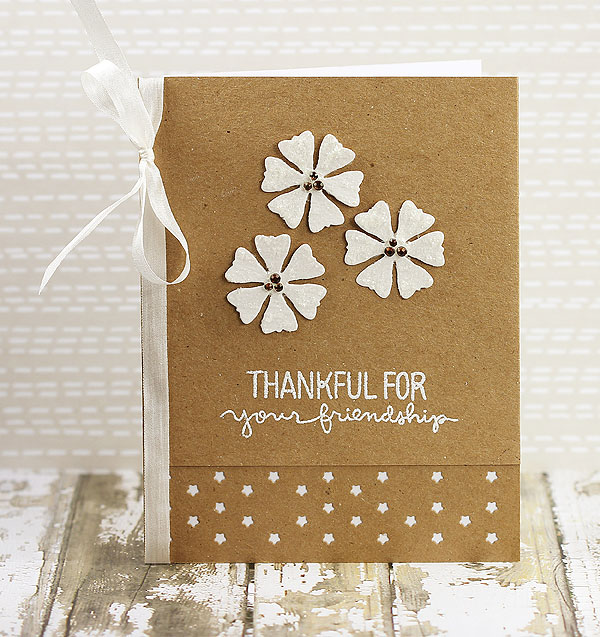 I had an "ah ha" moment and flipped the Falling Stars upside-down so that the stars would be closer together like in the inspiration. I used the small flower die that comes with Bella Bloom to mimic the paperwhites. One trick that I learned with the Falling Stars die and other dies with small things that punch out — using a metal adapter plate in your cutting sandwich makes it where the stars pop out effortlessly — it's awesome!
I added some Rock Candy Distress stickles to the paperwhites with a brush — a nifty trick that I learned from Kathy. (Thanks so much Kathy! So very thankful for friends like you. Hugs!) Here's a closeup so you can see them better — it's hard to capture the glitter — it reminds me of sugary, glistening, new-fallen snow!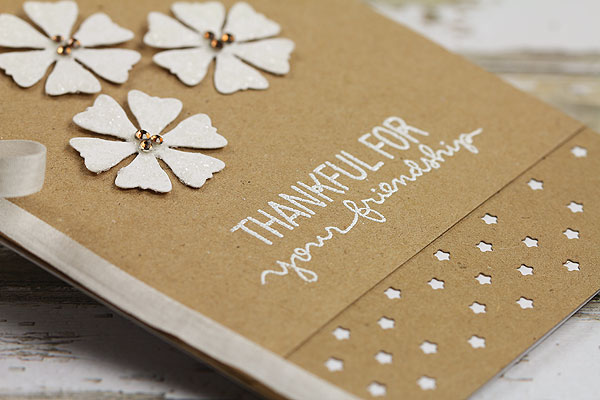 A message from the Lots of Thanks set and some ribbon completed the card. Love that Kristina wrote all the sentiments — wish my handwriting looked like hers. (Hi Kristina!  So thankful to call you a friend. Hugs!!) Oh and one last little tip — I colored some crystal gems with a brown Copic marker but I forgot to write down which one, doh!
I just couldn't stop there — I had to make one more card with sweet Jana in mind — red and pool is one of her go-to color combos! (Jana organized the hop — I am so lucky to call her friend. Hugs, Jana!) This time I used the Bella Bloom die in full and moved the message off to one side…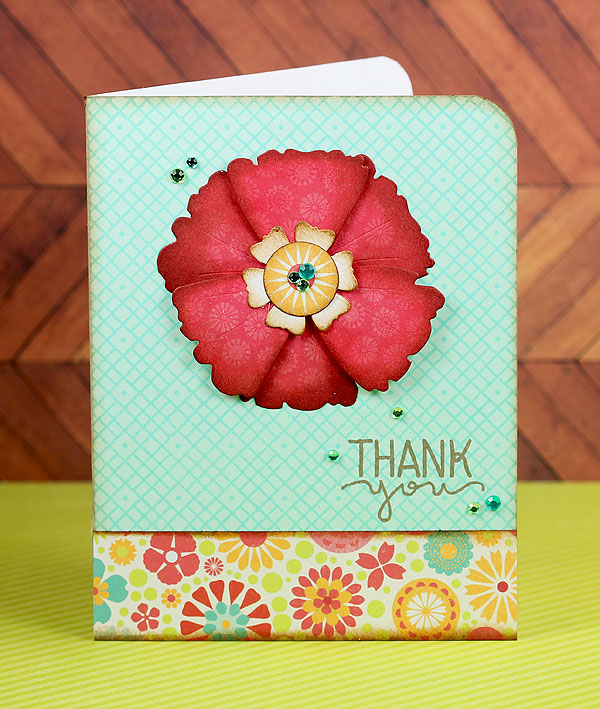 Love how this turned out, and how the Bella Bloom die goes perfectly with the papers from the So Happy Together paper pad. And if you follow my blog, you know how much I love pool!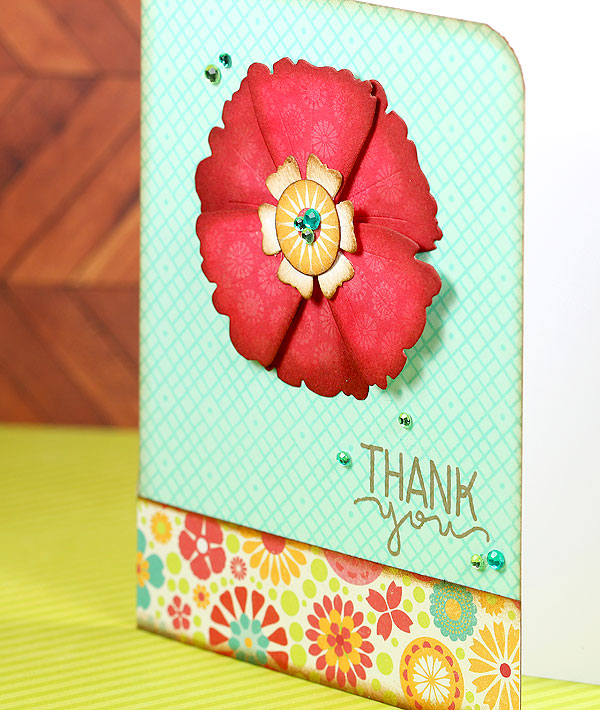 I used the same small die again that I used for the paperwhites as part of the center of the flower. Bella Bloom also comes with a third flower die that I just couldn't squeeze in! Love that you get three dies in one set that all go together — or can be used separately!
That's it for my stop on the hop! Now, remember how I mentioned at the beginning of the post that Heidi is super generous at the beginning of the post? Well, I'll be giving away a $50 donation to the charity of a commenter's choice on behalf of Simon Says Stamp! Just leave a comment on this post with what you are most grateful for and you will be entered in the drawing. After the winner is chosen, Simon Says Stamp will be in touch with you to find out the charity you have chosen. We will draw the winners on Wednesday, November 28th.
And that's not all! This Friday Simon Says Stamp will offer a Black Friday discount code for 35% off selected items in the store. But blog hoppers get the code early for stopping by. Click HERE to see the items that are included in the sale (there are some great ones!), then enter code SIMONBF35 in the Promotion Code box (be sure to use all CAPS) and you will get 35% off of those items. Told ya Heidi is super generous, didn't I? So very thankful that there are people like Heidi in the world. (Big hugs, Heidi!!! You are the best.)
Your next stop on the hop is the fabulous Mandy at A Sprinkling of Glitter. I just know that she's cooked up something special!
Thanks so much for joining me! So thankful for all of YOU! Hugs to all, and Happy Thansgiving! xo
Updated on November 29th: random.org has spoken, and the winner is lucky #13, Heather Sweet! Heather, you should be hearing from the awesome folks at Simon Says Stamp soon. Comments are now closed. Thanks so much everyone, really enjoyed reading all of the comments. What a great hop.
Supplies: