Hey there! Today I'm hopping along with Ellen Hutson and friends to wish the mega awesome, super fabulous, amazing MS. JULIE EBERSOLE a happy 50th birthday! WOO! I still cannot believe that she is 50!!! Can you? (Shakes head in disbelief!)
So when I sat down to make her card I was thinking to myself that it just *had* to have washi tape on it. Because, well, Julie and I both agree that you can never have enough washi — we frequently get washi'd away! Ha.
Then I thought hmmmm, what else does a Julie card need? Well, I thought it needed to be a little clean and simple — not too much stuff. And it should have some color — yeah lotsa color! And most of all it should be happy and fun, so that when she sees it, it's like getting a big ole hug.
So, here's what I came up with!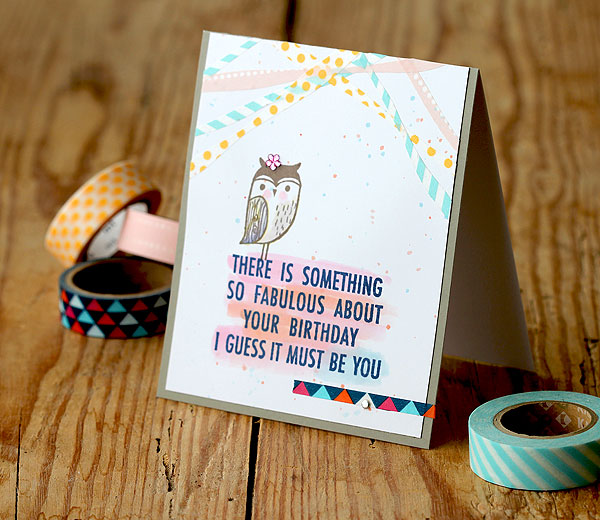 I wanted to make the washi tape look like crepe paper streamers, so I taped some down to my cutting mat and then used a craft knife to cut them into strips — making lots of wavy lines — I ended up getting 4 streamers per piece of tape, like so:
Then I just pulled up the cut pieces and popped 'em on the card — here's a closeup so you can see it better!
Next, I had to put a bird on the card — because if you know Julie, you know that she loves birds on things. Ha. So in this case, I went with  a sassy owl — love her expression! —  And I just had to put some bling in her hair. *wink*!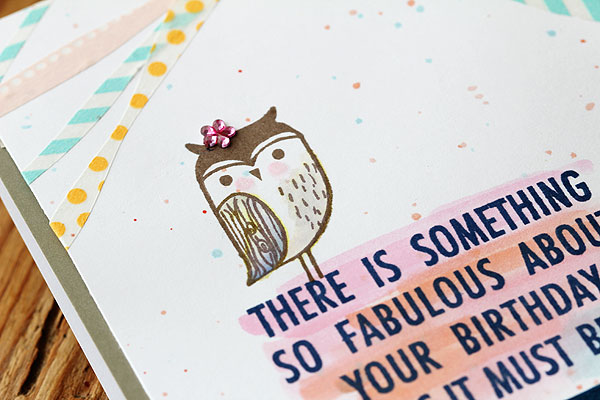 Here's a closeup of the coloring on the message! Just love this message! To do this, I scribbled markers on an acrylic block, then picked up color with a wet brush.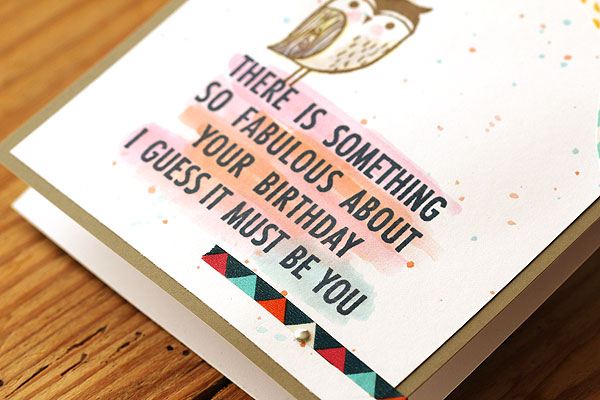 After I colored over the message, I splattered on some leftover color all over the background to make confetti.
Last but not least, I trimmed a piece of triangle washi tape — actually, this tape inspired the colors for the whole card, ha! — and put a gem on the white triangle to point out the YOU. Just seemed to me like something Julie would do, no?
And that was that! As Julie would say *hugs self*.
Well Julie my friend, hope your birthday is as fabulous as you are! You really one fabulous chica, you know? Sending you a mondo squishy hug, sure wish I could give you one in person! Hope you have a super great day filled with lotsa love and laughter. And cake, of course! And here's to 50 more!!!  xo
Now, on with the hop! Your next stop is the super sweet Maile Belles — Hi Maile! You should have arrived here from Shari's blog, but you can always head back to the beginning here in the CLASSroom with Ellen. Before you go, please feel free in leaving a birthday wish for her in the comments — I know she'd love it! :)
Supplies: