Hi all! I am super excited to be leading a card class over at Studio Calico for March: You've Got Mail! Cards for Every Occasion.
So many fantastic cardmarkers will be joining me for the class — just look at this amazing lineup!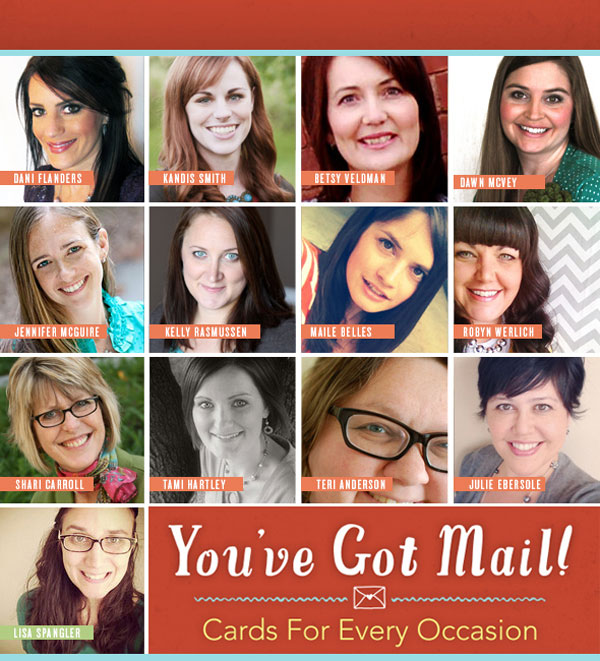 And that's not all! While supplies last, students will receive a 4×6 inch clear stamp set – the stamps will ship free to you, no matter where you are.  Check it out: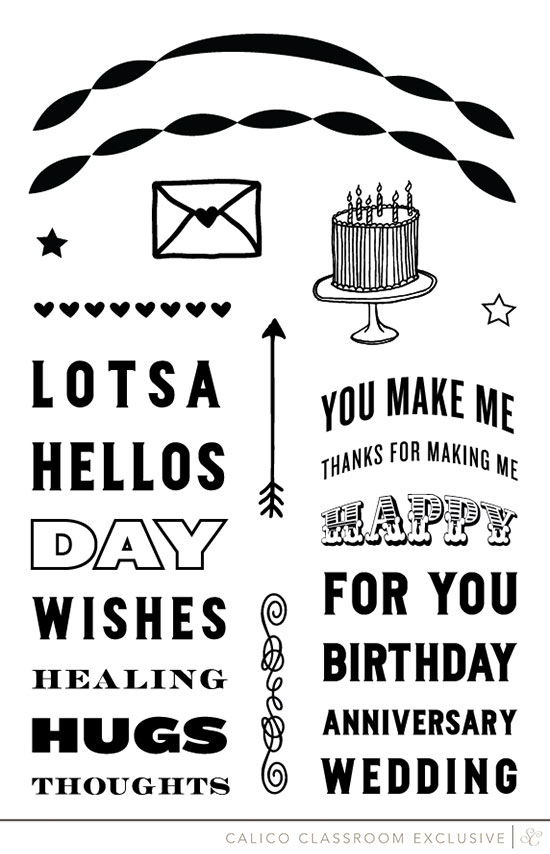 We worked really hard to make the stamp super versatile! The messages work together in so many ways, and you can mount them on a block and stamp them all at once — OR — stamp them seperately in different colors. I seriously love this set. (Especially the cake! And the streamers! And the envelope. Well, guess I love it ALL. :)
Here's the course syllabus:
March 1st : Lisa Spangler's tips & tricks.
mailing bulky cards, shaped cards, one layer cards, getting organized/storage
Week 1 – March 4th : Birthday (kids, masculine/feminine, invites)
Week 2 – March 11th : Everyday Greeting (just a note, hello, get well soon, thinking of you)
Week 3 – March 18th : Special Occasions (anniversary, weddings, babies, congrats)
Week 4 – March 25th : Beyond the Card (envelopes, tags, gift card holders)
And that's not all! Students will also receive printable accents and labels from Hello Forever, a digital brush set of the class stamps, and window card, tag and accent cuts from Kinsey Wilson. These will be available in the classroom on March 1st. Here's a preview of what to expect (this file is lo-res and won't print well — you'll get a hi-res copy in class):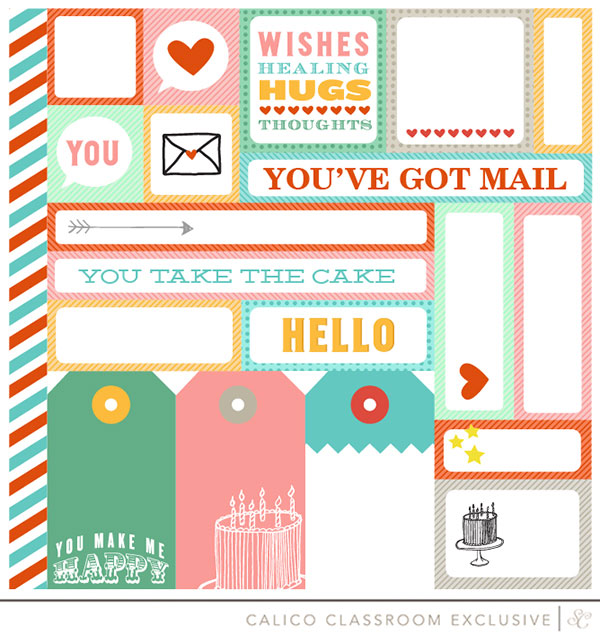 Sign ups for class have started right HERE — and trust me, you'll want to sign up quick so that you can receive that FREE stamp set! Registration is open until Feb 28. And, you'll have forever access to the class even after it's ended! Can't beat that.
And just to do a little enabling, here are some supplies that we'll be using in class:

Hope to see you there!
Aaaannnnd!!!! I get to giveaway a spot in the class and the (while supplies last) stamp set! WOO! Just leave a comment here by February 7th and I'll announce the lucky random winner on the 8th! If you like, include a bit about the last card that you made in your comment — I'd love to hear about what you've been up to! If you win and you've already registered, you'll receive a refund — or you can pass your winning spot on to a friend. :)
Edited to add: the winner is #36 Marilyn Bronson! Yay! Marilyn, I emailed you. Thanks all! Really loved reading all of your comments. :)