Hi there and welcome to my stop on the Simon Says Stamp Summer Release Blog Hop! You should have arrived here via the majorly talented (and super nice!) Stephanie Klauck's blog. If you are just joining us, feel free to go back to the start at Simon Says Stamp.
Today we're celebrating the start of summer and the new summer release. You should have heard me when my new stamps arrived — I was like a kid in a candy store! But as soon as I saw the Petal Pieces and Inside Out Sayings an idea popped into my mind and I just had to try it! Do you know that feeling? :)
I LOVE how the Inside Out Sayings have witty messages for the front — and inside — of your card. (That Kristina is brilliant, isn't she? I was actually lucky enough to be there when she was dreaming up the set. She is just amazing.)
So anyhow, the name "Inside Out Sayings" made me think that I wanted to stamp the BOTH messages on the inside, but with a little trick! (Don't worry, you'll see.)
And then! Then I was inspired by the retro look of the flowers to use a funky color scheme with the new Hero Arts Fresh Peach and Mint Julep inks…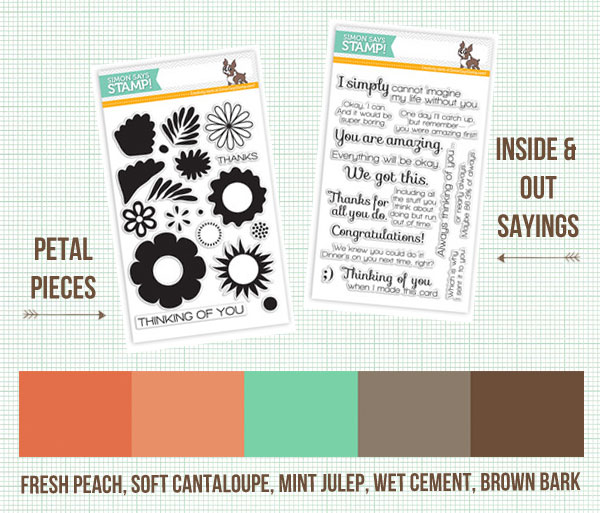 So I went to town and stamped all over a 4×5.25″ panel for the front of the card. I also ended up adding a few touches of Tide Pool ink, just to see how it would look with the Mint Julep. Oh and a little Butter Bar too. I must say that building your own flowers is quite addicting! And quite relaxing, too. So many possibilities!
So now for the tricky bit! After I finished stamping the front, I trimmed out a strip to make room for the message, like so: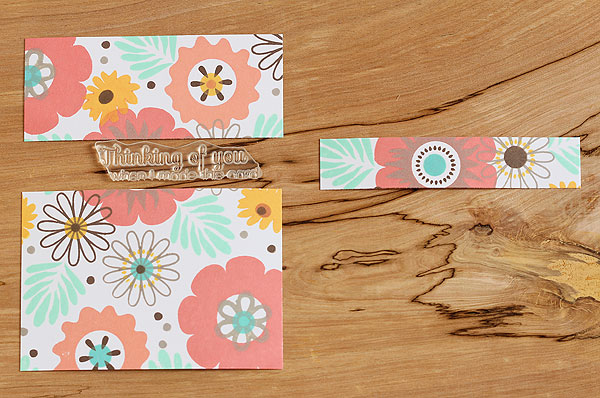 Then I placed — but did not adhere — the top and bottom pieces on another white panel trimmed to the same size and stamped the message. If you can't read it, it says "Thinking of you when I made this card".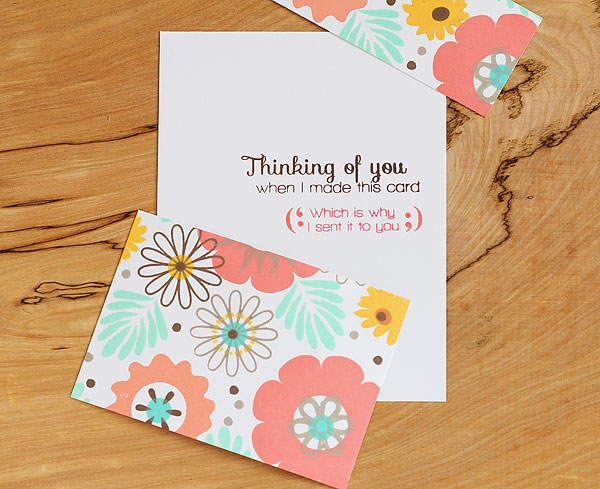 Then I moved the top and bottom pieces aside and stamped "(; which is why I sent it to you ;)" underneath. LOVE this. HA! This panel with the message will become the inside of the card.
To put the card together, I just adhered the inside to an acetate notecard like so: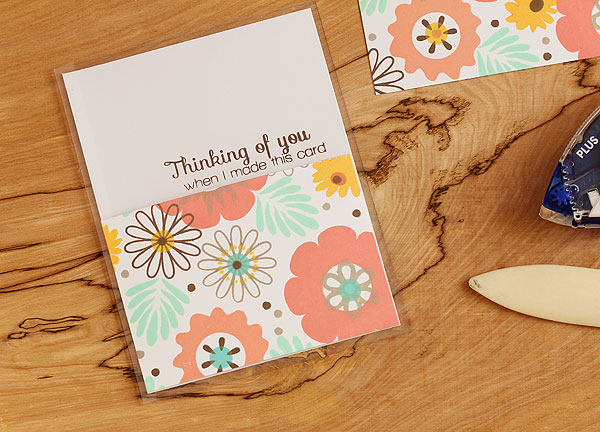 Then I scored it really well and adhered the two flower pieces to the front! And ta dah!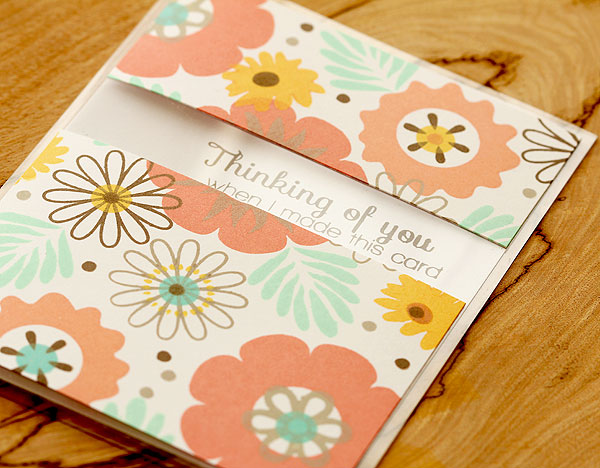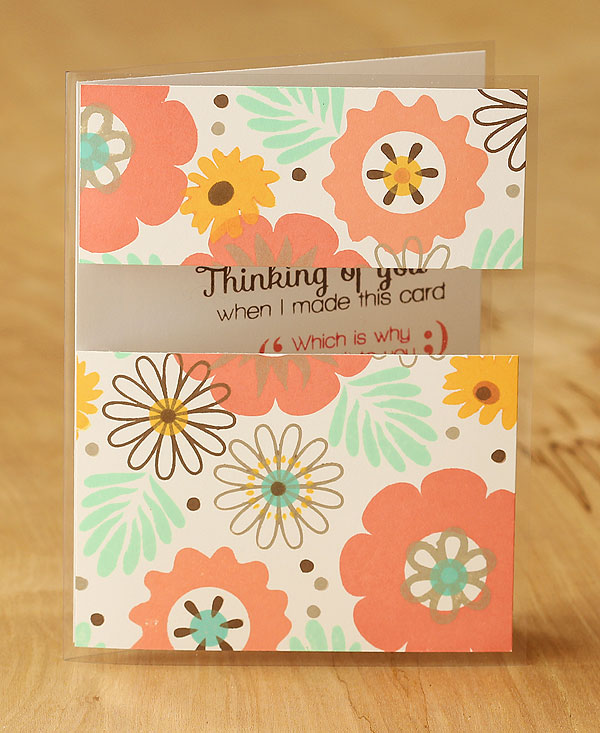 I can't wait to send this to a certain someone ;)
And I couldn't stop there! Those darn Petal Pieces are just too addicting. So I made another card with them and the Happy set.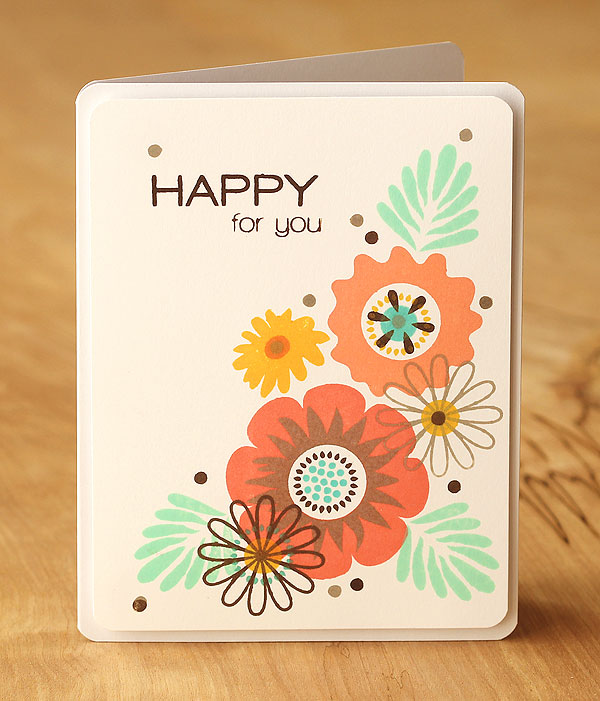 I love how you can use the little dots in the set just as polka dots! And These colors? They really make me happy!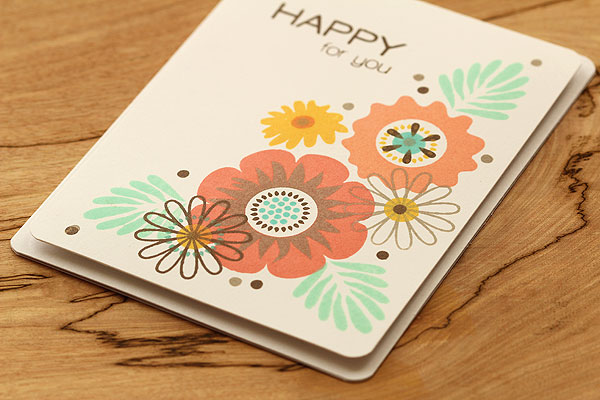 The way the Hero Arts mid-tone inks seep into the paper is almost like magic. They work especially well for solid stamps like the flowers. Gives a such a nice even coverage. Now for another happy little something!
How about a GIVEAWAY! Simon Says Stamp will be giving away a grab bag filled with stamps, paper, and embellishments (note: not new Summer Product) to one randomly selected commenter on EVERY blog in the hop! The giveaway will remain open until  Thursday June 6 at 9:00 pm EST. So the more comments you leave, the more chances you have to WIN! YAY!
That's it for me! Click on over to incredibly talented Jess Larsen's blog to continue on your journey!
Thanks so much for joining me, and many many thanks to Heidi and Simon Says Stamp for having me! I had so much fun, and can't wait to play with more of my favorites from the release. So many good ones! See below. :)
Happy summer, one and all!
Supplies
More of My Summer Favorites