Hi there! Hope you're having a great weekend! Me? I'm honored to be guesting at A2Z Scrapbooking as they launch their brand new blog! A2Z Scrapbooking has been a premier Hero Arts retailer for a long time now, and was founded an effort to raise funds for Celiac and Behcets awareness. So you can see why I was so honored when Linda Crissman asked me to guest today! Oh and if that's not enough, the sweet and talented Linda Trace is their design team lead! Not one, but two awesome Lindas! :)
I decided to use the new Hello Flowers set from the Hero Arts Starry Nights catalog — and I came up with a cool technique in the process, too! Have you ever noticed how poppies have neat lines in their petals? It's amazing when the sun shines through them.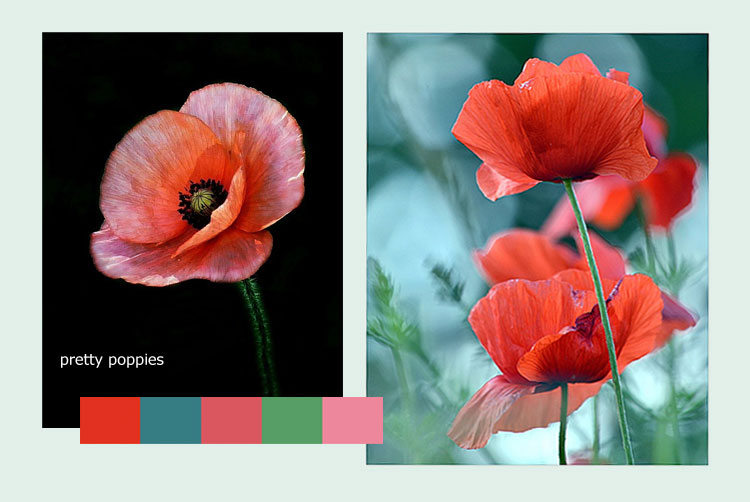 (Sources: left and right on my blooms board on pinterest.)
Here's my first card — I was imagining the sun shining on a poppy after a soft spring rain.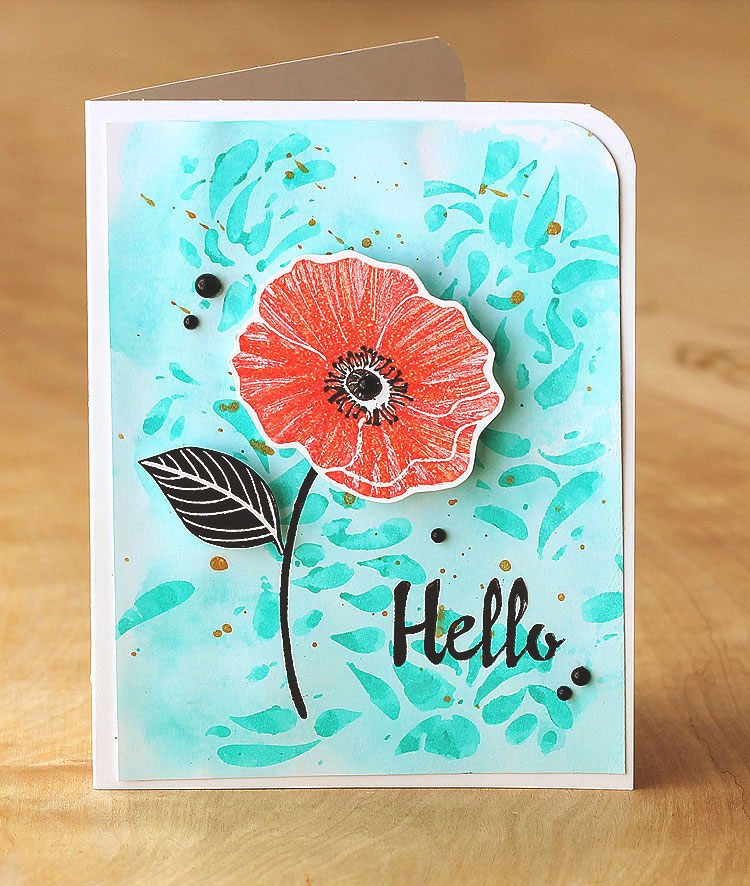 Here's a closeup so you can see the coloring better!
The Technique
So, how did I do it, you ask? With water based markers! Here I used a mix of Distress markers and Momento as I didn't have the colors I wanted all in one brand. But it's all good.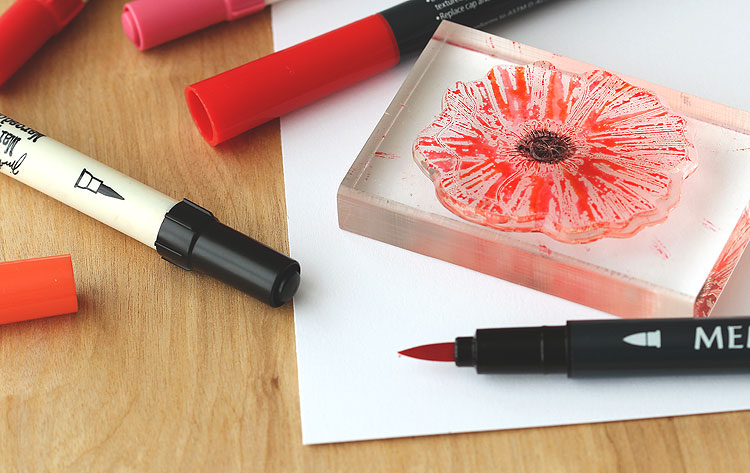 I started with the petals, making lines all over the poppy with the brush side of the marker in an orangey red from the center out. Then I went back over it, making more lines with other reds and pinks. Finally, I colored in the center with black.
Then I lightly misted it with water — very lightly, as if you get it too wet you'll lose the lines. Which is still kinda cool, but not the look I was going for. I think it adds to the effect if you leave some white in between the lines, too.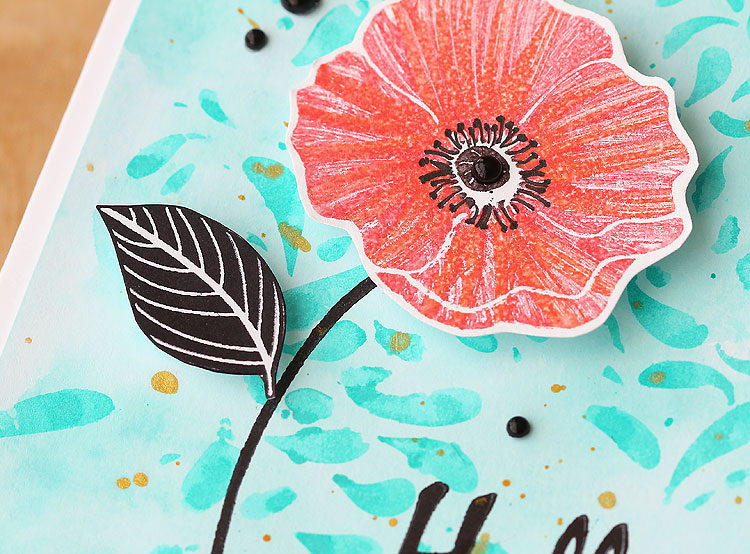 Practice a few times to see how much space to leave, as the color will spread a bit when you stamp it.
Then after I stamped it I used the fine point side of the marker to draw the lines in the center. I always forget about the fine point side, how about you?
Then to make the cool rainy background, I grabbed an acrylic block, tapped Tide Pool and Pastel Blue daubers here and there over it, misted it with water and placed a piece of paper over top. After it was dry, I went back over it with the new Rain Dance stencil and the Tide Pool dauber. I just did a little here and there, not all over.
Then when that was dry I flicked on some new Gold spray here and there. I added some gems and pearls to the card and that was that! Especially love the black pearls in the flower centers. The Neutrals Mixed Accents pack is perfect for this.
And I couldn't stop there! While I had the supplies out I went and made another card, too!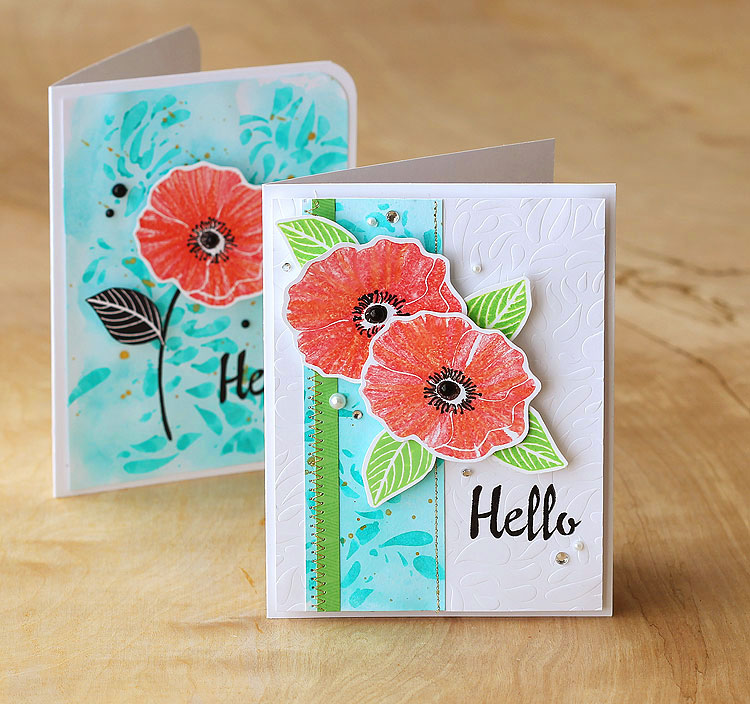 This time I used the stencil to emboss with! It doesn't give quite as deep of an impression as a true embossing folder, but anytime we can get more from my supplies is a good thing, right!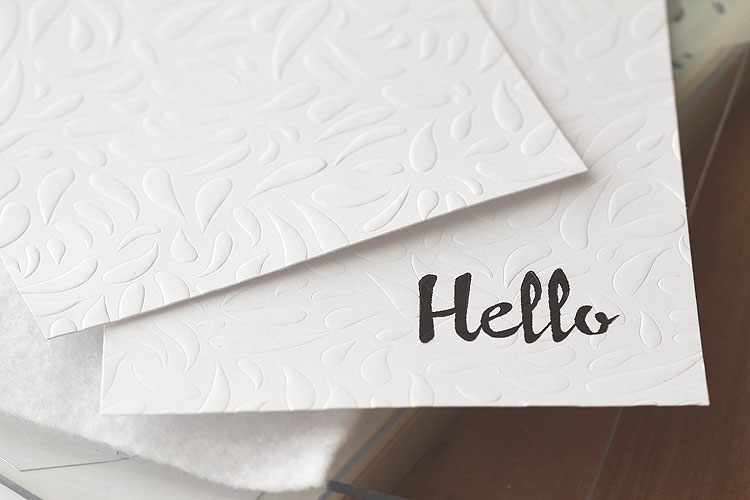 Oh and it might be a little hard to see, but that strip of green paper has the new BasicGrey Diamond Cling background stamped on it. Love.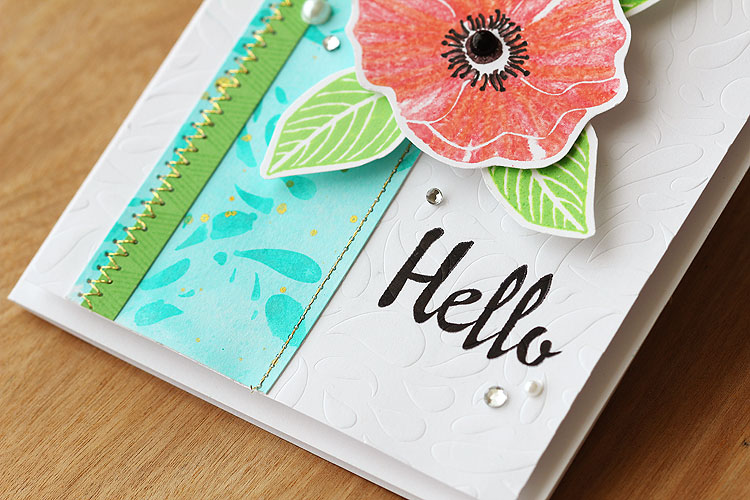 And one more tip — I stamped the message before doing the embossing — works better than trying to do it after it has the texture.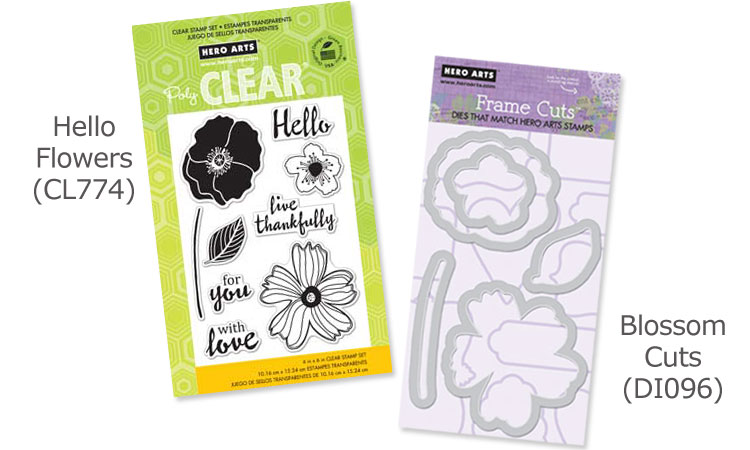 By the way, the Hello Flowers stamp set has a matching set of dies! I just got mine yesterday, sure wish I'd have had it when I made the card. Cannot wait to use it, I have so many ideas running around in my brain for it!
Discount Code
Now, how about a special discount code? Just use the code NEWBLOG when you place your order to save 20% off your purchase! The purchase must be $25 or more. This code can be used on as many purchases as you wish until it expires April 30th.
So what are you waiting for? Pop on over to the A2Z Scrapbooking etsy shop and save! I've listed my supplies with links to their shop below. :)
Giveaway
And that's not all! Click on over to the A2Z blog for your chance to win a $25 gift certificate! WOO!
Supplies
Note: Some supplies are not in the shop at the moment, I'll add them as soon as I hear from Linda C! :)