I'm honored to be Chaitali's guest on this week's Iron Craft episode. If you haven't heard of Iron Craft yet, you are in for a real treat. She has interviewed so many awesome papercrafters already. I have to admit that I was really nervous doing the on-camera interview — I am one of those people who likes to stay behind the camera, ha! You can watch our interview here. It turns out that we have a ton in common, including both being computer nerds who love the outdoors. :)
For this challenge, we both used Studio Calico's Penny Arcade card kit — love this kit so much! (Although, when don't I love a Studio Calico kit, right? Ha.)
We received our kits super early so that we could do make our cards in time for the recording of the video, so we didn't have everything that you see like the banner die, the buttons or the twine. But we still had tons of fun!
We each made four cards using only the kit. Be sure to check out Chaitali's cards — they are awesome!
I gotta say that I could have kept going and going and going…you get the idea!
Anyhow, on to my cards! This first one could be used to celebrate anything from birthdays to graduations to being on Iron Craft :)
Yay Yay Yay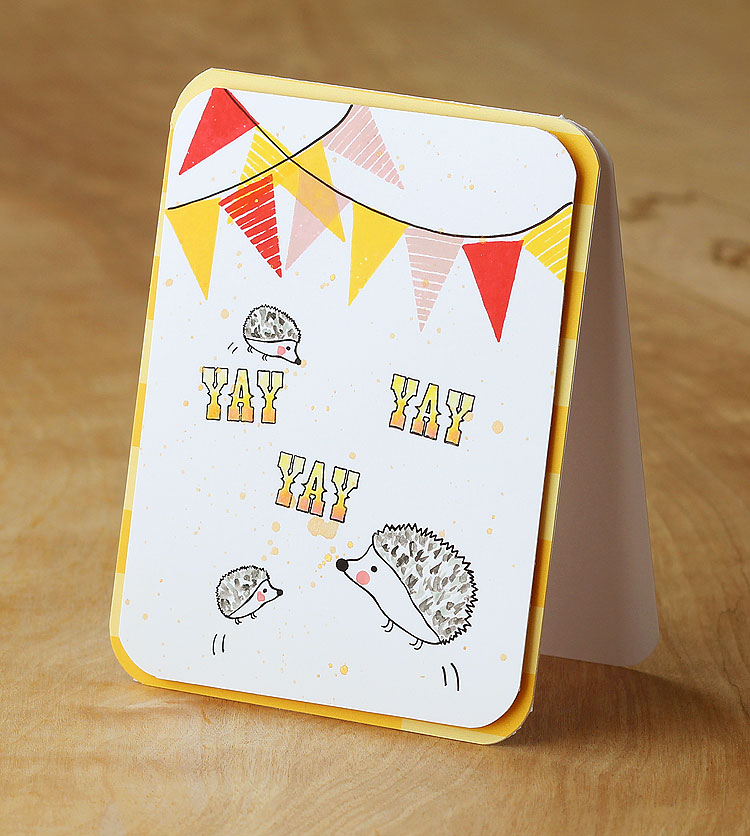 Gotta admit that I was giggling the whole time I made this. Had a ton of fun watercoloring the little hedgehogs, too!
Hi there, happy feathers!
For my next card I watercolored two of the feathers with Mister Huey's watercolors on the patterned paper and cut them out. Just gotta say that I love the Mister Huey's watercolors. So many great colors to chose from and they go with Studio Calico papers and inks — of course.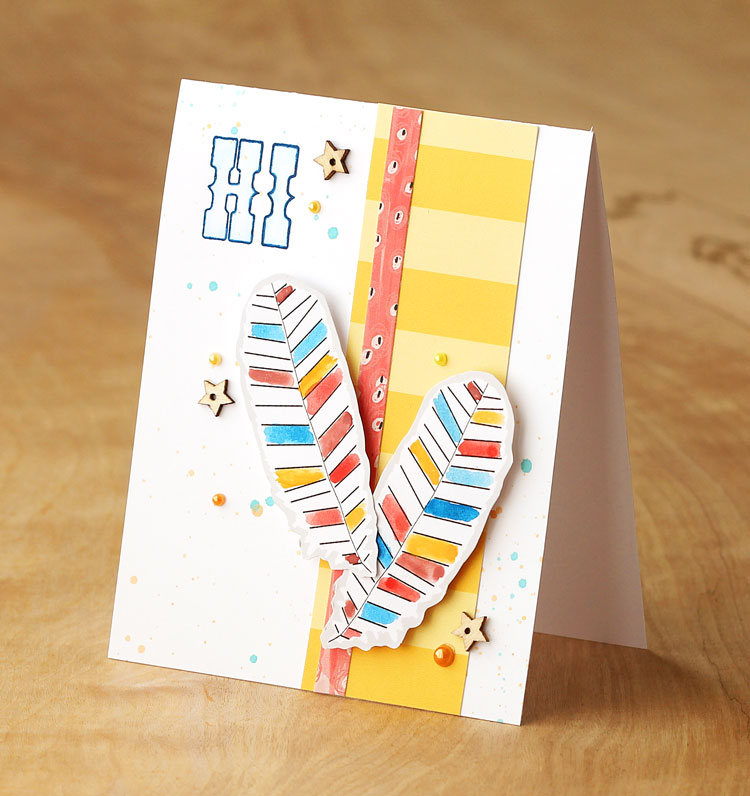 Speaking of Studio Calico inks, I stamped the HI in Studio Calico deja blue, then used a damp brush to pull color from the stamping towards the center. There are so many techniques that you can do with these inks — I'm loving them more all the time.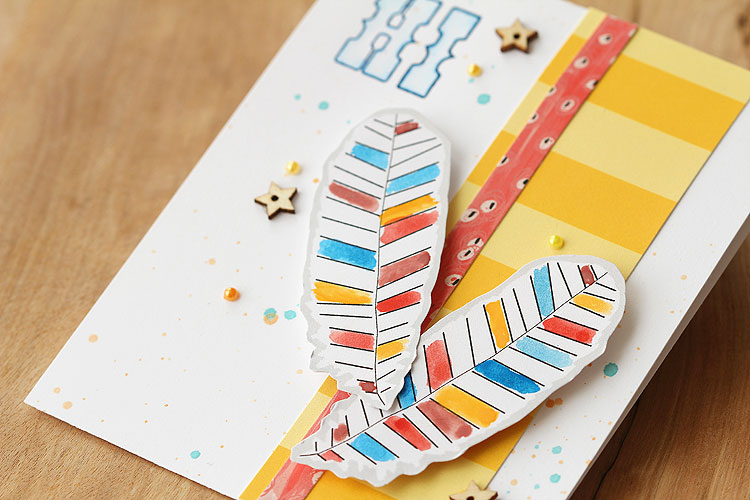 Then I added some of the wood veneer stars from the kit. Love these so much! Couldn't resist adding some splats, too.
There's No Place Like Gnome
Next I just had to play with the gnome. And that map paper. Wah!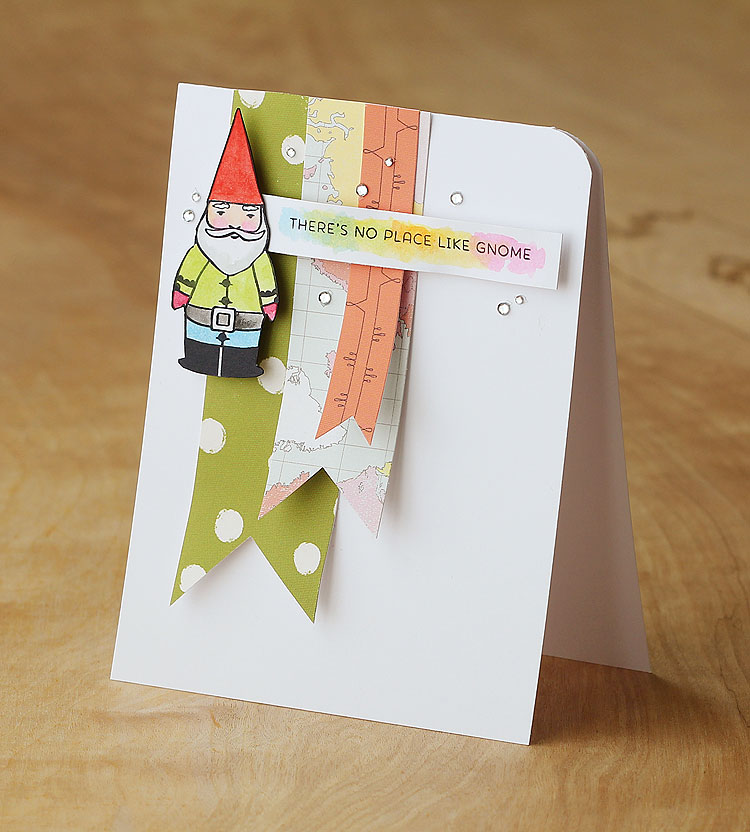 Once again I used the Mister Huey's watercolor set to do the coloring. Love how it has skin tones! And the colors blend well together.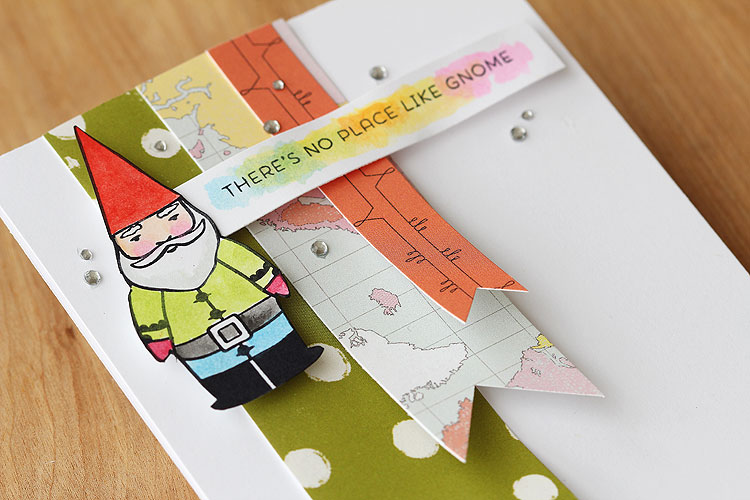 I plan on sending this one to my Dad. :)
You Make Me Happy
Last but not least, my favorite card using the happy little cloud stamp! I kept this one really clean + simple to focus on the cloud.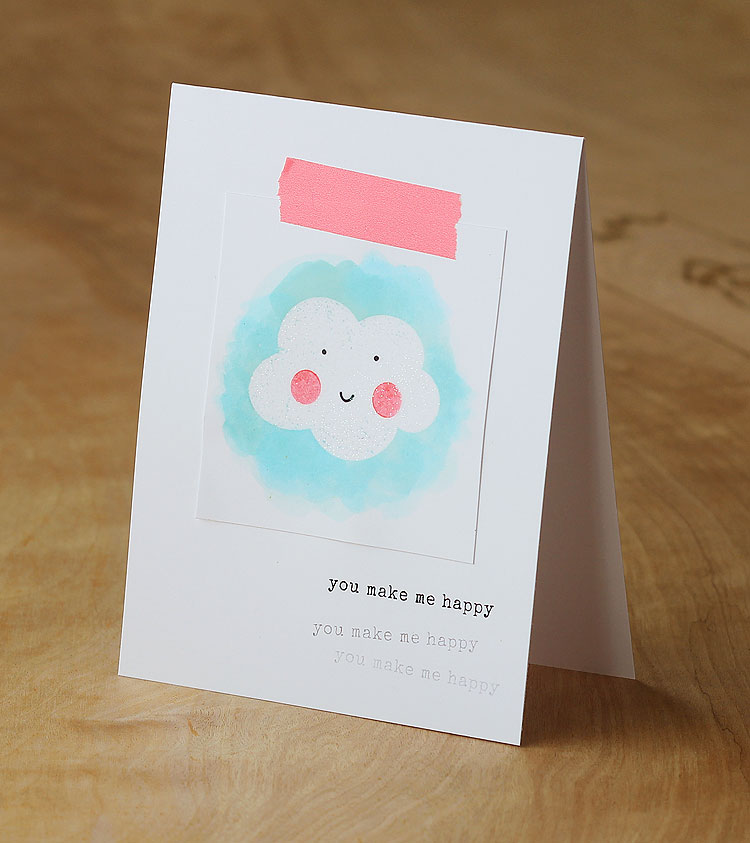 I wanted the cloud to be white, but I couldn't get her to show up very well. Then it hit me! I stamped her face first, then stamped the cloud over top with clear VersaMark ink and embossed her with clear sparkle embossing powder. Then I watercolored around her. Ta dah!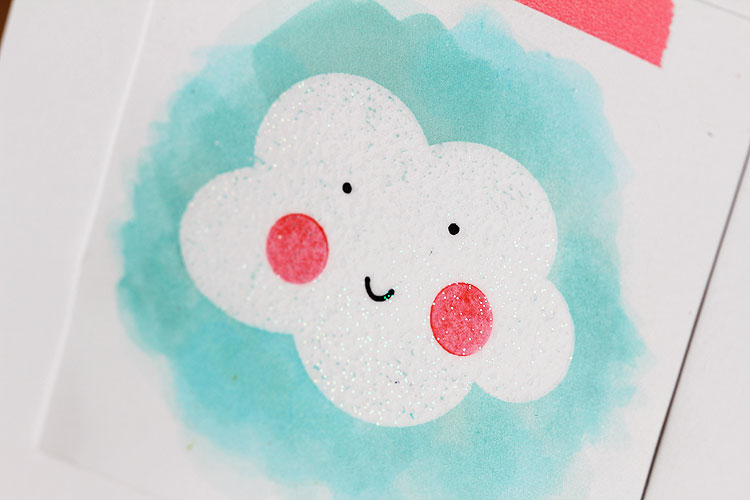 Here's a closeup so you can see her better. And those cheeks? First I stamped them with the solid circle from the stamp set in well red, then I stamped the textured circle over top in white pigment ink. So cute how it makes a kind of pink! I just want to make a whole sky full of clouds now! :)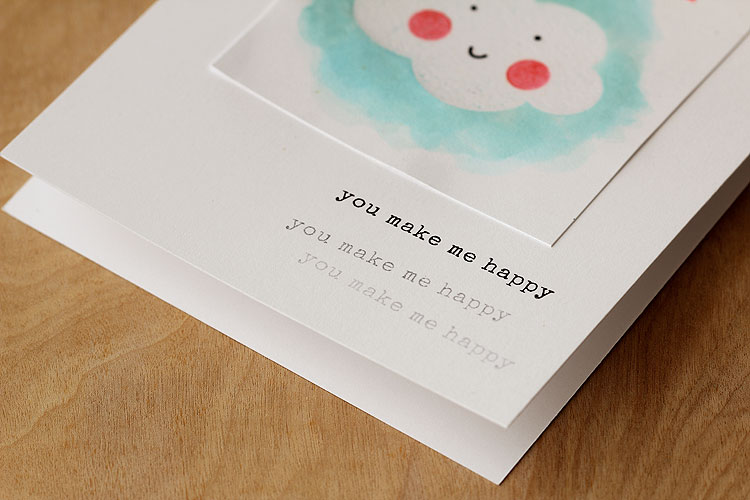 If you've fallen in love with the Studio Calico Penny Arcade card kit you are in luck! It hasn't sold out — yet. Pick one up right here. Or you can enter to win a giveaway here at Iron Craft.
Thanks so much to Chaitali for having me, you made being on camera fun! Big hugs! And thanks to Studio Calico for being our sponsor. You both make me so happy! xo
Supplies