Hey hey! I am so excited! I'm a contributor for Online Card Classes Stretch Your Stamps 2, and I get to do a giveway! Yay!
Here's a bit about the class —  I just know it's gonna be awesome! There's an amazing lineup of contributors — and just look at these peeks: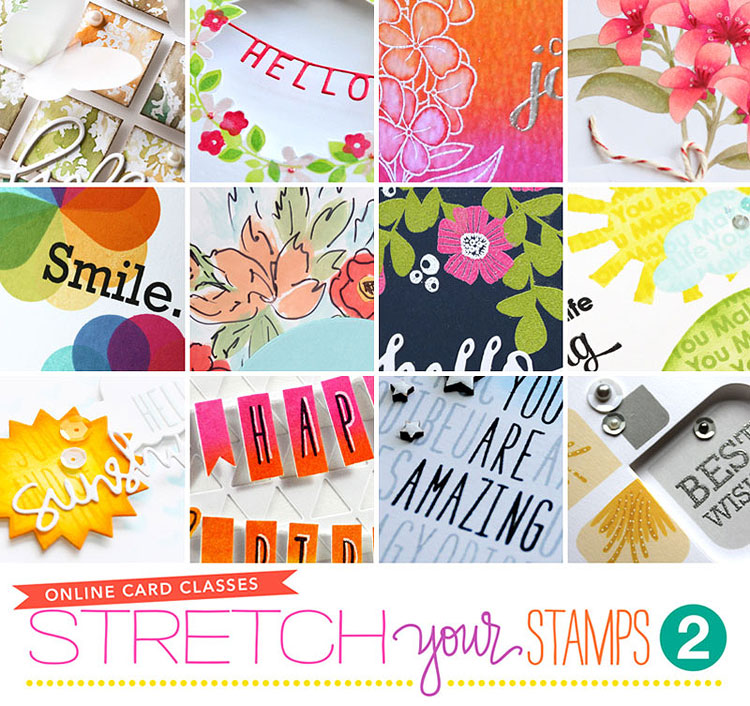 Look at your stamps in a whole new way! Back by popular demand, join Online Card Classes for another great installment of Stretch Your Stamps!
Join instructors Kristina Werner, Jennifer McGuire, Debby Hughes, and friends (including me!), to discover just how far you can stretch your stamps—whether you're an expert stamper or just getting started. In Stretch Your Stamps 2, you'll learn how particular styles of stamps can be used in a variety of creative ways to expand your card-making skills. Over the course of this two-week session, you'll be introduced to techniques and concepts through expert instructor videos, and then build on your new knowledge with the help of inspiring guest artist examples. Stretch Your Stamps 2 includes over 30 videos and 40 card ideas, along with instructional PDFs, a forum, galleries, shopping discounts, prizes and more.
For more information Stretch Your Stamps 2 from Online Card Classes, click HERE. Class starts August 4, 2014, but you will have lifetime access to the content.
Here's a video with even more info and the stamps we'll be using:


SYS2 stamps from Online Card Classes on Vimeo.
Told ya class is gonna be awesome!
Giveaway
Class starts on Monday, so let's have a short and sweet giveaway! Just leave a comment here on this post with your favorite thing about summer, and I'll announce the lucky winner on Saturday by noon CST. Ready set go!
Edited on Saturday at 11:45 am: Loved reading everyone's comments about your favorite things about summer. And the lucky random winner is SmallT! I emailed ya. Comments are now closed — see everyone in class! :)