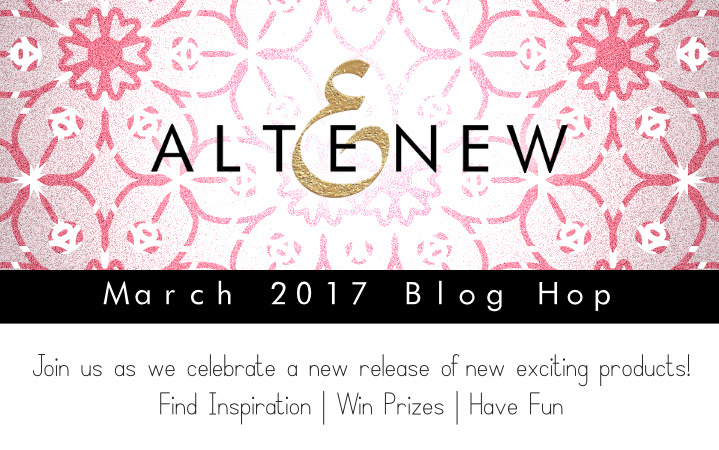 Hi there, and welcome to my stop on the Altenew March release blog hop! If you've been hopping along with us already, you'll have arrived here after visiting the super talented Debby Hughes — she's one of my stamping heroes! If you're just now joining us you can head on back to the start at Altenew.
Now that the housekeeping is out of the way, let's hop to it!
Stencils and Sprays!
The stars of the March release are new metallic shimmer sprays and stencils — oh whoa you all! Just whoa!  I was sent 3 of these new stencils and 3 sprays to work with, and I tested 'em out by making a TON of backgrounds.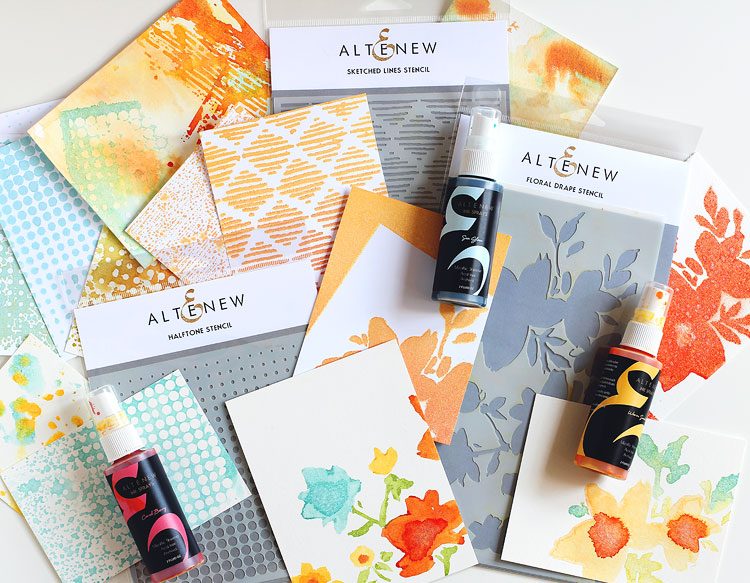 I just had to add that when my creative mojo is running low, I LOVE to grab some sprays and stencils and just play around making backgrounds. No pressure. All good! Not that I had any trouble getting creative with these — in fact, I had too many ideas and not enough time! :)
So, check out those stencils — clockwise from lower left:  we have the Halftone stencil, Sketched Lines  and Floral Drape — this is a BIIIIIGGG stencil you guys! I'll have all the links for you at the end of the post, but I just wanted to introduce them to you first.
Now for a closer look at those metallic shimmer ink sprays:
Clockwise from lower left again, that's Sea Glass, Warm Sunshine, and Coral Berry. These are metallic sprays and are so shimmery and pretty in real life. Hope my photos do them justice!
Sketched Lines Stencil
Soooo, I just may have gotten a little carried away making cards! Ooops :)
So that I don't overload the post with too many photos, I decided to put together a slideshow for each stencil, then point out a few things about the cards. The start of the slideshow has a photo with the stencil in it for scale. Click on the dots to pause the slideshow, then you can use the arrow icons to move forward and back at your own pace. :)
First up, the Sketched Lines stencil — since this is the one I grabbed first! I paired it with the cactus and sentiment from the Be Strong stamp set, because I think the Sketched Lines stencil has a little bit of southwest flair.
Now for a couple of notes about these cards. First off, did you know you can use these sprays to watercolor with? I don't have a green Altenew spray, but I just mixed the Sea Glass and Warm Sunshine together instead — worked like a charm!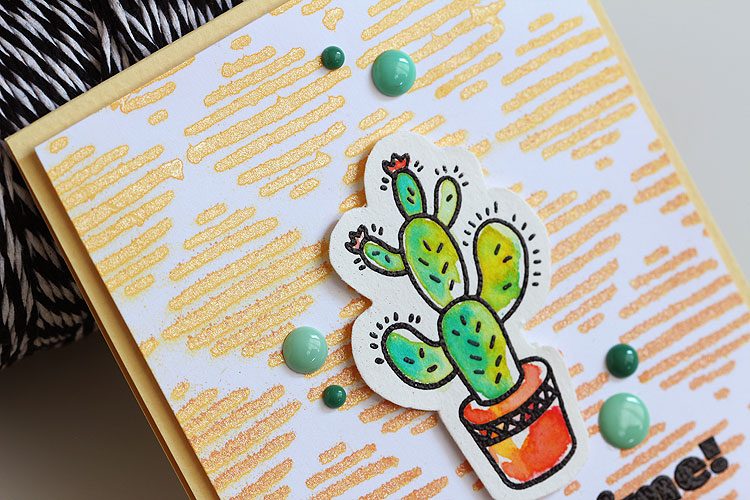 The pot was colored Warm Sunshine on the right and Coral Berry on the left. To get it even more concentrated, you can unscrew the sprayer from the bottle and then touch the end to the wet paint. It will feather and blend. Love!
Now for another neat trick: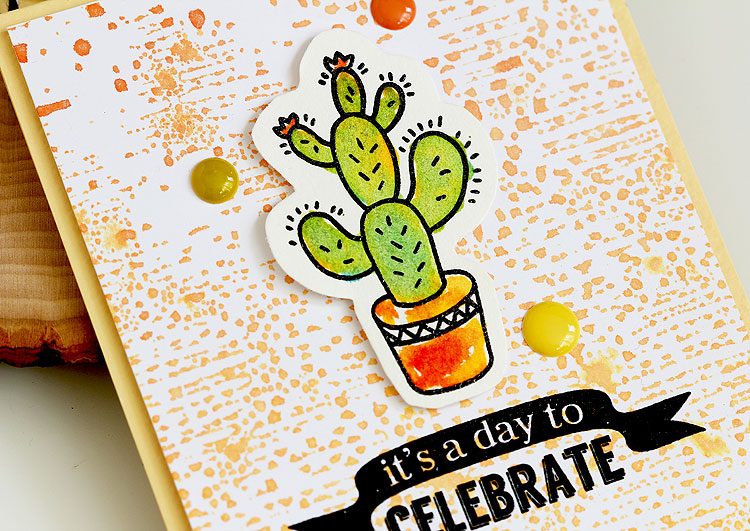 See that cool texture? Can you guess how it was made? Well, after using the stencil on the first card, I just placed a piece of cardstock over the inked side of the stencil without cleaning it and pressed it with my fingers all over. I hate seeing all that delicious spray go to waste so this is a great way to use up every last drop! And it's always unexpected.
Now for another tip…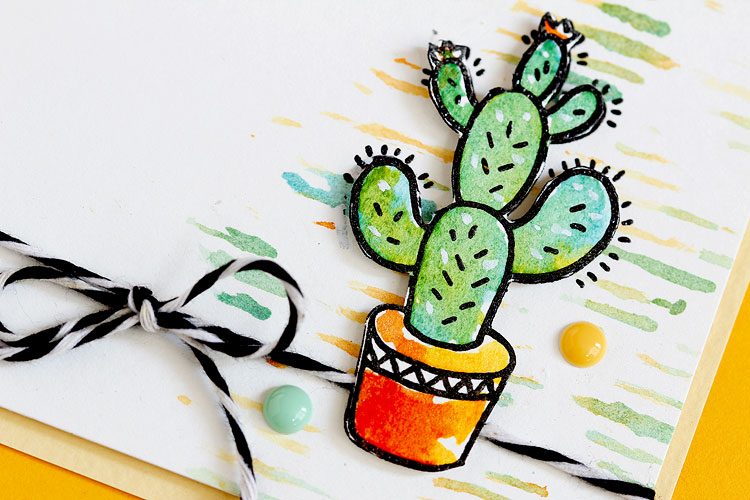 For this last cactus card, I decided to watercolor the stencil — again using the sprays as my paint — just coloring in a few lines here and there to make a more subtle background and "ground" the cactus.
Floral Drape Stencil
Now for 3 cards using the amazing Floral Drape stencil. This stencil is BIG you guys — check out the first photo in the slideshow for scale!
Now for some tips and tricks for using the Floral Drape stencil. First up! Put the stencil at an angle and you'll have a built in one layer card! The white that you see on the base card was formed by the stencil blocking it when I sprayed with Warm Sunshine.

Then I cranked things up a notch by cutting out a flower sprayed in a different color. Look at all that shimmer…
The next two cards use the same technique, and that's watercoloring with the sprays. Just put the stencil on your paper and lightly tape it in place — I like to use washi tape for this, or you can use a post it note.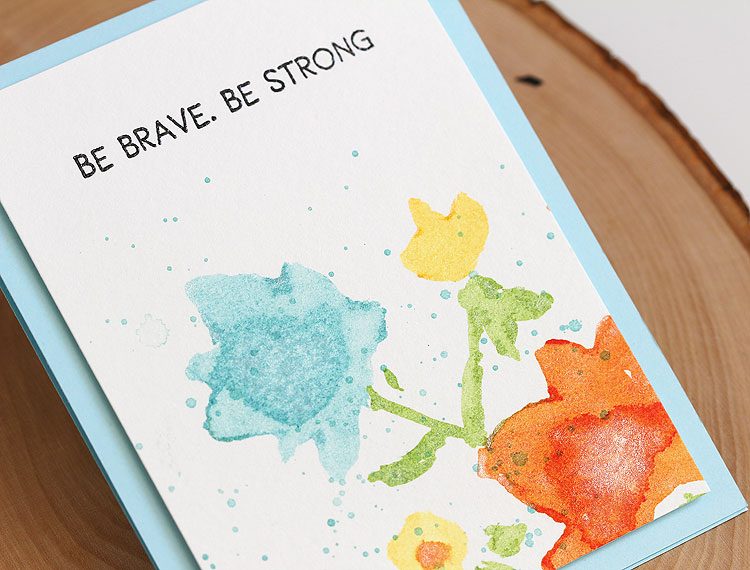 I unscrewed the sprayer and tapped out some color on a palette, then used a damp brush to pick up color and color the flowers. You don't want the brush to be too wet, just load it up good with spray.
Then while the paint was still wet, I touched the end of the sprayer to the center of the flower to make it darker. So on the above flowers, I first colored them with Warm Sunshine, and then while the flower was still wet I tapped the center with the end of the Coral Berry sprayer. This just makes me feel like an artist!
Oh and I just had to add that the "be brave. be strong" and "you are so much stronger than you think" sentiments are both from the Be Strong set — this is the same set that has the cactus stamp that I used above. I'm sending these to some friends who are going through some tough times, including battling cancer.
Now for one last stencil…
Halftone Stencil
Last but not least, the Halftone stencil!  I can see myself reaching for this stencil again and again — especially to make masculine cards! Check this guy out:
For this bad boy, I incorporated a bunch of techniques that I shared already, plus a couple more. Here's the run-down:
I started off by unscrewing the sprayer from the bottle and tapping the end on my craft sheet to make a few puddles of color, then I misted it with water and smushed a piece of watercolor paper through it.
Once that was dry, as I was playing around making other backgrounds I'd take a dirty stencil and smoosh that same piece of cardstock over top, letting it dry in between.
I stamped and embossed the birthday noisemaker from the Birthday Bash set on another piece of paper that I'd previously made using theHalftone stencil and cut that out.
Finally I cut a strip of shimmery paper and added that on. Done!
And that's it for my cards! Thanks for hanging in there with me, and hope you had as much fun reading the post as I had making the cards!
Giveaways!
Woo hoo!!! I've got two giveaways to announce:
To celebrate this release, Altenew is giving away a $50 gift certificate to THREE lucky winners! Please leave a comment over on the ALTENEW blog by

Thursday, March 16th at 11:59 pm EST

for a chance to win. The winners will be announced on the Altenew blog on

Friday, March 17th

.
And that's not all! I'm hosting a giveaway too! Yeah! To enter to win a $30 Altenew gift certificate, just leave a comment HERE on my blog by Wednesday, March 15th at 11:59 pm EST for a chance to win. I'll announce the lucky random winner on March 16th. Updated to add: the lucky random winner is Brenda in IN! YAY!!!! Comments are now closed, thanks so much to everyone for all of your kind words, I loved hearing from you!
Hop On
Your next stop on the hop is the amazing Erum Tasneem's blog — I can't wait to see what she's made!
Here's the full hop list for you — I'm so honored to be listed among them and call so many of them friends:
Thanks so much for joining me today, and hope you have a great day! xo
Supplies