Howdy partners! Today I'm sharing a card made with the May release of the Technique Tuesday Animal House stamps: Hanna Horse!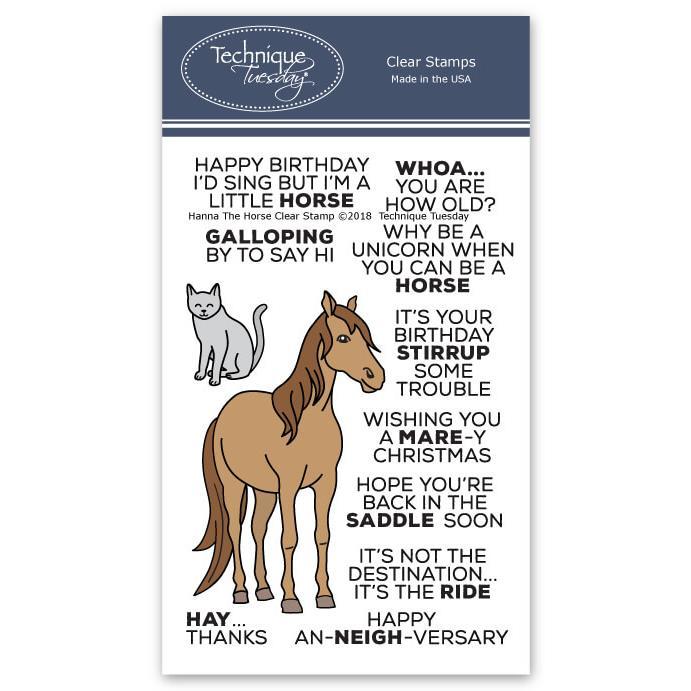 Aren't those sentiments just the best?? I love them like WHOA! (Sorry couldn't resist.) I also love that you can get started on your Christmas cards early with that MARE-Y Christmas one. And that these will work equally well for both the cowboys and cowgirls in our lives!
In case you're not familiar with the Animal House series, these are released monthly and each stamp set has matching die cuts and a bio — those bios crack me!!! The bios just happen to be written by 2 amazing humans — my friend Teri and Bev, founder and CEO of Technique Tuesday! Also, these cute critters — with the exception of this month's — are drawn by another sweet friend — Tam! No wonder I love these! :)
Here's Hanna's bio:
Hanna is a happy horse, who spends most of her days galloping around a barn and field on the West side. She is prides herself as being extremely active in Animal House community. She is very busy! She loves working out and does it often. Running around through the field and practicing jumping are her most favorite forms of exercise. She also loves spending lots of time horsin' around with her horse friends! Hanna also serves as a volunteer in a horse ridership program for young horse riders. Seeing the children smile (and stealing kisses and pets from them) is her favorite reward for letting them ride on her back!
Ha! Isn't that the best? Now on to my card!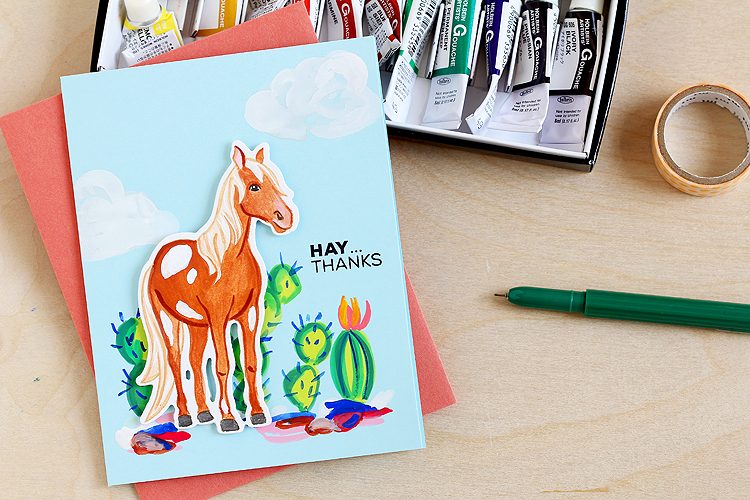 Since I've been on quite the gouache kick lately I decided to use that to color her with and do a little "no-line-coloring" action. You can find out more about gouache in this post.
I started off by inking her up with antique linen ink + a Tombow black marker for her eye — you can use any dye based marker for this, but not a permanent one like a sharpie or a Copic — those will just stain your stamp and not come off on the paper. I stamped her on bristol paper — love using this for gouache as it's really smooth and it won't buckle under layers of paint.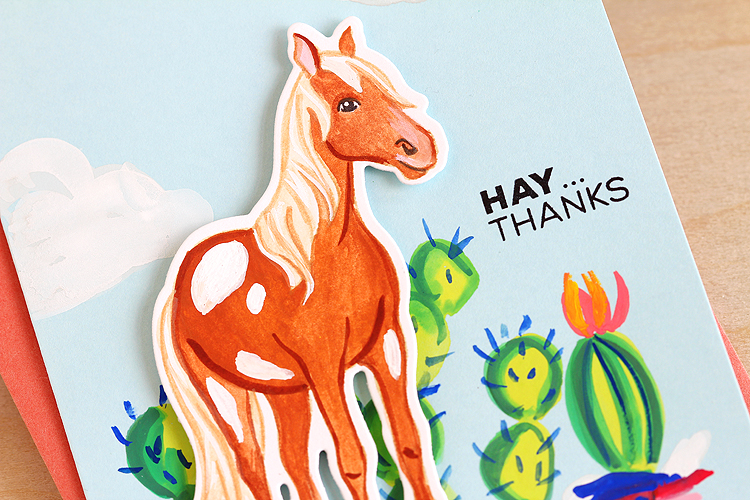 Then I started coloring away with gouache. The best thing about qouache is that you can add light colors over darks — so cool! I even decided to make a little western scene for her to roam around in — yep, gouache is opaque so it will even go over cardstock!
Here's the list of colors that I used:
For her body I used a mix of Holbein burnt sienna and yellow ochre from this set and then a bit of brilliant pink for her nose and cheeks
For the mane and tail I used white mixed with a touch of raw sienna, both from the same set
Then for the cacti I used both greens and lemon yellow from the set and then ultramarine blue for the spines, plus some mixed up orange and red for the flower
The clouds were done with white of course, annnnd
The rocks are more ultramarine blue, white, Turner brilliant red and pink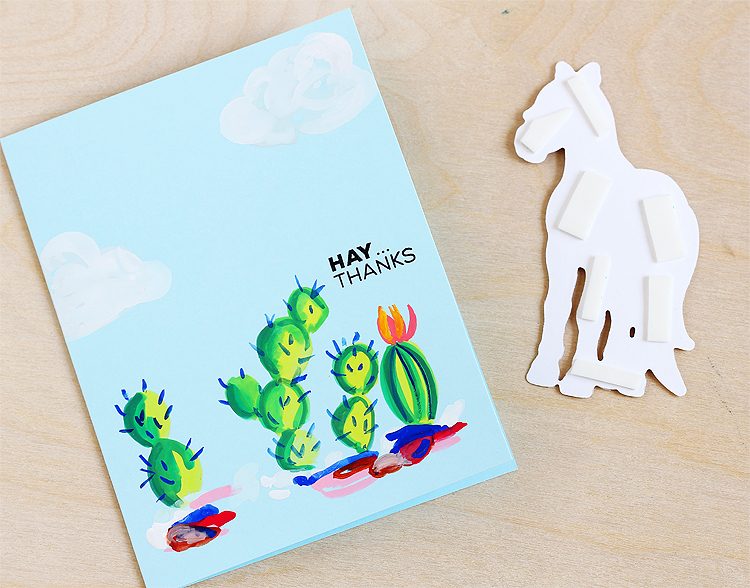 Then I die cut her out with the matching die — because no way I'd want to cut those legs out myself! Nope not gonna happen.
And then! I just had to stamp the back of the envelope too…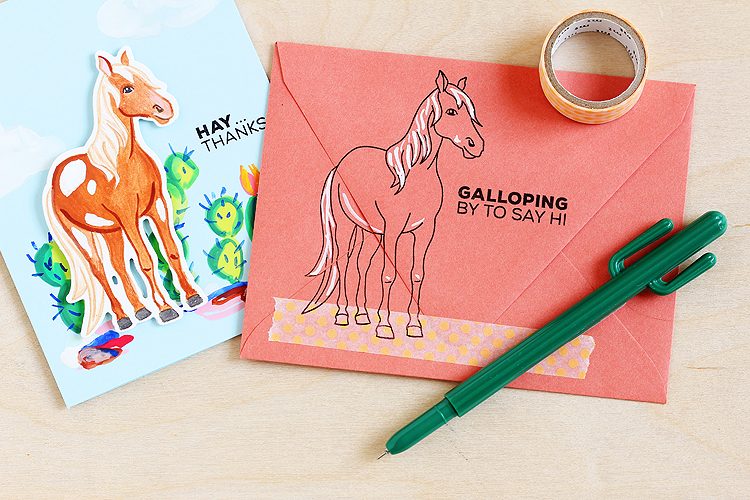 I added a few little details with white gouache and that was that! Can't wait to get this in the mail.
Before I go I just had to give another shout-out to Tam! We met just over a year ago at a crafty retreat and really hit it off — I kinda feel like we're soul sisters. I still have this cute bear that she drew — on a paper bag — hanging in my office. Is she good or what?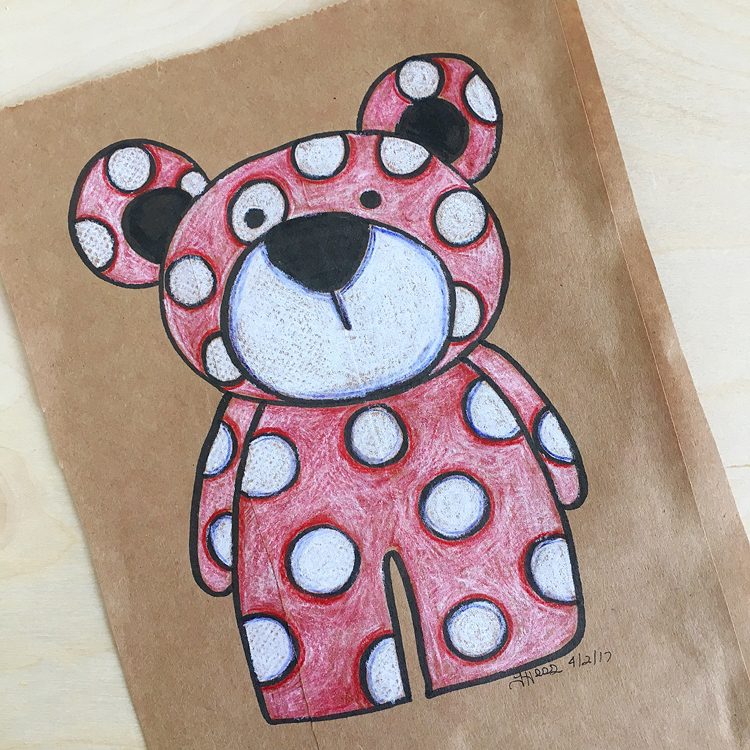 Love seeing his sweet face! Thanks again, Tam! xoxo
Thanks so much y'all for joining me! Now I'm off to STIRRUP some trouble :)
Supplies
Find the Animal House stamps and dies right here at Technique Tuesday — you can purchase them individually or sign up for the monthly subscription program and save! Find out more over there.
Annnd, here are the links to the supplies I used over at Ellen Hutson, where I'm an affiliate. If you make a purchase by clicking a link I'll receive a small commission at no charge to you — thank you!