Have you ever been overwhelmed with beautiful, heartfelt, one-of-a-kind, handmade cards? I have. When my Grandma passed away, my Hero Arts flickr friends went all out sending me cards. I truly felt the love, and caring, and sympathy — hand to hand — all across the miles.
It's a feeling that I just can't describe. Like getting a giant hug.
So I thought I'd share all the handmade cards that I received so that you could feel it too. I broke up the cards by color since there were so many. Let's start with sunny orange and yellow:
Clockwise from upper left: Libby (who organized and collected the cards while I was in Ohio — thanks so much again, Libby), Donna (irishmist), Louise, Jennifer, Lydia, Anne, Kathy (krolski), Lin, Heather Maria, Leslie, Sarah, Cindy, Barb,  Janet (jintyoo7), Clare
Now for purple: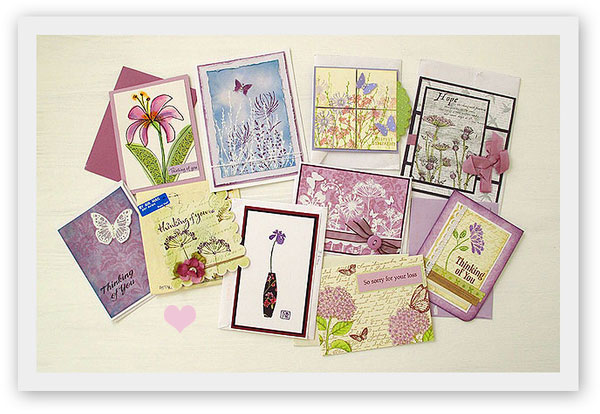 Sally (who hand drew and watercolored the flower), Heather Maria, Robin ("card"rageous), Sue (stampersuzz), Linda (rcwidow), Sally (cinnamonsally), Judy, Teresa (wteresa), Michelle (skrappergirl), Tami
Next up, pink: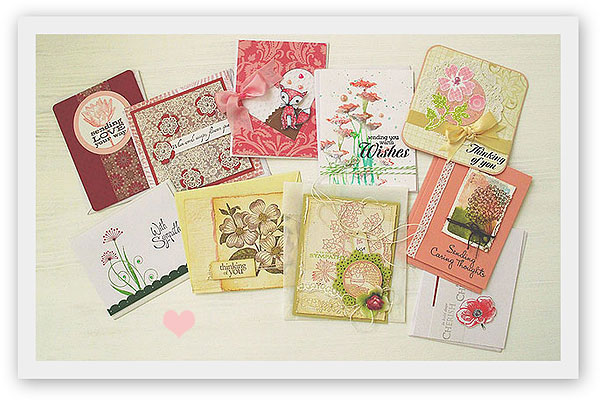 Karen, Linda, Kelly (love the pink fox!), Tiff (iheartart), Tiff (papergirl), Sue, Sharon, (Sharon D.), Sarah, Linda, Deb (debstamps)
Now let's go green: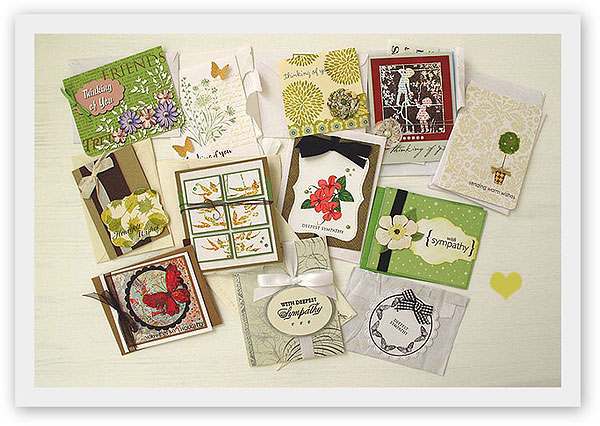 Anne, Nancy (nancyljk), Ivy (ishouldbesleepingbut), Virginia, Judy (judy1223), Alice, Greta,  Trinh, Carol, Anthonette (alnette), Shemaine, Lai Yoke (walchowDesigns)
And finally, blue:
Roberta (who even made a handmade envelope), Charlene, Paula, Lucy (who used one of my favorite pool notecards), Leena, Lisa (who stamped her back with her thumbprint — love it!), Dani, Martha, Pai, Clare, Anita
Wow. Just wow. (I tried to link to everyone's flickr photostream or blog — so sorry if yours isn't linked. If your link is missing, please do leave me a comment and let me know. Hugs!)
Now, don't you feel like you've been hugged? (I kept the cards on my fireplace, and I'd look over and get a hug whenever I was feeling sad.)
I wanted to make a special card for everyone to show how thankful I am for their friendship. So all of you — this card's for you!
I had this idea to make a layered stamped card, overflowing with loads of spring cherry blossoms for a while now — couldn't wait to make it. I started out by stamping an acrylic block inked with pink and green as a background, misted it, and stamped it on white cardstock.  Then overstamped with flowers and text.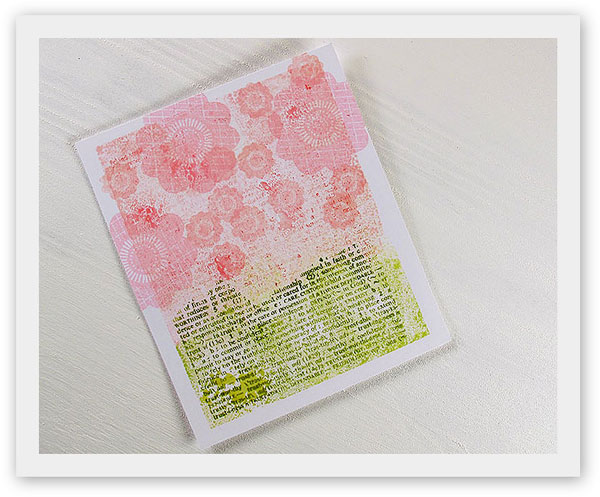 Then I white embossed the Tree Trunks stamp over top. (Can you believe I hadn't had a chance to use this stamp yet?) I think the distressed look of the Tree Trunks goes great with the distressed background!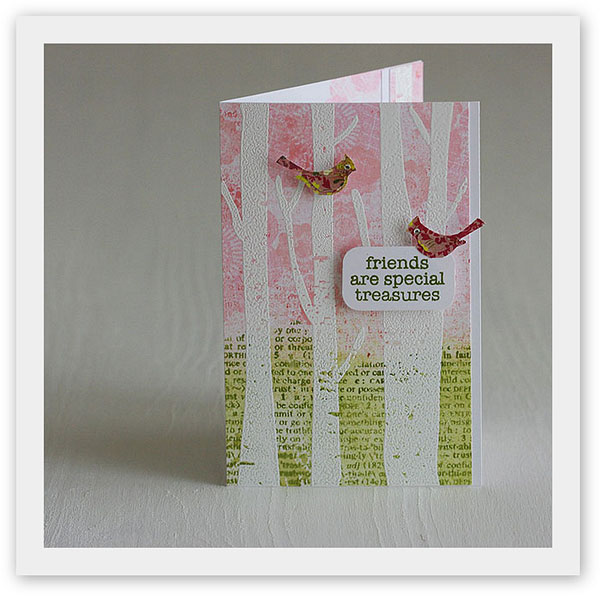 I trimmed up the stamped piece, saving one tree trunk for the inside of the card.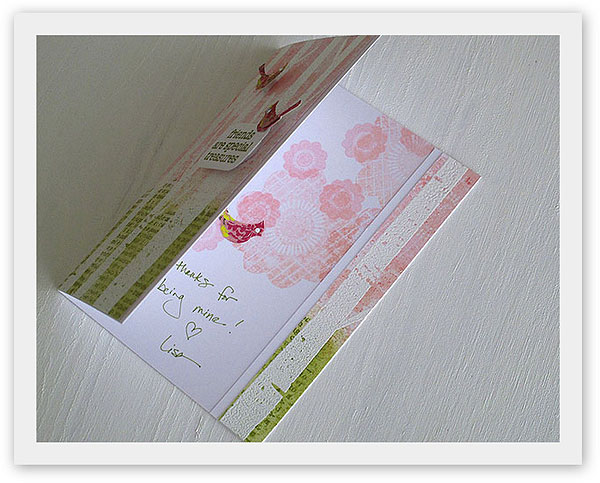 (Supplies: All stamps by Hero Arts. Spun sugar, shabby shutters, and peeled paint distress inks by Ranger. Angel pink Momento ink by Tsukineko. Bird punch by EK Success/Martha Stewart. White embossing powder and tiny gems — for the birds' eyes — also by Hero Arts.)
Friends truly are special treasures — thanks for being mine! And a special thanks to Libby for coordinating all of this — Libby, I'm sending this card to you!
♥♥♥,