Hi you guys! I hope you enjoyed the first tutorial in the series as much as I enjoyed seeing all of your experiments! Was so cool to see all the different locations and how the changes in white balance really made an impact.
Several of you asked where I take my photos — so here it is! Welcome to my studio. (Also known as the bedroom.)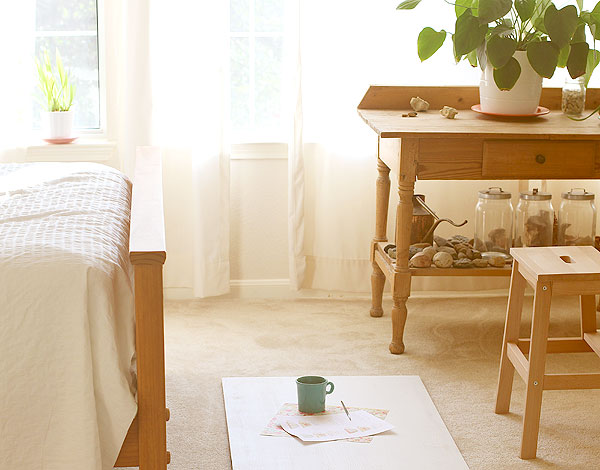 (I love this photo even though the bed cover is wrinkled from where J sat on it, there are lines in the carpet from the vaccum cleaner, and the fossils on the table are not in their proper spots because I had just moved them to put my camera there. All the light makes me so happy.)
I usually keep the curtains closed, but on this day it was partly cloudy out and the clouds were blocking the sun. So, I opened 'em up to let in more light. If it's really sunny out, the window frames make lines in the photo — not good. (It's all about knowing your setup.)
For this second tutorial I want to focus on aperture and shutter speed, because I think those are the second most important things you can do for your cardmaking photos. (Outside of light, location, and white balance, that is.)
Those of you with fully automatic point and shoot cameras out there — keep reading, because there are some tips for you, too!
First off, let's talk ISO. That's the "film speed" that the camera is using — yep, even though it's digital. When using film, the higher the film speed, the more you can see the film's grain in the photos. For digital photography there's no film, of course. But! The higher ISO setting you use, the more "noise" you'll see in your photos. Noise is those little dots of different colored pixels that are out of place — they kinda look like out-of-focus Christmas tree lights. It's especially noticeable in areas that should be black or white. Sometimes you don't notice them unless you crop your photo (like for a closeup). But they are there.
I usually don't go above ISO 400 — unless I have to in order to get the shot. My preferred setting is the lowest one that my camera has — that's 80 for one camera or 100 for the other. I always go with ISO 100 if I'm using a tripod, but I'll resort to ISO 400 if I'm being lazy. :)  Sometimes there's no way around it — you'll have to break out a tripod — or set your camera on a book or table. More on that later in the post.
Once I set my ISO the next thing I do is set my camera to aperture priority mode. (That's Av on Canon cameras.) I do this because cards are usually not moving, so there's no need to worry about shutter speed — well, unless you are shooting outside and a gust of wind carries them off, ha! Or you're shooting inside and your husband turns on the ceiling fan. But usually they are still. In aperture priority mode, you pick the aperture that you want and the camera automatically picks the shutter speed for a proper exposure.
Aperture is the opening that lets the light in to the camera — the smaller the hole, the more of your photo will be in focus, otherwise known as depth of field. This is how you get the blurry backgrounds in portrait photography, or the out-of-focus items in card photography. In fact, pinhole cameras — which have an aperture the size of a pin — have everything in sharp focus. (They are so cool to make!)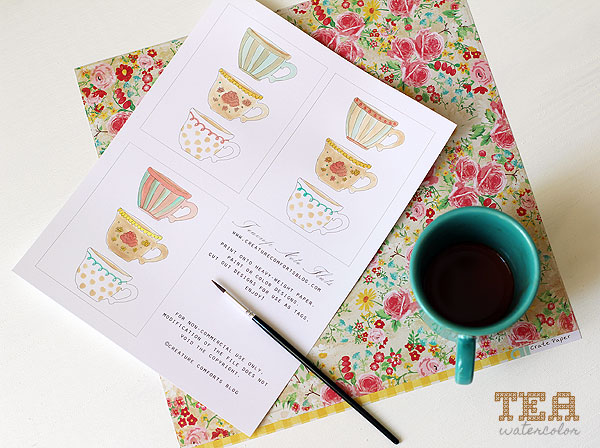 And, how do you pick the aperture? Well, that's part of the creative process and learning your camera! Here, I'll share some cards that I made using a lovely free printable from Ez at Creature Comforts. She also had the brilliant idea of painting the tea cups with actual TEA — I just had to try it! (If you have never visted Creature Comforts yet you are in for a real TEA-reat. Love it so much! Thanks so much, Ez!)
The higher the aperture number that you chose, the more of the photo will be in focus. But, the longer the shutter will have to stay open in order to get a proper exposure.
Someone once explained to me that aperture and shutter speed work sort of like your kitchen faucet. Say you place a bowl under the faucet and turn on the water. The more water that comes out of the faucet (the larger the aperture, or the hole that lets light into a camera) the faster the bowl will fill up (faster shutter speed).  Turn down the faucet (smaller aperture, smaller hole) and the longer it will take to fill up the bowl (slower shutter speed).
Now, the only tricky thing to remember is that aperture is actually a fraction of 1 over the number shown on your camera. So when your camera shows f 10 is actually 1/10, and that's smaller than f 2.2 which is 1/2.2. I broke out my ancient all-manual film camera and took some photos of different apertures so that you can see. Don't ask me why camera's don't display aperture as a fraction, which would make it all so much simpler! Maybe to save room on the display? It's a mystery to me! But, eventually with practice it will all become second nature and you won't have to think about it. :)
Here are my completed cards, along with the tea and watercolors I used to color them so that you can see aperture and shutter speed in action. For each photo, my camera was set to ISO 400 and I used changed the aperture and let the camera pick the shutter speed. I used a 50 mm lens and I focused on the card in the foreground for each one with my camera on a tripod.
Take note of the shutter speed and aperture on each. First off, here's f 10. See how everything is in focus? The woodgrain near the top of the photo, the watercolor paints, and the cards in the foreground are all in focus.
Here's another little tip I learned somewhere along the way — you don't want to do a handheld photo where the bottom number of the shutter speed fraction is smaller than your lens. Since I was using a 50 mm lens, and the shutter speed was 1/25, I definitely needed to have the camera on a tripod. You can sometimes get around this by cranking up your ISO — that will make it take less time for a proper exposure. (But as I said, I don't use ISO settings above 400.)
Next up, I chose f 5.6. This is my "go to" aperture setting. Check out how the woodgrain and the watercolors aren't completely in focus, but you can still tell what they are.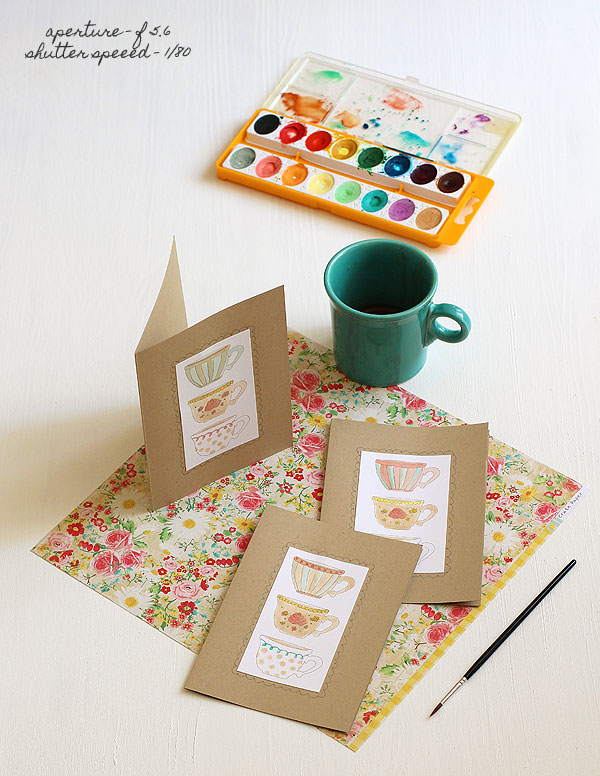 Here, the shutter speed is 1/80, so I could have hand held this shot if I wanted — bonus!
Finally, let's look at f 2.2. Most everything is waaaay out of focus, including the card in the foreground.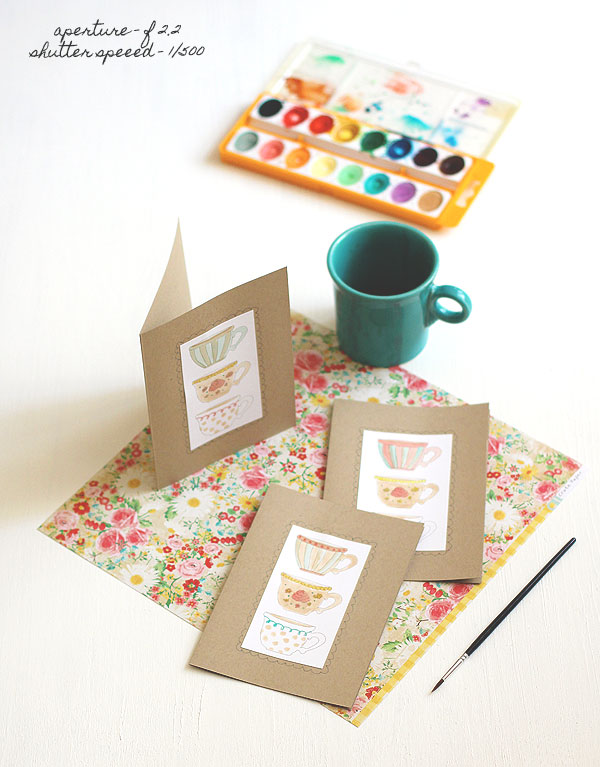 Check out that shutter speed tho — it's up to 1/500!
Hope those photos helped explain the relationship between aperture and shutter speed. And back to ISO a bit — if I'd have chosen a lower ISO setting, the shutter speed times would have all increased, and there would be less "noise", too. So if I was going to enlarge these photos or print out an 8×10 photo I'd definitely want the lower ISO setting.
And! That about does it for all the camera basics — yay!  Next time I'll be showing you how to fix the wonky card photography problems — any kind of card you'd like me to start with? Fold on top, fold on the side, or long skinny cards? Leave me a comment and let me know!
Oh and! For those of you who do most of your photography at night — I'm planning on another tutorial on using lamps later on when I go more into equipment — but want to get us going on fixing the wonkiness first since that's what everyone asks about the most. :)
Now it's your turn! Setup a shot with some things in the background and some in the foreground. (Ez's awesome printable freebie not required, but it sure was fun!) Break out your camera, focus on something in the foreground, and play around with ISO and aperture priority. See if my "go to" aperture of f 5.6 is your favorite. Then, report back on your experiment here. Also! Bonus points if test out the trick where you need a tripod if your shutter speed's bottom number is smaller than your lens.
Manual camera users, I'd love it if you could join in too, even if you can't do it all. Most cameras let you chose your ISO setting — try setting it to different things and comparing results.
Have any questions about this tutorial? Leave me a comment and let me know!
Thanks so much for joining me, and have a TEA-rrific time with your experiments — can't wait to see!