Hey you guys! It's time for Make-It + Mail-It Challenge #3! Sure hope you can join in.
For those new to Make-It + Mail-It Challenges, it all got started here when I was the recipient of a bunch of cards that really touched my heart. It was like getting a big huge hug from all around the world! I wanted to do something to encourage people to make cards and send them so others could feel that way too. So, the challenge is pretty simple:
Make a card (or anything else!)
Mail it, then
Link back here so that we can all enjoy the happy mail that's going out around the world! (I've found that a challenge gives me a little extra motivation to get things mailed. Are you the same way?)
After all the links are in, I'll randomly pick a participant to mail a card to. So fun!
I like to make a whole batch of cards to send out when I'm doing a mailing — the more the merrier, right? Plus I like to get my supplies out and make a big mess, ha!
I have a theme for each Make-It and Mail-It, but that's just my theme — you can do whatever you like! For this challenge, I was inspired by this Electric Ikat Top from Madewell, check it out: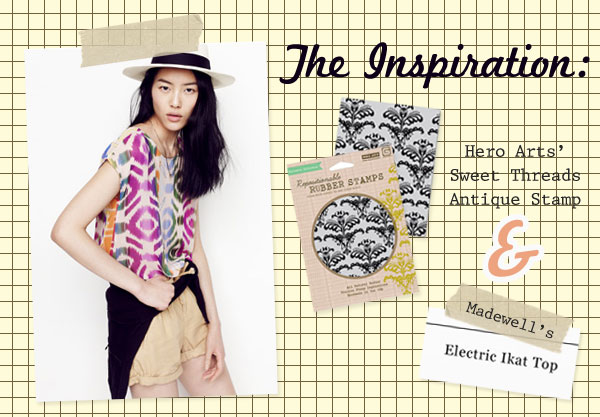 I love the colors, and how the pattern looks kinda watercolor-y, don't you? (Love Madewell so much, the one near me is just a bit down from J.Crew and across the street from Anthropologie and the Apple store. Plus there's a tea room on the same street with amazing teas, scones, and other treats. It's all very dangerous!)
For some reason it reminded me of the Sweet Threads Antique stamp from Hero Arts. I guess because it's very graphical?
I embossed the stamp with white embossing powder on white cardstock, broke out some watercolors, and…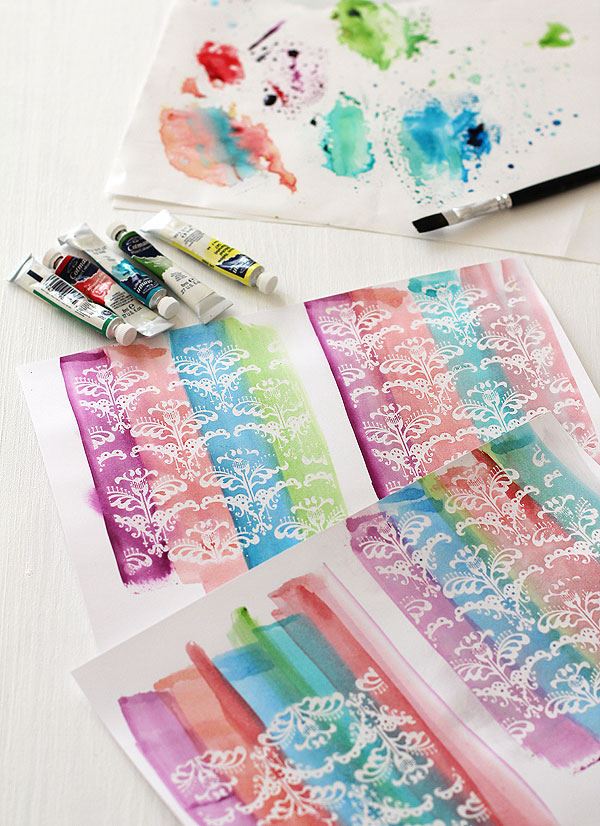 Ta dah! Looks pretty cool, don't you think?
The paper was pretty wrinkled after it dried, so I ironed it. Since it was embossed, I placed it face down on a paper towel — that way the embossing powder wouldn't melt all over my iron or ironing board and make a mess. And! When the powder is removed it leaves such a nice look — almost like fabric!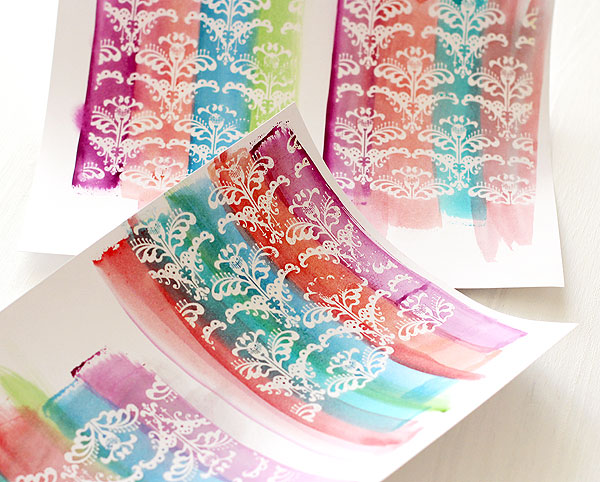 While I was trimming the papers MORE Madewell inspiration struck! I'd been saving the bag to use it for something — didn't know what — but those bag handles seemed to go just perfectly.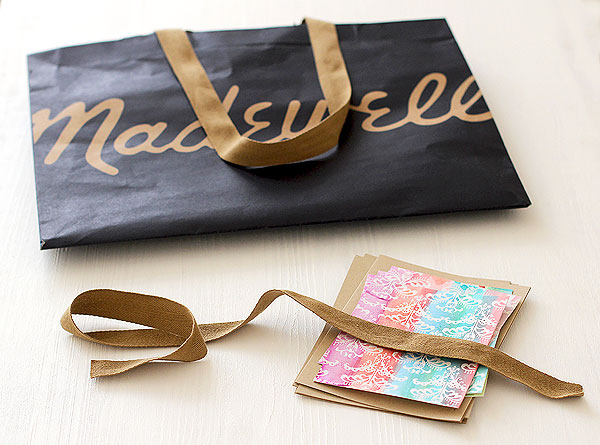 (Hope that people don't start calling me The Bag Lady after this, but I just can't help upcycle bags. Check out this bracelet that I made from J.Crew bag handles, and this card from a Paper Source bag. Ha ha!)
I decided not to stamp a message on the card so as to make the painting the focal point. The cards came together pretty quickly after that!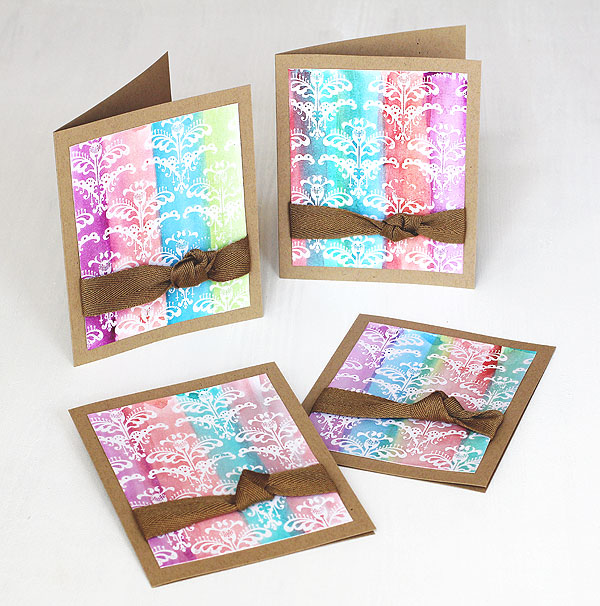 Love how each card is a little different — just love that about watercolors!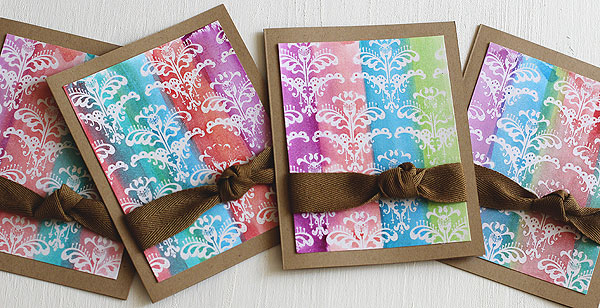 Resources: Hero Arts Sweet Threads Antique stamp, kraft notecards from Paper Source, and bag handles from a Madewell bag. All watercolors by Cotman. I used some awesome digital resources from Katrina at Pugly Pixel to create the inspiration graphic: yellow grid paper and washi tape. Thanks so much, Katrina!
Now it's your turn to Make-It and Mail-It! (And you can upcycle bags if you want to. I won't call you a bag lady if you don't call me one. :)
Let's make some mailboxes happy!