How have you been? I'm still recovering from knee surgery — more on that here, where you can sign my virtual cast, too. (I've loved hearing from all of you so much — really made me smile!)
I'm happy to report that it's coming along pretty well, yah! The swelling is way down, and so is the pain. But, I'm still on crutches and can't sit very well because of a big brace that doesn't bend much for now — the doc has it set on 30 degrees bend. It goes from just above my ankle all the way up to my thigh. Makes it where I can't stamp very well. :( Hopefully that will change when I go back to the doc on Friday. Fingers crossed.
I've really missed all of you — and stamping too! So for the next few days I thought I'd share some cards that I did for Hero Arts before I had surgery, starting with this cute chicky!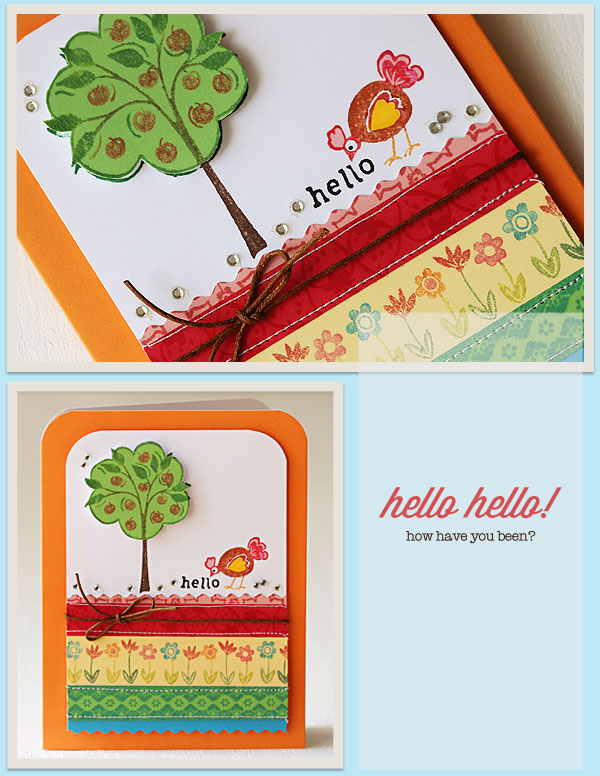 She's from one of the the new Hero Arts and BasicGrey stamp sets in the Picadilly line — love this line so much, it's really happy and fun! (Coming in October!) Check out the whole line on pages 6-7 of the digital catalog.
I used one of my favorite techniques on this card — coloring a stamp with water-based markers, misting it lightly, and then stamping. Oh how this makes me want to stamp!
So, instead of stamping, I've been playing around with my blog again! Here's some nifty things I used:
Now, how have you been? Is summer winding down where you are? It's still super hot here!
And! Have you watched any funny movies or read any good books lately? I'm really in need of some! :)
Hugs,