When I first saw the new Hero Arts and BasicGrey Indie Bloom stamps they somehow reminded me of a Japanese painting that I saw at the Tokyo National Museum. And, that's what I was thinking about when I colored them, too.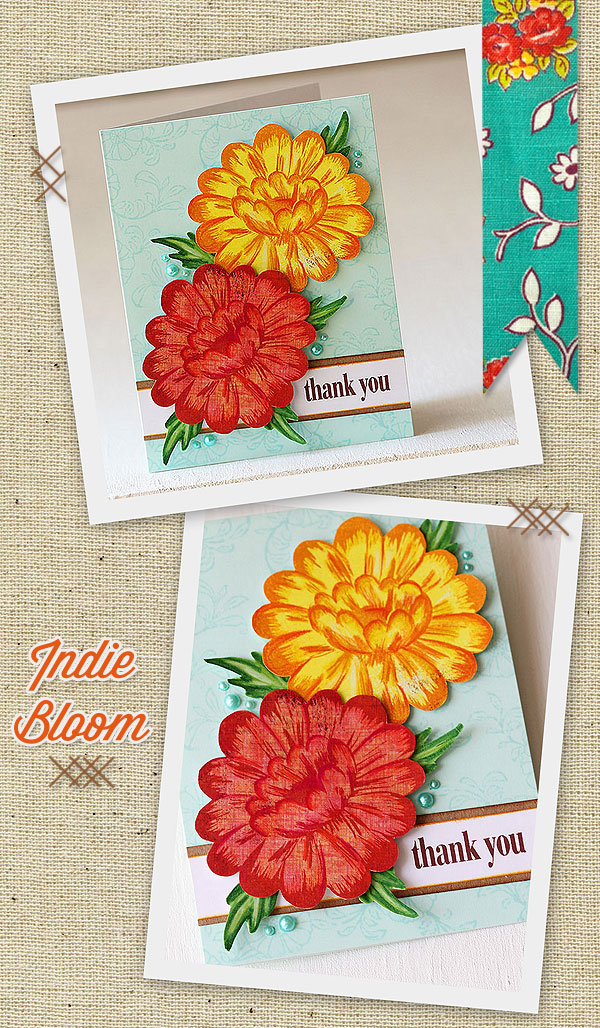 I happily sent in my samples to Jackie — the founder and Creative Director of Hero Arts. But, she didn't get the Japanese connection — instead, she said they reminded her of old feedsack fabric.
Well, she must have been right! See that swatch of fabric up there in the corner? Well, that's a Vintage Feedsack Deco Tape from Katrina at Pugly Pixel! She made them from feedsack scraps. Maybe I was subconsciously channeling it? I downloaded them ages ago and have loved them ever since! (Thanks so much, Katrina.)
No matter what it reminds me of, I have to say that I love this new line! It's so easy to use one of my favorite techniques: stamping on patterned paper. I stamped the flowers and leaves on scraps of patterned paper by BasicGrey. (Don't ask me what lines they are from — I made this card before coordinating Indie Bloom paper was available. I did try to match the colors in the line, tho.) The paper is actually smooth — the texture is printed on the paper. Then I went in and added shading with colored pencils.  So simple but it looks so neat, doesn't it? BasicGrey includes papers like this in most of their 6×6 paper packs. Love it.
I've got one more card from this line to share with you tomorrow — can't wait! And! These stamps will be coming to the Hero Arts shop on Thursday — woo!
Hope you have a great day,