As you probably know, I'm thoroughly addicted to washi tape (also known as Japanese masking tape). I've been keeping a pinterest board dedicated to washi tape for a while now. (Are you on pinterest? Let me know, I'd love to follow you!)
I'm also a huge Lotta Jansdotter fan. (Actually, the first books that I owned about her are written in Japanese — how funny is that? I should post about them someday.)
So when I discovered that there was a new line of limited edition Lotta Jansdotter washi tape I just had to have some!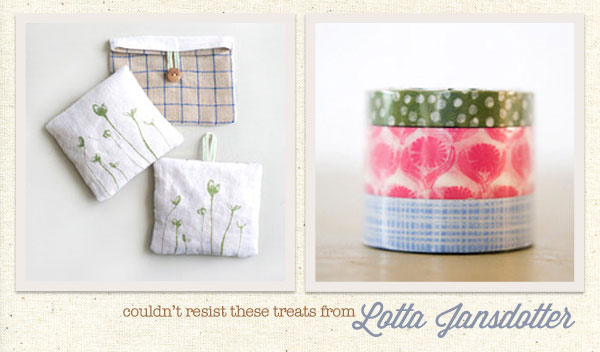 It comes in three colorways — the hardest part was figuring out what one to get!
And of course, while visiting her shop I had to pick up this sweet little sewing kit, too. Can't wait until they get here!
Have you come across any new washi tape that you just "had to have" lately? I'd love to hear! And! I'm on the hunt for neon colors, do tell if you know of a source!