I can't believe it's been a month since I've had knee surgery. Time really flies, doesn't it? (Whether you're having fun or not, ha!)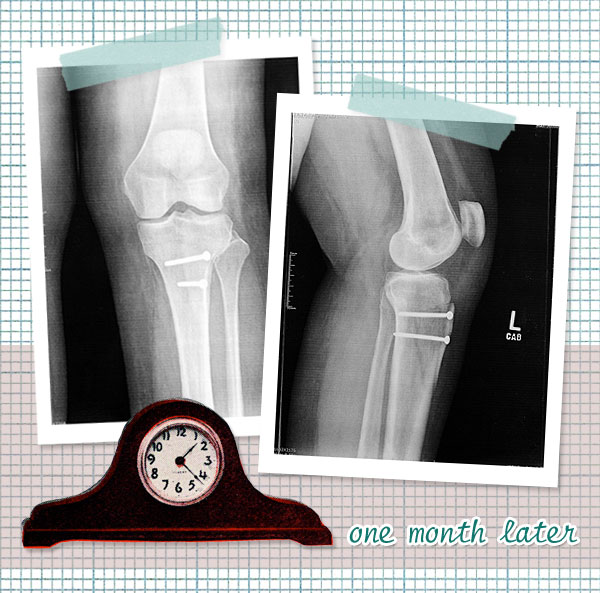 (Photo styling resources are all from Katrina at Pugly Pixel — thanks so much Katrina!)
Since so many of you have asked, I thought I'd share a little about how it's been going:
Everything is healing great! Although, it seems like it's taking forever, ha! J calls me the impatient patient. :)
When I went for my  3 week checkup, the doc shared the x-rays with me. It's amazing what he did: he used a saw and a chisel to cut my a piece of my lower leg bone. Then, leaving all of the ligaments and such attached to the bone at one end and the kneecap at the other end, he picked it up and moved it an inch — yah, a whole inch! — to fix the alignment. Then he screwed the chunk of bone in place. Wa!
I started PT on Wednesday and I'm not going to lie and say it was easy — it was super hard! (I hate to admit it, but I cried when I did my PT homework.)
I still have to wear a big brace — goes from just above my ankle to mid thigh and it has metal beams that go up the sides. It's really heavy! Can't wait to lose this thing, especially when I sleep. I've been having nightmares where I feel like I'm caught in a bear trap!
I have to keep the brace locked when I walk, which makes for a very odd gait! But I get to unhinge it while sitting. The next step will be to unhinge it while walking — can't wait.
I don't have to use the crutches anymore, unless I feel like I need to. Yay!
And! I was a little rebellious and carefully walked around the bed sans brace. Twice. Knee didn't hurt! Awesome.
The best thing? Even though it's still healing, it hurts less than before the surgery! Yes!
Thanks so much to everyone who has stopped by to visit, sent cards, emailed, and called — it really does mean more than I can say! Don't know if I could do this without you. I have the cards placed where I can see them when I'm doing my PT homework, along with a prairie print. I concentrate on them when when the pain gets too bad, and think about how much this will be worth it when it's all healed. Thanks again!
And, it's finally getting to where I can take photos and craft again! (Can't tell you how hard it's been not to take photos!)
Happy hugs,