Hey you guys! Did you have a good weekend? I sure did! I got to do some sewing, can't wait to show you what I made! (First time sewing since the knee surgery, yah!)
But today I wanted you to meet some cute garden visitors! First up, Mr. Oriole: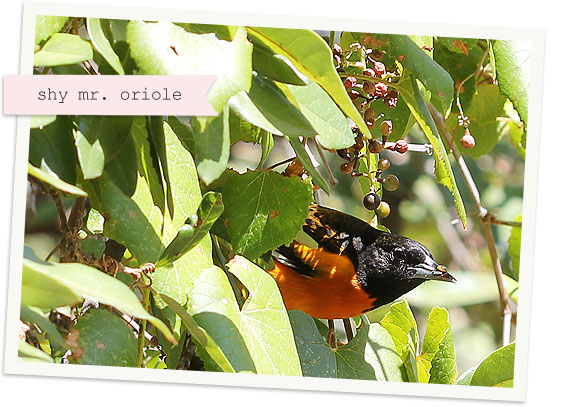 He was snacking on some grapes growing right outside our kitchen window when I came home from PT. This is the first time EVER that we've had an oriole visit the yard! So exciting! I feel kinda bad for them, look at how small our grapes are this year. We sure need rain — want to send us some?
He and Mrs. Oriole are both super camera shy — this is the best photo I have of him, and I didn't get any of Mrs. O. Hoping that they visit again tomorrow so I can try for a better shot!
While I was waiting for a shot of the O's, this feisty little hummingbird made an appearance.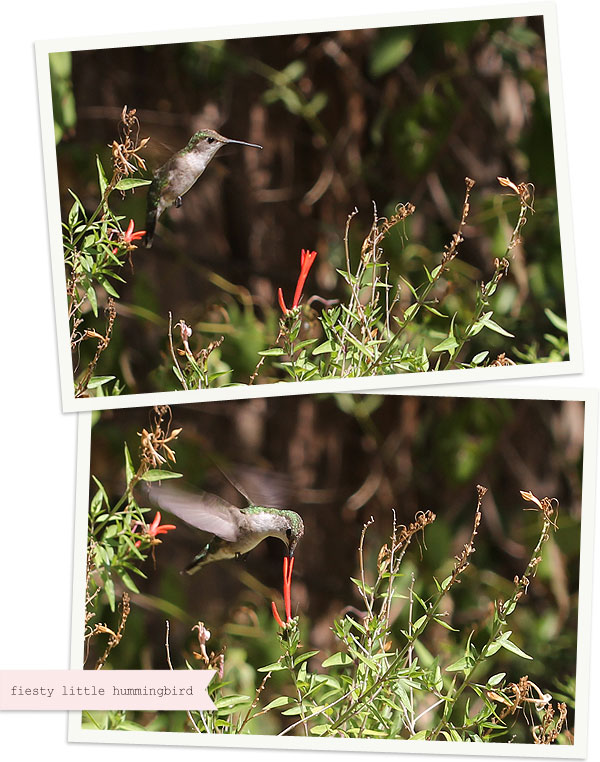 Love watching them so much, I'm always sad when they leave for the summer. Look at how dry the flame acanthus is, too. Boy oh boy do we need rain.
And! My knee is definitely on the mend! I don't think I'll be running any marathons just yet, but I was so excited to get a photo of Mr. O that I found myself walking upstairs normally for the first time in *months* to get the camera! I haven't been able to do it since March! Usually I go up on my good leg and just let the bad one kinda follow along, step by step. But today I went up one foot after the other — and it didn't hurt! YES! And in even more news, I rode the bike at PT for 10 minutes today! It was a huge effort to get the pedals to go 'round, but it felt so good this time. (The first time was pretty painful.)
Hope you have some fun unexpected visitors today too,