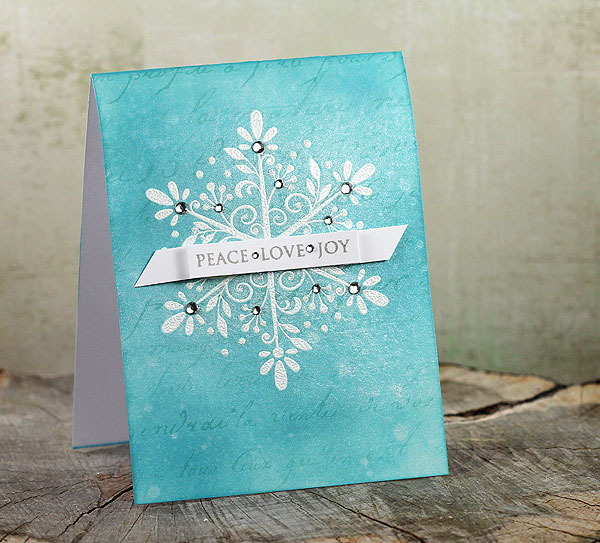 ..peace, love, and joy!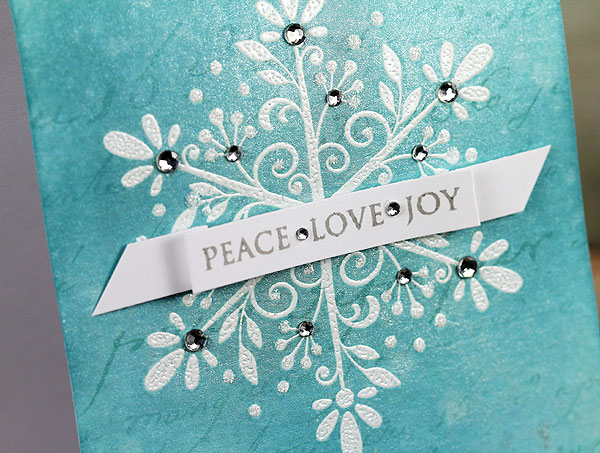 Made a bunch of these shimmery, embossed snowflakes already — can't wait to make some more. It was really super easy, to thanks to THIS paper from Hero Arts! It's a light pool paper and already has the handwriting design on it. But, you could always take an extra step and stamp light pool paper with a handwriting stamp in tide pool mid-tone ink instead, or you can even try a darker ink like ocean. I listed some options for handwriting stamps in the supplies, and the pool paper too. So, here's all you do:
First, cut the paper in half (at the 4.25″ mark) and score in half to create a base card (at the 5.5″ mark).
Next, stamp the snowflake in white pigment ink and heat emboss in white.
Use an ink blending tool to rub tumbled glass distress ink all around the snowflake — it will act as a resist. Add a spare amount of broken china to the center of the snowflake for extra dimension. Then add more tumbled glass along the edges.
Wipe off the snowflake with a dry paper towel to remove any extra ink.
Flick water on the card to make splotches and let dry. Then mist the whole card with perfect pearls in water.
Stamp "peace love joy" on a white strip with gray ink, then trim the ends and fold. Adhere to card with foam tape.
Add gems — I love THIS pack since there are a TON of gems in it and in varying sizes.
That's it! It's easy to change up the design by using different colors or a different message, too!
Peace, love and joy to you!
Supplies: