Hi all, and welcome to my little stop on the Simon Says Stamp new dies blog hop! I am truly honored to be a part of the hop as there are some super talented stampers in the lineup! You should have hopped here via the amazing Cristina Kowalczyk's blog, so if not you can click back to the start at Simon Says Stamp.
If you haven't heard about the new dies you are in for a real treat! These dies are made in the USA out of metal and cut everything I've tried like butter. And they have truly amazing details: just look at the stems on some of my favorite dies, the Fresh Daisy and  Meadow Rue!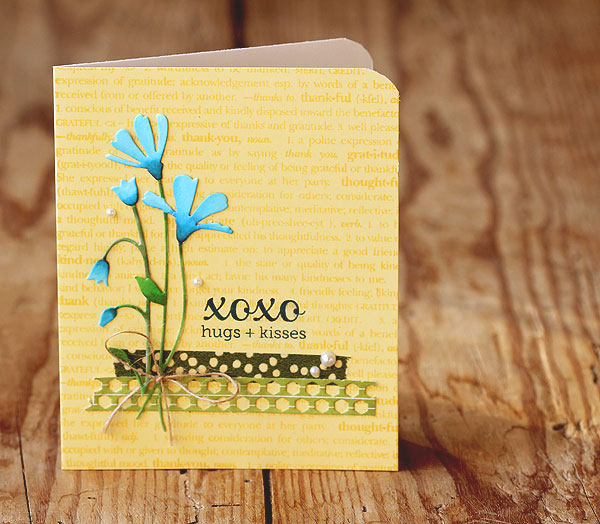 Aren't the stems and petal details just incredible? Wow. Look at how thin those stems are — just boggles my mind that a die cut could be this intricate.
I made this by cutting the Fresh Daisy and Meadow Rue out of white cardstock, then I added color with Copic markers. I started by adding the darkest blue at the base of the flower, then the next darkest color a little further out from that, and then finally the lightest color over all to blend.
A little tip I wanted to share is to color the stems and the delicate petals in one direction only to keep from accidentally folding the cardstock back with the marker and making a crease. So in this case, I colored the stems from the base of the flower down, and I colored the flowers out from the center to the edges of the petals.
Oh and! I used just the left part of the Meadow Rue flowers — love it that you can mix and match these dies!
And! I couldn't resist adding a little strip of the Hexagon die for texture. Hexagons are so on trend — I've been on a real hexagon kick lately. :) Plus I thought it went great with the green washi tape.
And that's not all — I have one more card to share with you today! As I was cutting the flowers out of the first card out of white cardstock I was struck by how pretty they were, just like that. So I decided to make a card to show them off!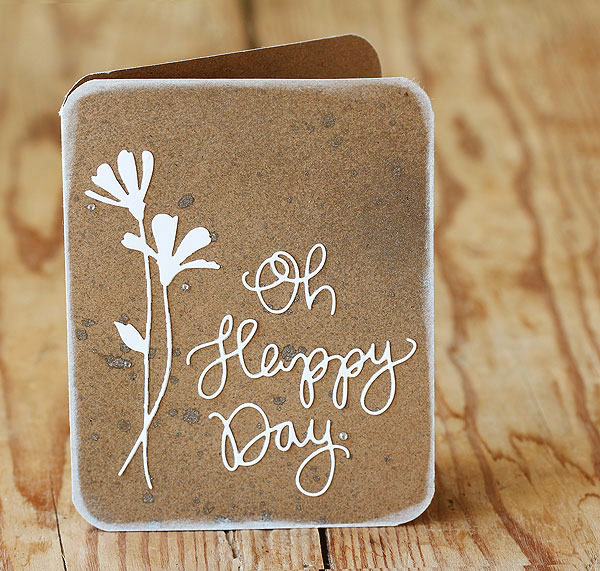 I think this card would be perfect for a wedding, don't you? It came together in a jiffy, too — I just misted a kraft notecard with silver Mister Huey's, then added the Oh Happy Day and Fresh Daisies.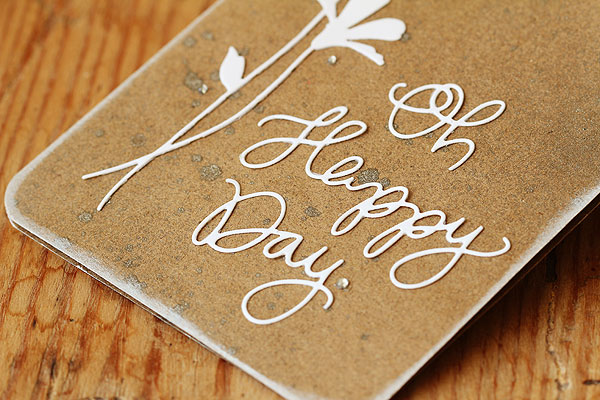 A little white ink around the edges and crystal gems finished it off. Love love love that Kristina Werner wrote these words — she just has the best handwriting. Not like mine, ha! :)
You may be wondering what I used to glue the die cuts down! Well, after a little thought I decided to try Tombow Multi Adhesive and it worked perfectly. I used the fine point tip to dot glue on the die cuts, then let it dry so that it wouldn't squish out and make a mess, ha. Then I could easily adhere the die cut to the card. The best part? The adhesive is repositionable when you apply it this way. Bonus!
Now let's have a giveaway! Heidi at Simon Says Stamp  asked us to pick our favorite die to give away — what a super mega hard choice as I love them ALL! I thought and thought, and finally I picked the Fresh Daisies die since I used it twice in these cards. So, leave a comment on this post and one lucky person will win the die! Yah! (International winners are welcome.) random.org has spoken, and the winner is #127, Carol L! Thanks so much everyone! Comments are now closed.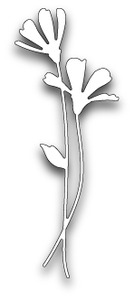 Thanks so much for hopping by! Now on to the next stop in the hop: the super talented Kathy Racoosin over at The Daily Marker! Can't wait to see what she's made. And! There are giveaways at each stop along the hop so be sure to check them all out — you can head back to the beginning at Simon Says Stamp  if you encounter any broken links.
Happy hopping!
Supplies: