Hey there! Have you missed me? These last few weeks have been absolutely craaaaazy! First getting ready for CHA, then CHA itself, and now the dust is finally settling and life is getting back to "normal" — whatever that is, haha!
Anyhow, thought I'd share just a few of the photos from the show! I had a blast! So much fun, so many good memories.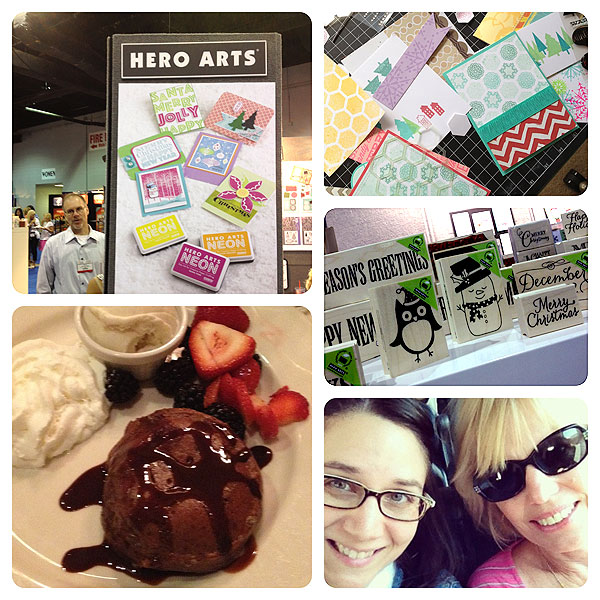 Clockwise from top left: Aaron Leventhal, CEO of Hero Arts, standing next to the "neon Christmas" photo I took for the booth! (Using NEW neon inks! Woo!) Next, my messy desk with some cards I didn't get to finish up. Love this new hexagon mask from Studio Calico! New Hero woodblock stamps — the marshmallow snowman melts me. :) Me and my roomie, Sally — we had so much fun! And then "La Bomba" — warm chocolate mousee-like cake thingie at Carlucci's. It's the bomb. Yum.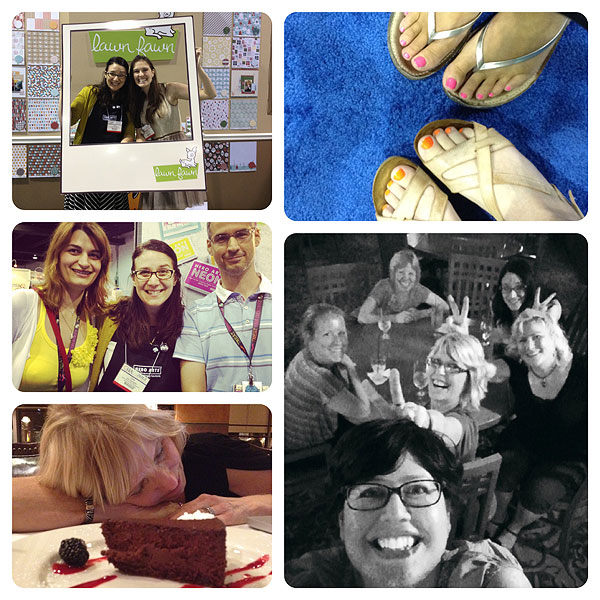 Next, I was so happy to get to see Kelly and the whole Lawn Fawn crew!!! Yay! Their booth was so awesome. Then there's Lourdes and I with our NEON nails! I had orange and she had pink. :) Then, Sally, Shari, Julie and I got to hang out with the Simon Says Stamp crew! So good to get hugs from Heidi! (The credit for the photo goes to my "partner in twine", Julie! Thanks Jules!) Then, Sally and I were sooooo tired after taking down the booth. But not too tired to split one last dessert, ha! And finally, Vicky and Aris — aka, the genius duo behind inLinkz! (I was trying not to bust out laughing, can you tell? ha)
Wish I could share all the photos I took at the show — but I took a TON! And you would be here all day hahaha. I laughed so hard that my stomach hurt! And the best part? Seeing all of my old friends and making new ones. So lucky to be a part of it all.
Hope you enjoyed! I'm working on a bunch of birthday cards, will share soon.
Supplies:
Neon hugs!