Hey you guys! How are you this week? Is anyone out there taking the Kick Start Your Creativity class with Jennifer and Kristina? I am honored to be one of the guest artists for the class, so I've been hanging out and watching the videos — and I must say, it's been very inspiring so far! (And, you can register at any time for the class, so come and join us.)
Anyhow, in one of the lessons, Kristina talked about how she is inspired by craft supplies in and of themselves. So when I was finishing off a birthday card I was sitting there thinking to myself "Hmmm, this really needs something. I sure wish I had a wood veneer heart to go with these Studio Calico birds…" and then CLICK! a light bulb went off and I decided to try and make my own. It was really super easy!
Here's the finished card!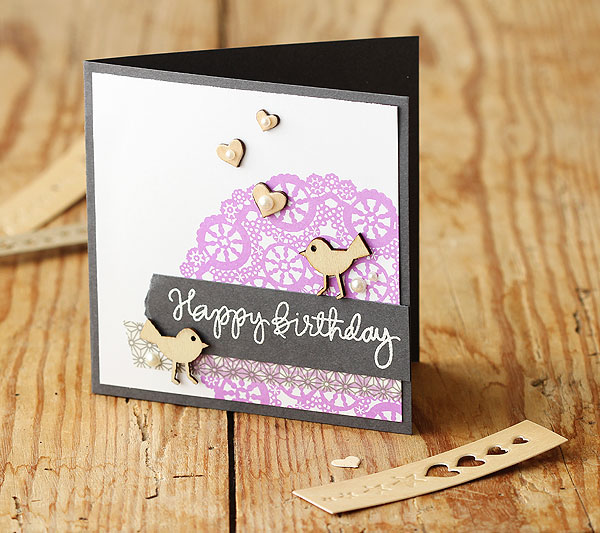 Don't the hearts just make the card? Here's how I made them: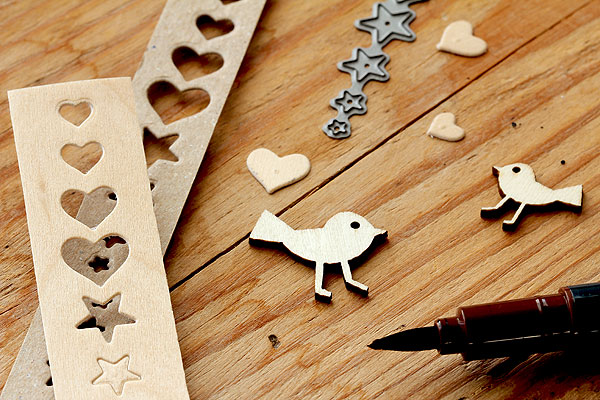 First, I used the Holiday Shapes die to cut out one set of hearts from birch paper — it's real birch wood, too cool! (I'll admit that I've been hoarding this paper for a while, but now I know what to do with it, ha!)
Then I wanted to make the hearts as thick as the birds, so I cut two sets of hearts from some chipboard that I'd saved from a package of 12×12 paper. (I like to save this chipboard, it always comes in handy!). I found that by using a metal shim adapter plate the die cut through the chipboard and the birch paper like butter. WOO!
I stuck two chipboard hearts together with glossy accents, and stuck a birch heart on top. Next, I colored the edges of the hearts with a brown marker to make them look like the Studio Calico birds. Here's a top-down look so that you can see it better: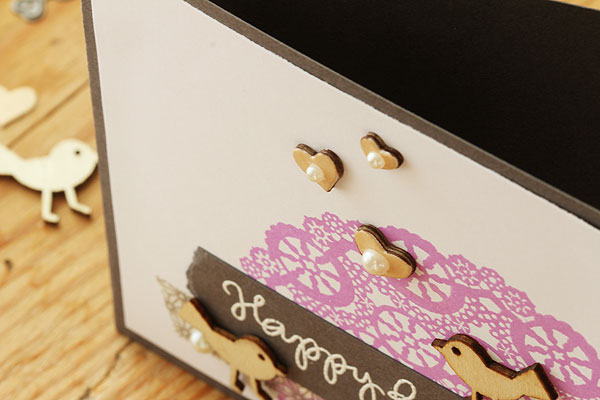 I added a little pearl on top of each heart to go with the doily and the white embossing — and to hide the little "pimple" from the circle in the die cut, ha ha! Note that when you cut these out of cardstock you usually don't get the zit, but since the birch paper is thicker it does show — you can see them in the photo above with the marker. But add a pearl or a gem and no one will ever know! :)
Supplies:
If you'd like to see some more posts where I'm inspired by something you can check them all out here. There's not very many yet — I should do more!