Hey all! I am beyond excited and honored to join Avital of Creativity Prompt for a blog hop to celebrate the release of her own stamp line, with stamps made in the USA! Yay! When she showed me the Everyday Hexagons stamp set I was even more excited — you see, I'm a goner for hexagons!
If you haven't seen Avital's blog yet, you should definately check it out! Lots of great stuff, she is so creative and so generous — she shares tons of creative ideas and even has free printables like this autumal stitched doily set — just love. And, you can win one of the Everyday Hexagons stamp sets — more at the end of the post. But first, the card!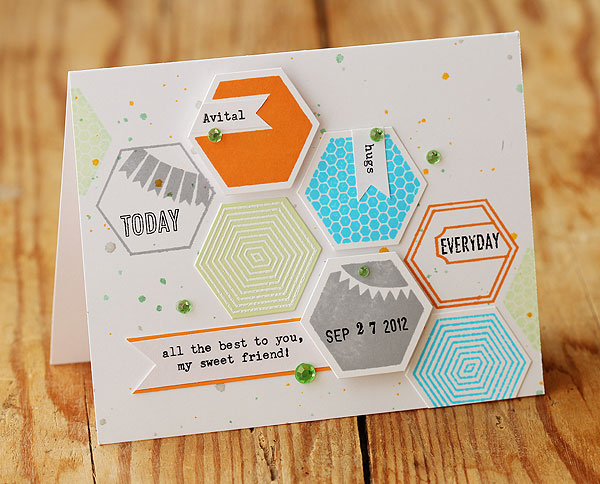 I wanted to make a special card for Avital to celebrate the launch of her stamps, and I also wanted to try and use a new color scheme that I saw the other day too: neon blue, minty green, orange and gray. And I wanted to use my typewriter too. I really like how this came out, and I just wanted to keep stamping more and more hexagons and making more and more cards. They are quite addicting, HA!
Love how the neon blue looks different in when the light changes — check it out in this shot from the side, it almost glows.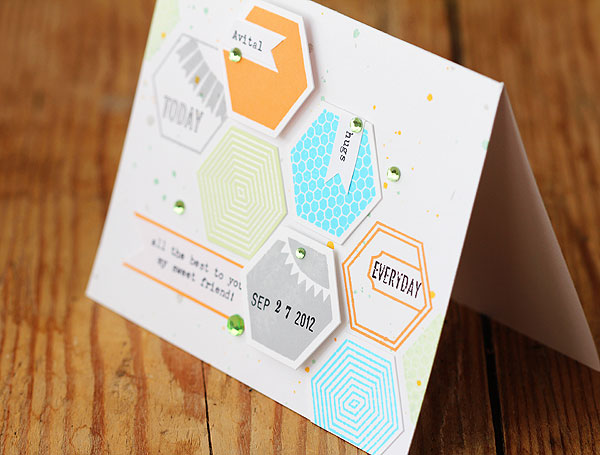 And most of all, I love how Avital included spaces on some of the hexagons to stamp or write something. Bet they would be great for scrapbooking, too! And birthdays! And special occasions! The list goes on…and I bet you can guess which stamp in the set is my favorite since I used it twice, ha ha! :)
Now for the giveaway!  Here's how to enter:
For one entry, leave a comment on THIS post wishing Avital good luck in her new adventure
"Like" Creativity Prompt HERE on facebook for another entry
Tweet about the giveway! Here's some text you can use if you like (but it's not required!) — I just entered the Creativity Prompt #EverydayHexagons giveaway and you can too! –> http://wp.me/poWo2-2vN @taly_g
And now, check out what the rest of the bloggers in the hop have done with this amazing set!
Thanks so much for having me join the hop, sweet Avital! And best of luck to you, my friend! xo
Updated to add: The winner is Isabelle P.! Isabell, I emailed you. Thanks so much everyone!
 Supplies: