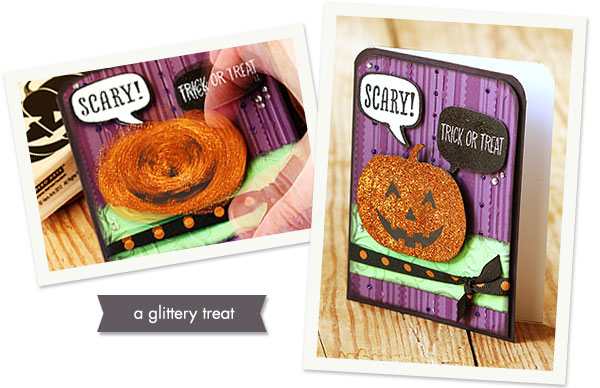 From the minute I saw this pumpkin I knew that I wanted to stamp him on black cardstock with orange glitter! I tried making my own glue pad but that just didn't work out — and in fact it ruined my stamp, had to get another — doh!
So when I spotted this Essential Glue Pad from Tsukineko I just had to get one and give it a try! Check out the video and find out all about it:
A Spooky, Glittery, Wobbly Halloween Card from Lisa Spangler on Vimeo.
Isn't that just too fun? Can't wait to mail it to someone and give them a little treat. And! J saw it on my desk and he was really impressed — he kept playing with it, ha!
Some things I learned about the Essential Glue Pad:
This type of glue pad does not require heat setting — woo! This is a real bonus for me, as I haven't had much luck with the heat-set powder type of adhesive. I must get overzealous and cook it too long.
The glitter sticks on there fairly well — as you can see from the video, I brushed over it to remove the excess glitter. However, you can rub the glitter off if you work at it as it's not set in stone. I might try some other tricks to make it more permanent, will keep ya posted!
Ultra-fine glitter works best for this. I bet that flocking would work great too! Gotta try it.
The tip that I shared in the video where you ink a stamp first with the glue pad and then apply colored ink over top seems to work best with dye ink. Lightly cover the stamp with the ink so you don't remove too much glue.
Recommended dry time is only 15 minutes, yah!
And one last tip — the less absorbant the paper, the better! This is because the glue seeps into the paper instead of staying on the surface so that the glitter can stick to it. Glossy paper and coated cardstock work better than more porous paper like construction paper or uncoated cardstock like the ones that are solid core (not white inside).
While we're talking glue, I gotta say that I really like the glue pen that came in the package with the Martha Stewart glitter! It dried super fast and the glitter is really stuck on there. Makes me want to check out some more of her glitters, like this NEON!
And, be sure out the Hero Arts blog for more on the NEW goodies from Sizzix like the stamp and embossing folder combo that I used on the card. Can't wait to play with them some more!
Supplies:

Hope you have a great weekend,