Hi and Happy World Cardmaking Day! Hope you have some time to play today!
As for me, I *finally* had a chance to make some cards — yay! You see, I've had this idea to turn the Simon Says Stamp message bubble dies into fall trees ever since I first saw them! It's been ratting around in my brain ever since, begging to be let out, ha. So good to finally have time to sit down and try it out. Got so carried away with it that I made two cards!
For this first one, I broke out my trusty typewriter to create a custom message:
Loved how it came out so much that I made a birthday card for my Dad too!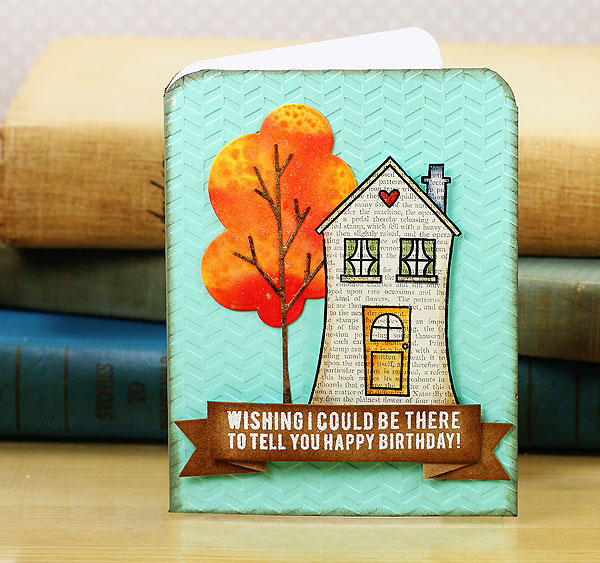 For this one, I added a little mist of  perfect pearls to the tree to give it that extra little something. And I think the message goes perfectly with the house, really do miss him!
Making the trees was super fun — I just mushed a bunch of fall colored distress inks on a craft sheet, misted the ink until the water beaded up, and then dropped some watercolor paper on top and kinda pushed it around. Then I waited (impatiently!) for it to dry, and cut out the tree shape using the message bubble die.
In both houses, I did the coloring and shading with my new distress markers and Tim's detail water brush. I must say, I've used other water brushes in the past and haven't been very impressed with them — but this one rocks! It has some kind of valve to keep the water from going everywhere when you squeeze the sides — in fact, I didn't even need to squeeze the sides while coloring this! Bonus!
Here's a closeup so you can see it better: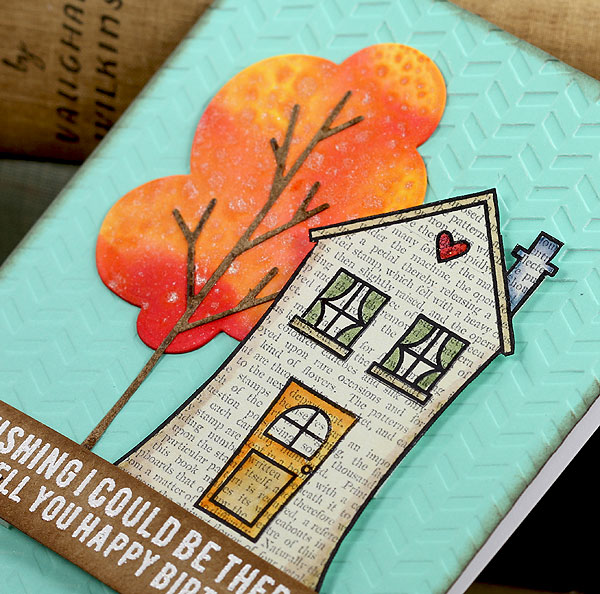 To do the shading on the house, first I colored along the sides with an antique linen marker, and then I went over it with the water brush. For the door, I didn't have an oranger marker — yet! (!) — so I smushed some spiced marmalade on a craft sheet, misted it with water, and then used the waterbrush to pick up the color and color in the door. Easy peasy.
One thing that I did learn — black Momento ink bleeds when it comes in contact with the distress markers and the water, not sure why as it is permanent? However, the Ranger Archival Black worked fine. Oh and that's some Studio Calico paper that I stamped the houses on. It's from the Classic Calico vol 2 collection, but I can't find it available anywhere, sorry!
And I gotta say, I love the detail in the Simon Says Stamp Small Forest Tree die! It's just incredible. To glue it down, I placed it on my craft sheet and dotted it with a zig two way glue pen, then let it dry. Once the glue dries it's kind of like a post-it note — sticky but removable  This way I could adhere it to the tree without glue squishing out everywhere, ha!
One last thing! It's kinda hard to see, but I added some glitter glue to the heart — you know me and glitter. :)
Have a great weekend!
Supplies: