Hi and happy Monday! Today I'm so happy to share the card I cooked up for the Lawnscaping Challenge "try a new technique"!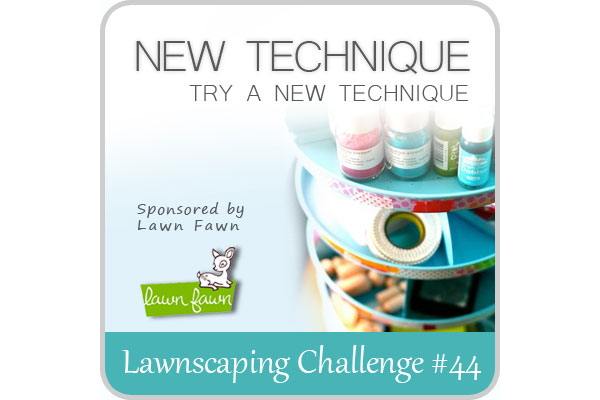 First off, I'll share the technique I've been wanting to try for ages: watercoloring with distress stains! Those stains always looked so pretty, but I hadn't tried them yet — anyone else out there like me? I always feel like I'm the last person to try everything ha!
Anyhow, I used tumbled glass and a broad water brush to paint a reverse hill and sky for one of my favorite Lawn Fawn stamps — the Winter Bunny — to zoom down! So cute! Here he is!
Here's a closeup! This really worked out so easily, thanks to the awesome color of the distress stain + the broad water brush — love this brush so much. I flicked water on the still-wet stain to make some snowflakes, only they were kinda hard to see. So then I overstamped the background with the snowflakes from Let It Snow set after doing some masking to make sure I wouldn't go over the edges.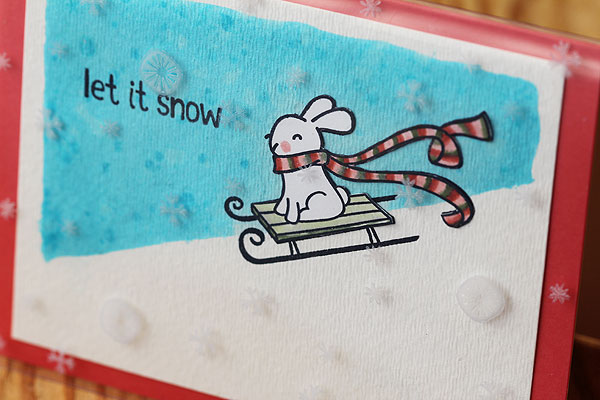 And then! I thought I'd color the bunny with distress markers — another first for me! to do the scarf, I added stripes of spun sugar, tumbled glass, and bundled sage and then went over them with a detail water brush to blend. The sled is colored with peeled paint and bundled sage markers too!
Then I thought it needed an "extra little something", so used one of my favorite "old" techniques: stamping on acetate with white stazon! And tah dah! It all came together! Yay!
Hope you have a great week! I can't wait to see what everyone else comes up with for the challenge, should be so fun! And thanks again to Laurel and the whole Lawnscaping crew for having me as the October guest designer, woo!
Supplies: