Coffee is liquid sunshine to me. How about you?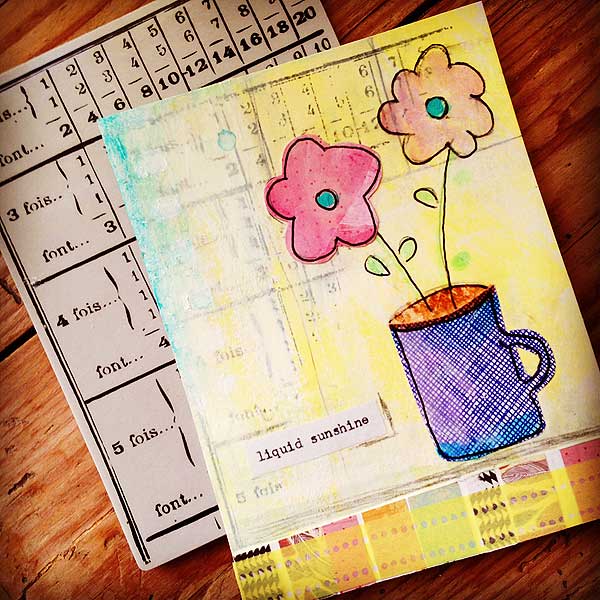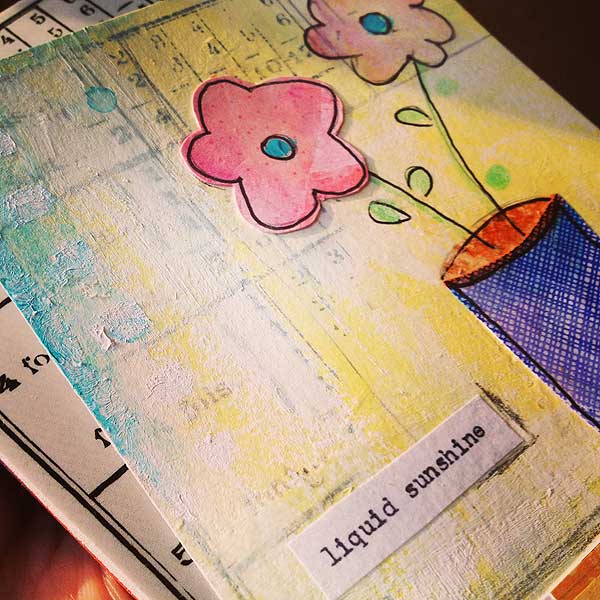 If you follow me on instagram, you may have seen these first two images…then this morning I thought it needed a little something so added the "coffee is" and the coffe rings. The coffe ring stamp is  from this Studio Calico set (love!). The alphabet is an oldie but goodie from Hero Arts (I suggested an alternative in the supply list).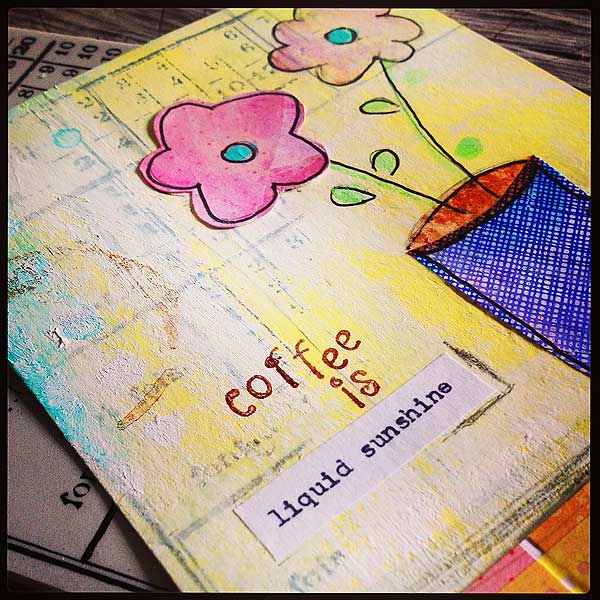 The row of paper at the bottom of the piece is actually from something I made for Online Card Classes Pattern Play Class — have you signed up yet? Class just started yesterday and you have forever access to the class, so why not join us? :-D
And in case you were wondering, here's a little bit about the process:
It all started out with a piece of heavy white cardstock cut to the size of a notecard. Then I grabbed some buttercup Mister Huey's and brushed it on, but decided it was too bright so added a layer of Claudine's blank canvas white paint.
Next I stamped the collage background with gray flannel. Thought it needed some more white, so grabbed a piece of notebook paper and used the edge as a stencil to add  more white paint. (You can see it a little in the second photo.)
Then I cut the mug out of a security envelope and added it with gel medium, then outlined it with a black pen.
I sketched the flowers with pencil first and then colored with watercolors (just a set of cheap old crayolas!), but then I decided to use patterned paper for one of the flowers, so I grabbed a scrap of Sundrifter and brushed it with watered down white paint, then when it dried I cut it out, added some dimension with watercolor pencil and outlined it. Adhered it with gel medium too.
I made the flower centers blue and added a little blue paint to the upper left corner to tie it all together.
Typed the "liquid sunshine" with my trusty typewriter. :)
Then this morning I added the coffee rings and the "coffee is" and that was that. Btw, I needed more coffee when I stamped the "coffee" because I used an "i" for the first "f" oops! I just stamped over it — figured it added to it, somehow ha.
Was so fun to just play around. Wishing you a day full of sunshine!
Supplies: