Heya! Hope you're having a great Friday! I'm really jazzed because I finally had a chance to try something that I've always wanted to: transferring an image on wood!
Usually people use photocopies to do this, and you can find a ton of tutorials online all about it  — like this one from photojojo. I decided to try it using patterned paper since I had a bunch of scraps sitting on my desk from when I made a card for my guest spot in Online Card Classes' Pattern Play class.  BTW, if you haven't signed up yet for class you still can! Some awesome projects so far. Just sayin! :)
I started out by gathering my supplies — I thought these Studio Calico wood veneer butterflies would be perfect for it! But any wood shape will work.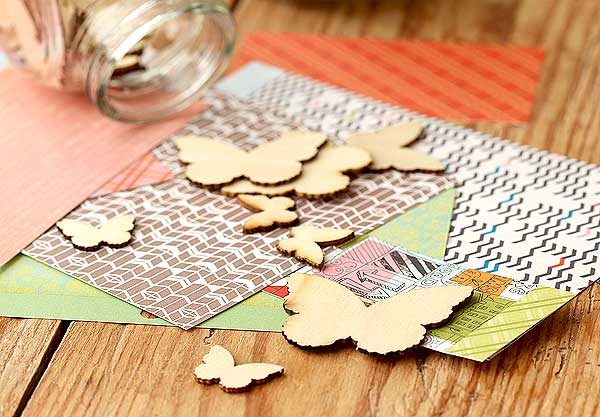 Next I put a coat of Claudine Hellmuth gel medium on each butterfly and adhered it to a paper scrap, so that the pattern-side and the wood were touching. Then came the hard part — I let it dry overnight. So hard for an impatient girl like me to wait!
This morning I ran the dried butterfly under some water and let it sit for a few minutes to allow the water to really soak in to the paper. Then I rubbed the paper off and ta dah!
Here's a quick little video I took with my iphone to show how I rubbed off the paper — it really transfered to the wood. How cool is that!?! I mean, my jaw was hanging open while I did it. It's like magic!
And here's the finished card! I trimmed off an edge so that the butterfly could really seem to fly!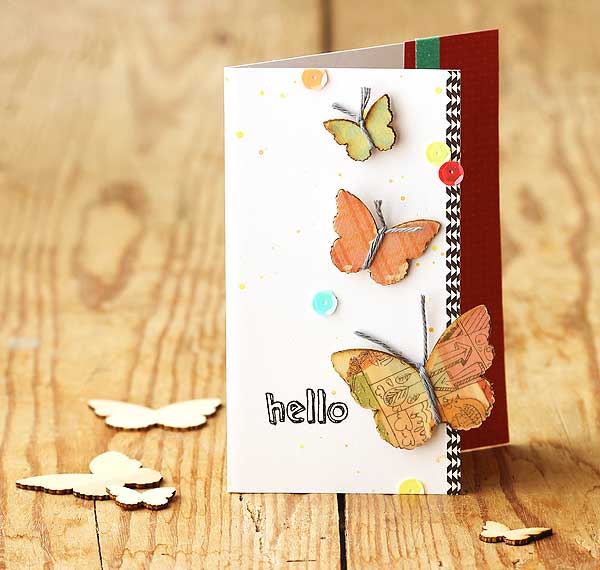 Another little trick — I made the butterfly's body and antenna but wrapping a piece of twine around her and then tying a knot at the top. Love how this turned out, and can't get enough of the gray divine twine my sweet friend Maile sent me. I got the idea for trimming the sequins from her too. She just rocks. (Thanks again Maile! xo)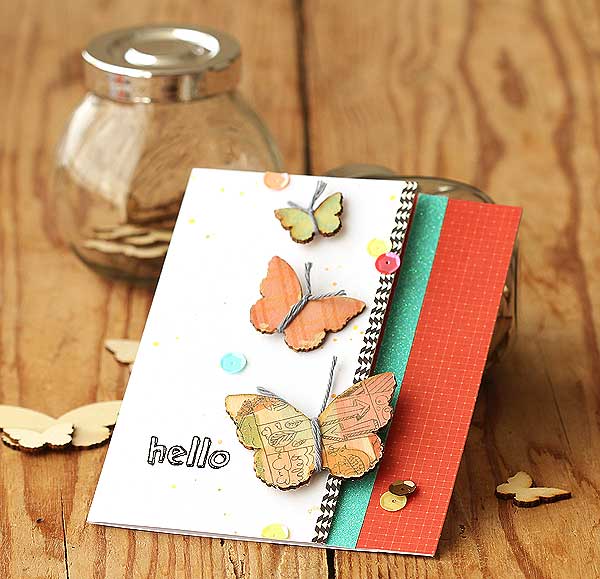 Gonna have to try this again soon with more wood shapes.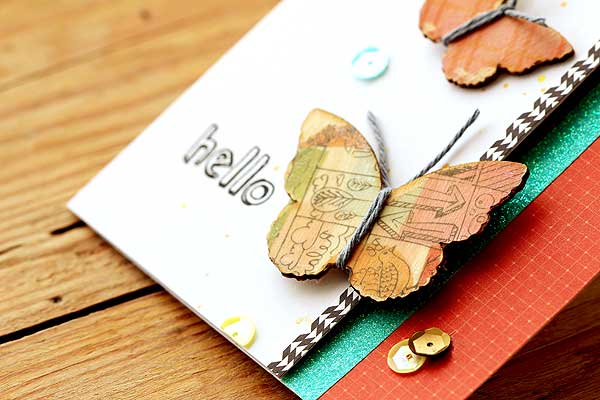 And I have to say, I can't get enough of this American Crafts glitter tape. So awesome. Oh and sequins! I'm really on a sequin kick right now too.
Hope you have a great weekend!
Supplies: