Heya! I am super excited to be a guest designer for Mama Elephant this month!  I think the world of Kryssi, co-owner of Mama Elephant, so when she asked me to join in the fun I just had to say YES!
We're having a blog hop AKA stampede to celebrate the release of some awesome new stamps for April! Woo!
Our April release is now live and available for purchase in the store: www.mamaelephant.com.
To celebrate the new release, Mama Elephant is giving away 3 gift certificates worth $20.00 each to 3 lucky people! Winners will be chosen at random from the collective blogs in the Stampede. Winners will be announced on the blog on Friday, April 19th.
Here's how to qualify to win (leave a separate comment for each):
1. Leave a comment on this blog post
2. Become a follower of our blog: http://www.mamaelephantblog.com/
3. Like/share us on Facebook: http://facebook.com/mamaelephant
4. Follow/tweet about us on Twitter: http://twitter.com/heymamaelephant
Here are your stops in the stampede:
For my card today, I used the new Central Park set to make a little horse and buggy springtime scene! Check it: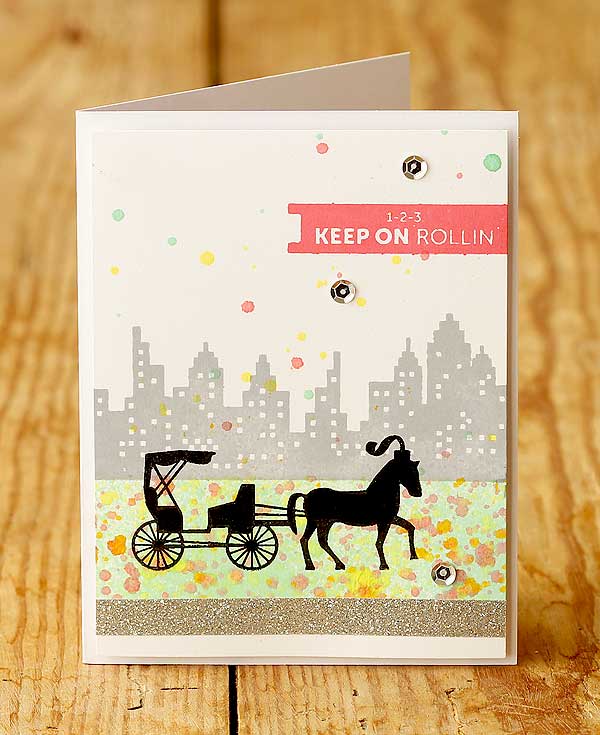 First, I stamped the skyline in soft granite so that it wouldn't be too bold. Next I masked off a spot and decided to mist it to make it look like an impressionistic garden. Think Monet would be proud? HA!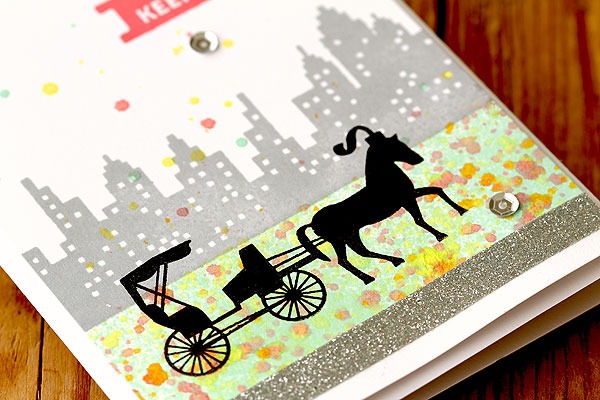 Next, I splattered a few drops of mist for the sky to carry the garden up. Then it was just a matter of adding some silver sequins and glitter tape  — can't seem to get enough of them lately!
Thanks so much for joining me today, and thanks again to Kryssi for asking me to be a part of the April release. Now, keep on rollin' to the majorly talented Mariana Grigsby's blog — I can't wait to see what she's come up with!
Supplies: