Yep, all kinds of paper — new, old, bought and found! But my favorites are the ones I save from everyday life. Like a map that we used while at Big Bend National Park back in in February. I made it into a card that I plan on giving to J. Find out all about it HERE on the Hero Arts blog!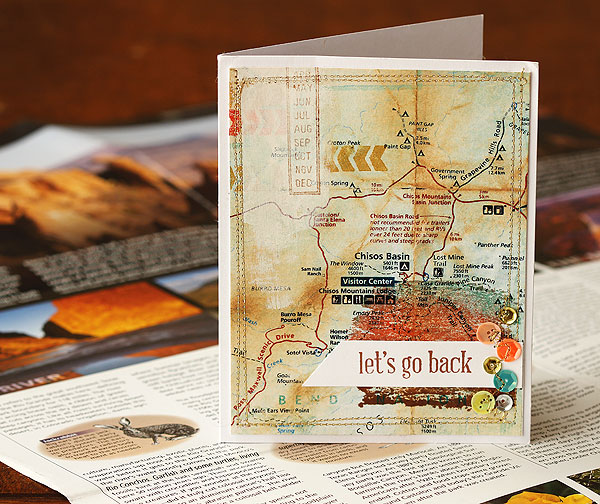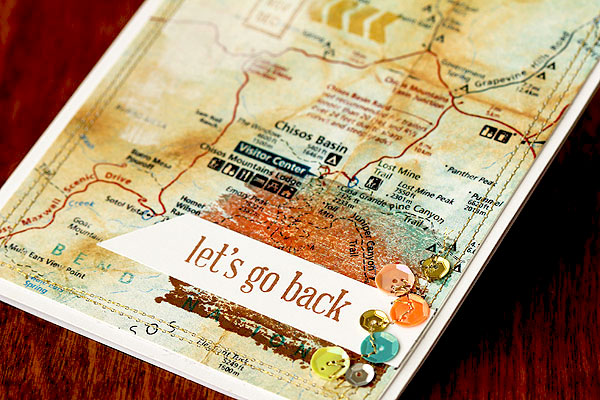 And here's some fun behind-the-scenes facts — the map that is on the card truly has a LOT of miles on it — as does the card, no wonder it has a little bent corner doh!
First the map got to Big Bend National Park, somehow (unknown where it was printed and how it got there, ha!). Big Bend National park is pretty remote, tho.
Then we drove it all around the park — the park is HUGE in case you didn't know…
Then it went to the Davis Mountains, about an hour and a half drive
From there it came home with us to Austin, another 8 hours
Then I made it into a card and sent it to Hero Arts in California for the catalog
I didn't have a chance to photo it by itself, so Jackie sent it back to me. (You may have noticed it on page 3 of the Stamp Your Story catalog along with Sally's mini book! I took that photo when I was doing group shots.)
After I photo'd it, I sent it back to Hero where it will be used for a display in a show
Wonder where it will go next? Sure wish I had all those miles in frequent flier points, ha! :)
The best thing is that I can easily make this card — or any other card — again since I have a scan of the paper. Yay!
Anyhow, see you over there on the Hero Arts blog!
Supplies: