Have you heard about Studio Calico's July class, Inked?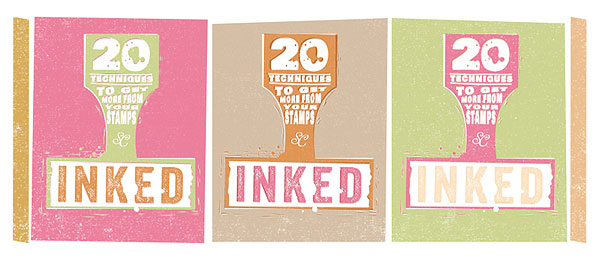 It's gonna be awesome. My super talented friends Maile Belles and Nichol Magouirk are co-teaching the class, and will be sharing 20 techniques with you. There's an amazing lineup of contributors too — check this list out: Amber Kemp Gerstel, Amy Tan, Anabelle O'Malley, Betsy Veldman, Celine Navarro, Corrie Jones, Cristina Kowalczyk, Dawn McVey, Emily Branch, Geralyn Sy, Jen Gallacher, Jen McGuire, Jessica Witty, Kelly Goree, Lea Lawson, Lisa Spangler, Robyn Werlich, Shanna Noel, Shari Carroll, Susan Weinroth and Tina Aszmus.
I'm so honored to be among such incredible artists. Here's a little peek at what I came up with using the 4×6 set of limited edition clear stamps that come FREE with the class while supplies last!
Isn't that fox just the cutest ever? And the triangle goodness! and the hola! Just love it all. Here's a better look at the stamp set:
And that's not all! You'll also receive two sheets of peerless watercolors — the red and orange ones in the upper right. They're perfect for coloring that cute fox. Gotta say, I just took the bonus pack  of them on a trip to Quebec  and I love them. Especially for travel! They're perfect for taking on summer vacations. Will share that later. :)
So, wanna come join the class? There's still time to sign up right HERE! But hurry, even though you'll have forever access to the class, signups end on June 30th. Hope to see ya there!
Supplies