Hi there, and welcome to my stop on the 3rd day of the CASE Study 3rd Anniversary Blog hop! We're all hopping to celebrate three awesome years of great inspiration. Cannot believe how time flies by, can you? You may have arrived here via awesome Julie Smith's blog, but you can head on back to CASE Study to start at the beginning.
For this hop, we were to find an inspiration piece and create a card inspired by it. I had a hard time deciding what to use, as inspiration seems to be *everywhere* these days! I finally settled on this wonderful print from my inspo board on pinterest. (You can follow me here if you like, I'm always pinning something, so addicting.)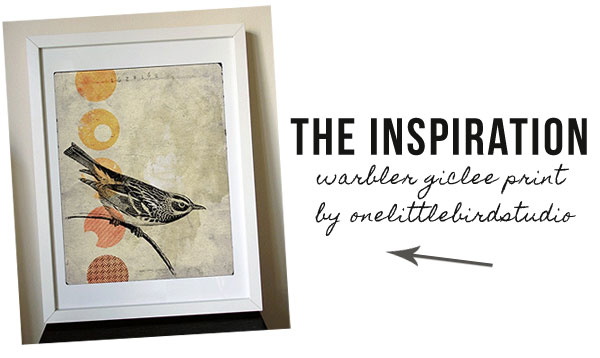 I loved this print so much — the circles, the bird, the background, the colors — everything! Now, here's my take!
First I painted a background using watercolors. Then when it was dry I went to town stamping!
I just can't seem get enough of this Hero Arts Stamp and Build set, so I used it for the circles.  (Check out this set of cards I did using the set!) On some of them I did the "kissing" technique with the Envelope Pattern to add a little texture.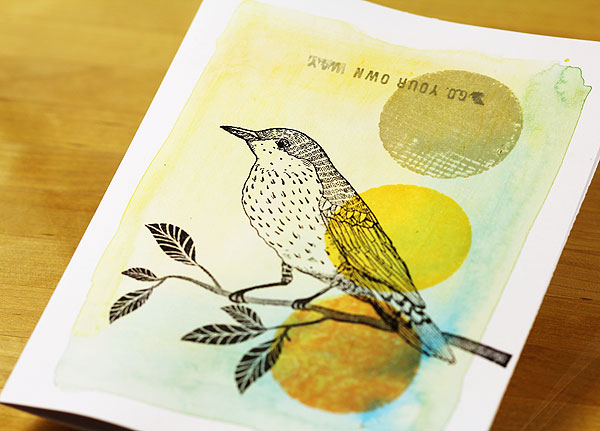 Then I used my trusty stamp-a-ma-jig to stamp the Wise Bird in black. Love how he looks in black, don't you?
To finish it off, I stamped "go your own way" from the Hero Arts Travel set where the numbers are on the inspiration piece. At first I was going to stamp it right-side-up, but then I decided to go upside-down. I was a bit hesitant about stamping it since it was outside my comfort zone — and the image came out a little blurry. But you know what? I kinda like it that way. And I love this message for the inspiration challenge — because going our own way is what it's all about. :)
And then! As I was writing up the blog post I noticed that the second circle on the inspo piece had another circle taken out of it, and the wheels started turning…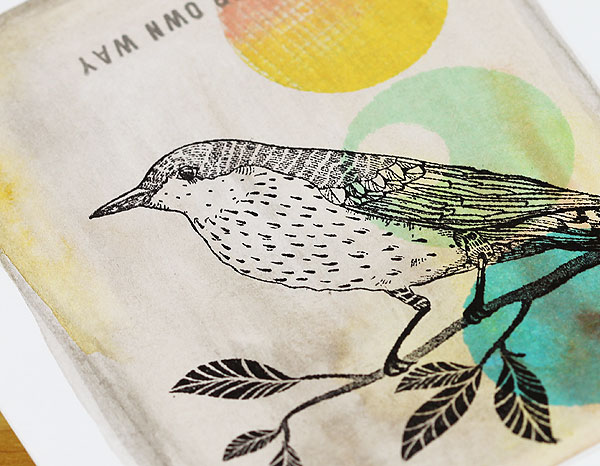 And of course I had to give it a try! So I got out a 3/4″ circle punch and punched a circle out of a post-it note, positioned it on the card, and then stamped my circle. Woo! I wanted to do a circle with a "bite" taken out of it like the third one but I was so excited to stamp the neon blue that I forgot. Next time!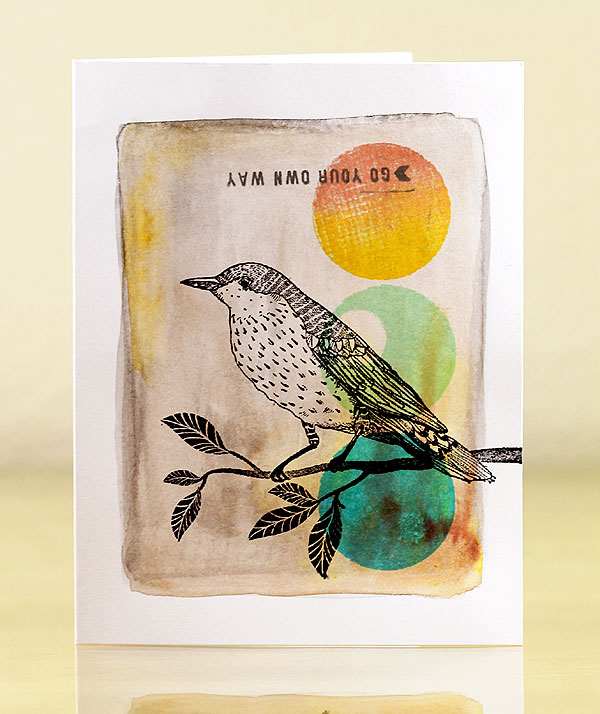 Now on to the next stop in the hop — the fabulous Julia Stainton! Oh and one last thing before you hop — there are prizes to be had, so you'll want to leave comments along the way. Check the deets out at the CASE Study blog for how to play.
Thanks for joining me and Happy Anniversary to Chupa and everyone at CASE Study! xx
Supplies