Hi all! Don't know if you've heard the news, but my friend Linda Trace (aka cutiepiechan, aka one super fun and awesome stamper, aka half of the genius behind A Blog Named Hero) just had a baby girl!  Yay! Congratulations, Linda! So happy for you! And the pictures of Olivia are just so adorable!
Mary Dawn (aka the other half of the genius behind A Blog Named Hero and one hilarious chica) organized a blog hop to celebrate the big occasion! At first it was called "Linda's About to Pop Hop" but then Olivia arrived so she quickly changed it to "The Linda's Popped Hop" lol! More on the hop later — on to the card!

I was hunting around my studio for a baby stamp to use when I spied the "Welcome Baby" in the September Studio Calico Bubblegum card kit add-on. Then I knew just what I wanted to do, as this kit comes with silver leaf sequins and some fun flower stamps.
So, first I misted a base kraft card with pink neon Mister Huey's (yes, they come in neon as a limited edition — mini bottles of bright neon goodness! Love).  Had to add a little seafoam and white too. Then I stamped the Welcome Baby twice — first in Hero Arts' new soft silver ink, then I used a stamp positioner to stamp it slightly offset in navy.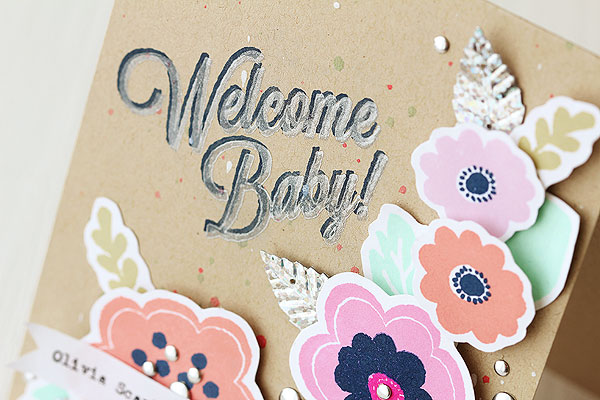 I just love this new soft silver — can't get enough of it! It's so pretty and well — soft! Ha.
Then I went to town stamping flowers and leaves in various colors. Can you believe I used three different pinks here? (See supplies at the end of the post for the list.) I was trying for kind of a new take on the typical pink baby theme, but wanted to keep it soft and sweet too. What do you think?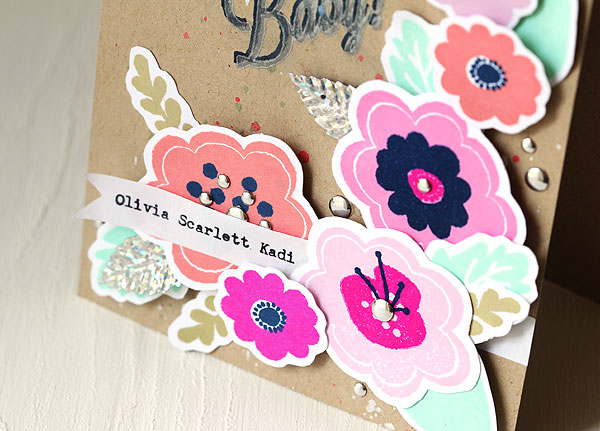 I had to add some Hero Arts silver metallic decor — if you haven't seen them, they are kinda like enamel dots, only well, metallic. Yum.
Then once Linda had Olivia I peeled up some flowers and added her name with my trusty typewriter — just love using typewritten words to personalize cards. I typed it on copy paper and left the end free for extra dimension.
Can't wait to send this to Linda! Now, on with the hop!
The Hop
Here's the list of hoppers welcoming sweet Olivia to the world! You should have arrived here via Kelly Latevola's blog, but no worries if you didn't! :)
Your next stop is the sweet Lucy Newton at Dulces Creaciones blog — cannot wait to see what she's made! Happy hopping, and congratulations again to Linda! xx
Studio Calico Supplies
More Supplies