Howdy all! I don't know if you've heard the big news, but Studio Calico has a new letterpress collection that works with Lifestyle Crafts letterpress platform. I was just over the moon when I heard about it! My new goodies arrived yesterday and I had a chance to play a bit today. This is so addicting — I know there's going to be lots more letterpressing in my future. :)
The first plate I tried was the constellation . I just love this design so much! Jason's birthday is Monday and I while I have a little present for him and plan on making him a dinner of all his faves — with dessert, of course — I just didn't have anything special yet. Now I do! Feast your eyes.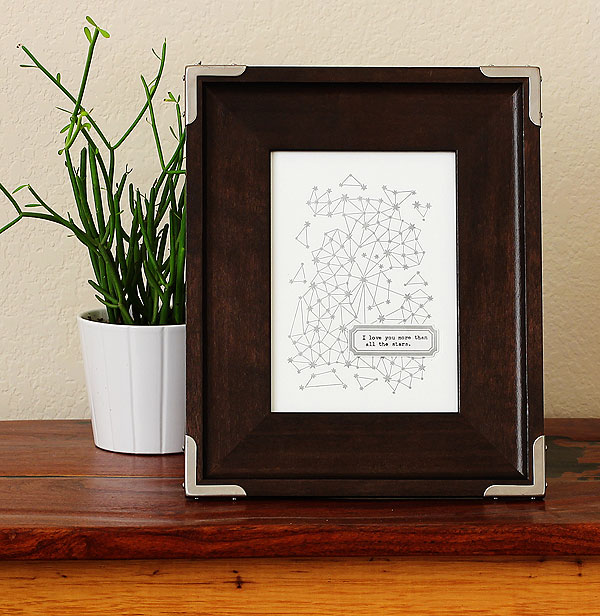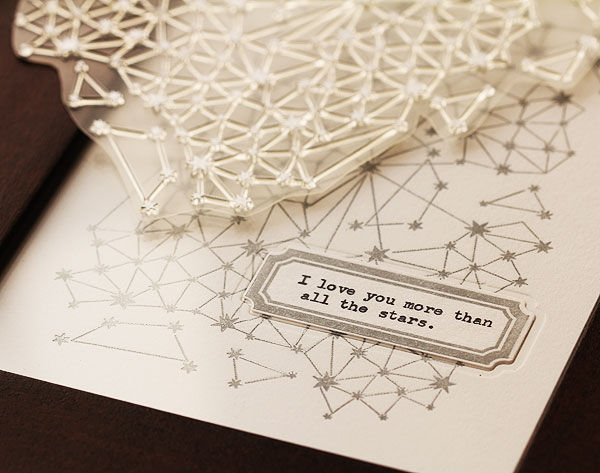 I used my trusty typewriter to add the "I Love you more than all the stars" on a letterpressed label. And then! Then I had the idea to use the matching die to emboss the design and give it a little dimension. I just used some washi to hold it in place…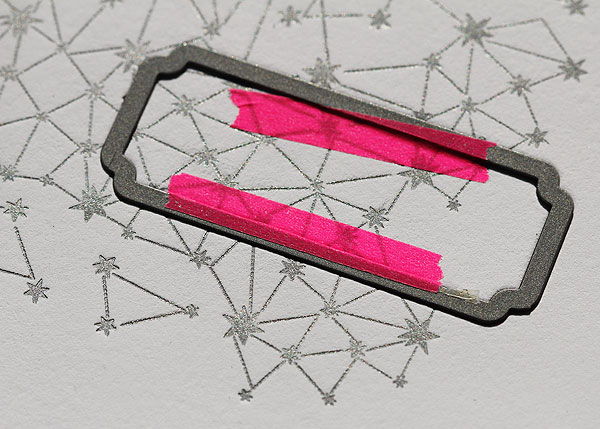 Then used a glue stick to adhere the label in place. You won't believe how the silver ink shimmers in real life — the camera just doesn't do it justice!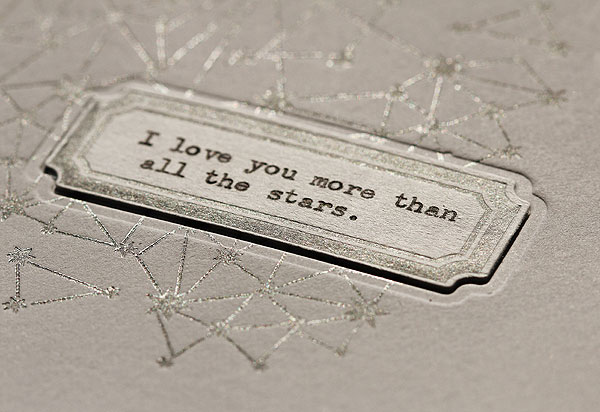 Here are some tips I learned along the way — I'm going to be experimenting some more with this but wanted to document it as I go:
For the constellation, I used some 12×12 thick letterpress paper and trimmed it down to fit the 5×7″ frame.
In order to get the label through my typewriter, I took apart a letterpress envelope and used that! Love how it still has the letterpress texture.
This really cleaned up easier than I thought! I tried both a regular old baby wipe and the letterpress cleaning cloths and both worked just as well.
At first I thought I'd die cut the label from the constellation piece and adhere the typewritten piece behind it, but the thick letterpress paper was just too darn thick! The dies cut just fine on the thin paper though.
The plates were stained a little from the silver but I don't think it will harm anything.
I tried the constellation on regular cardstock and it kept the tiniest details better, but it wasn't really letterpress to me. I did likey, though! I plan to try watercolor paper and bristol board too.
Make sure you stock up on lotsa paper to start with! I want to letterpress everything in sight but I'm almost out of paper lol!
A little ink really does go a looooong way. And it makes you want to keep letterpressing, ha!
Everything dried lickety-split for me, but I'm in Texas and well it *was* 100 F. :)
I got the frame at IKEA — it's the ÖVRABY with a 5×7″opening. Love how the silver corners match the ink.
Can't wait to experiment some more with this! Let me know if you have any q's and I'll try to answer them as best I can, being a total newbie lol! And if you have any tips to share I'd love to hear!
Oh and one more thing! Studio Calico is having a letterpress class this month — class is already in session, but you can still sign up until September 15th and you'll have forever access. There's a fun kit that ships free with the class while supplies last, too! And it includes a little sample tube of the silver ink that I used.
Can't wait to play some more.
Studio Calico Letterpress Supplies