Heya! Thought I'd share some tips for letterpressing the Studio Calico Alphabet set.
First tip — once you get everything setup, you'll want to make a bunch!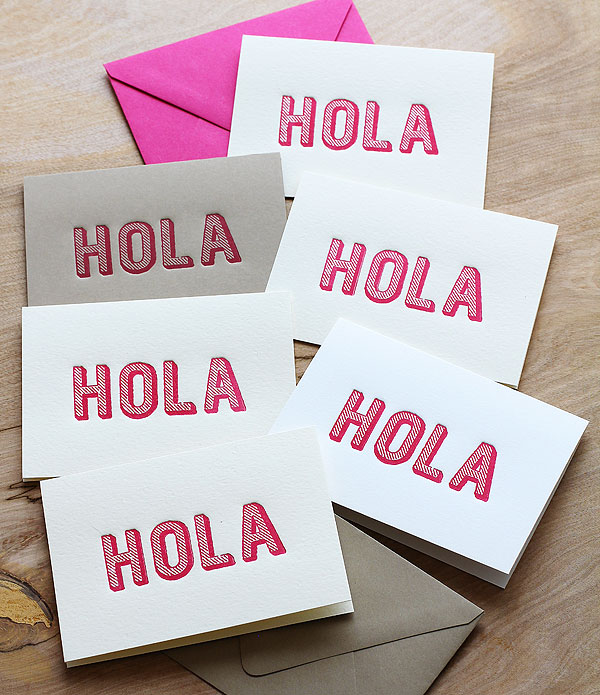 Second tip: try different kinds of cardstock. Here I used a textured 4-bar luxe cream notecard from Paper Source. It's 100% cotton and takes to letterpressing so well! Especially with the hot pink ink :)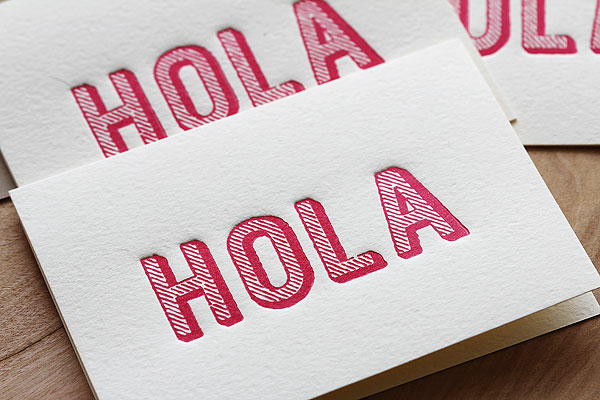 And here I tried it on some smooth bristol board I got at the craft store:
I kinda like the one with the texture better, but both are cool!
A third tip that I discovered was to ink with your brayer going in one direction, and ink going from the solid side of the letter to the side with the lines. So in this case, I inked starting with the A and went towards the H. (When I did it the other direction, the lines left on the brayer from where the ink was removed would make a pattern on the solid parts of the letters. Wish I could have thought to take a pic to show you!)
I also found that I needed to use the ink guides, start my brayer about an inch away from the letters and then roll in a steady motion with even pressure. I played around and I liked the coverage best when I did it with two inkings — any more than that was too much! So I brayered ink on once, then added more ink to the brayer and inked it again. Make sure that the impressions from the previous inking are smoothed off your brayer before you do the second one.
Then while I had the supplies out, I made a monogram set for a friend! I can't believe how a little ink goes such a long way and I wanted to try and use it up — but I still had more after this and had to make dinner lol!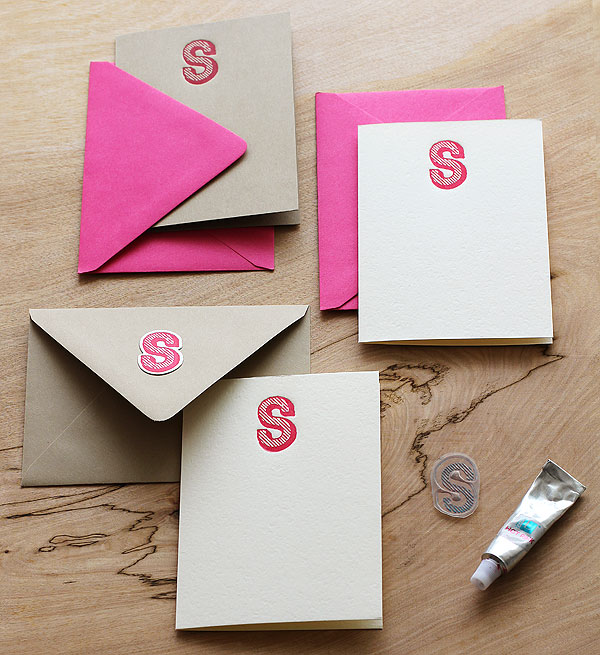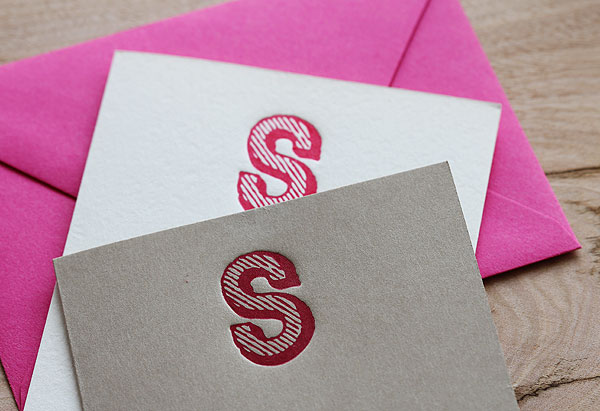 Here's a closeup of an S on smooth Paper Source 4-bar card in paper bag color. Love how it looks more red, even though it's the same ink! Might be neat for Christmas :)
And love how the hot pink ink looks paired with the Paper Source fushia envelopes, too! I tried to link the Paper Source products up in the supply list but it wouldn't let me get an image, so just follow the links and click on the colors. So glad we finally have a Paper Source here in Austin so I can stock up!
Oh and in case you were wondering, I did some research, and the jury was out on the proper etiquette as to whether or not to use the first initial or last for monograms. So I sneakily asked my friend her opinion and she said she prefers the first ha! :)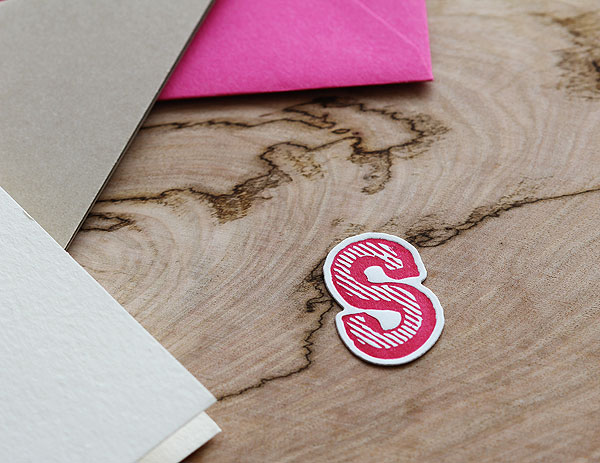 One last thing before I go — I cut out a practice S with the matching dies just to try it out — can't wait to play with the dies more later! (I got the bundle of dies and plates because I knew I'd want 'em both ha!) I'm happy to report that using the die cut doesn't squash the letterpress — I kinda worried about that a little.
And there you have it!
Studio Calico Letterpress Supplies