Hiya! Welcome to my stop on the Operation Write Home birthday bash 2013 blog skip with Hero Arts! Love it that they call it a "skip" since it's a short hop, lol! If you are skipping along with us already, you should have arrived here via JoAnn's blog. If you're just joining us, feel free to head back to the beginning at Operation Write Home.
Most cardmakers have heard of Operation Write Home by now — they collect blank handmade cards for servicemen and women to send back home. Such a great idea!  Hero Arts supports OWH by donating 25% of the profits from the sale of  OWH stamps to them. A win-win! You can see all of the great OWH stamps right here.
Cards must meet certain guidelines, including an A2 size card, no lumpy embellishments and most importantly, no glitter.  Now if you know me, you know that I'm the kinda girl who loves to add glitter to all of her cards. So before I started stamping I sat down to think about what I could use to give the cards some umph — and I decided to break out my new Hero Arts neon red ink! I rubbed it on some white cardstock to color it red and die cut some hearts like so: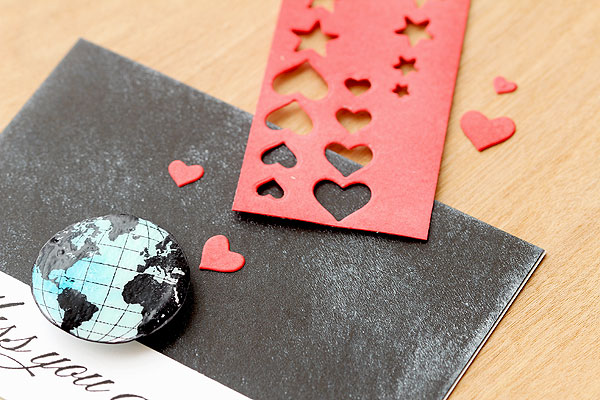 Then, since I have a whole stack of chalkboard backgrounds waiting for me I decided to use some of them, too! (I did a video on how to make these stamped backgrounds using the newly released Chalkboard Background stamp for Hero Arts on Monday and hadn't cleaned my desk yet — sometimes it pays to be a messy stamper, ha ha!)
So now that you've got the backstory, on with the cards!
I started out by stamping the globe from the You're My World set a bunch of times with black ink on white cardstock, then watercolored them and let them dry. I like how this globe is kinda old school and cool — goes with the background!
Then I applied some glossy accents and let that dry too. Then I just added a message from the same set, some hearts and patterned paper and ta dah!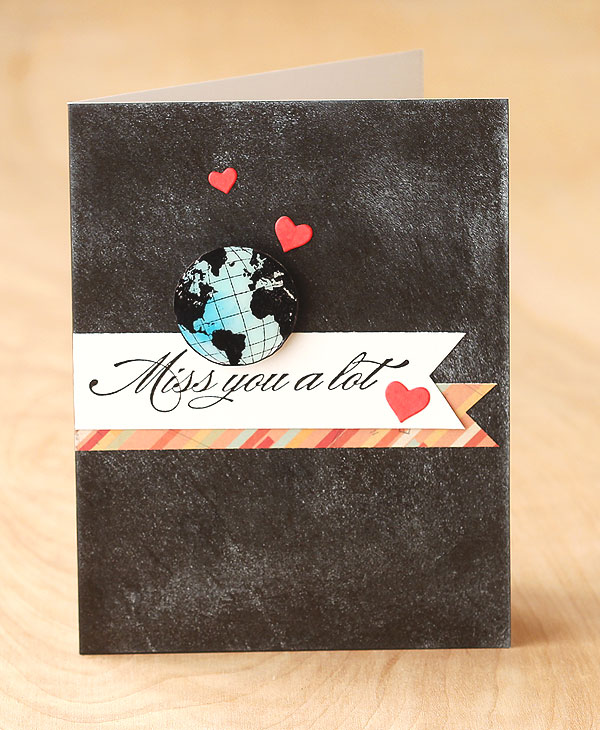 Just love how this turned out! The patterned paper adds just a touch of color that really makes the chalk background pop, don't you think?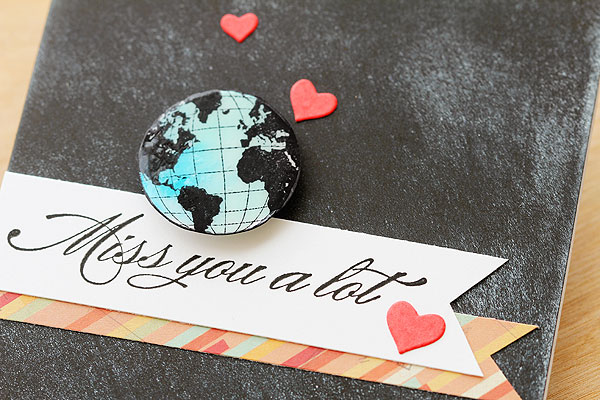 Since I have all those hearts and globes I couldn't stop there — just had to make a second card!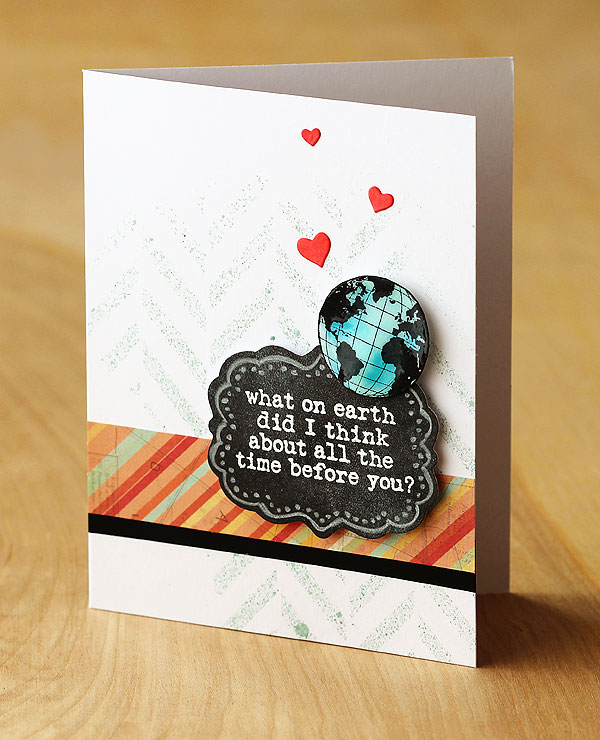 This one has a little more going on! First I used the tweed pattern stencil and Mister Huey's honeydew to create a subtle background. Then while that was drying I went to town creating a little chalkboard framed message.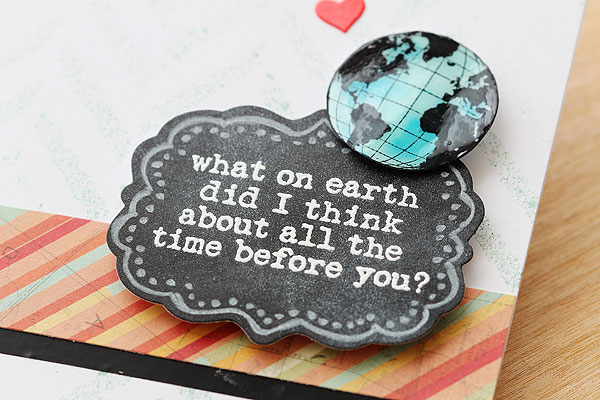 I first white embossed the message from this set on one of my chalk background pieces, then die cut it, and went around it with a white colored pencil to give it more of that chalkboard feel.  Love how it's softer than a white pen — and looks more like chalk! Couldn't resist adding a little chalkboard tape, too!
Well, that's it from me. Thanks so much for joining me on the skip!  And hope you'll consider making some cards to send to OWH — even though you can't use glitter. Ha!
Your next stop in the skip is a fellow Texan —  Alison — can't wait to see what she's made! :)
Supplies