Hey all! Hope you're having a great year so far! Me? Well it's been a little crazy — actually that's an understatement. First was getting ready for CHA, then CHA itself, and now it's the aftermath of CHA. Here are some pieces of this and that that I saved from the trip :)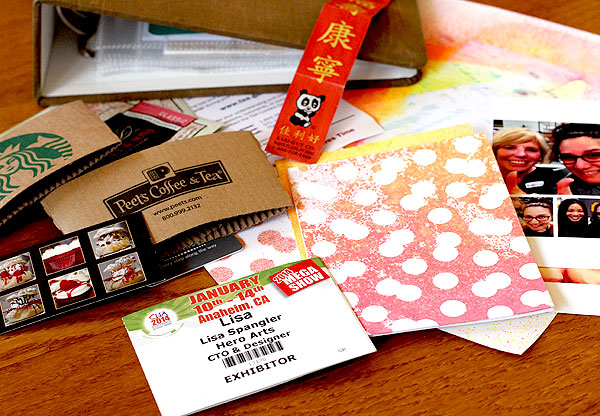 My poor office is a huge huge mess. I keep telling myself that I'm lucky to have a life where I have such a mess. But it is making me want to move out ha! It's probably gonna take me a week to get it cleaned up!
In the meantime, I wanted to share that I'm gonna be doing Project Life this year. Only I'm gonna use the smaller Studio Calico Handbook system — so not sure that it's actually called PL lol. I have a subscription to the Studio Calico Project Life kits — and I have some kits from last year, too.
As a cardmaker, I've found that this size works best for me. My MIL does the real deal, and while I love all her pages I think it's a little intimidating.
Getting Organized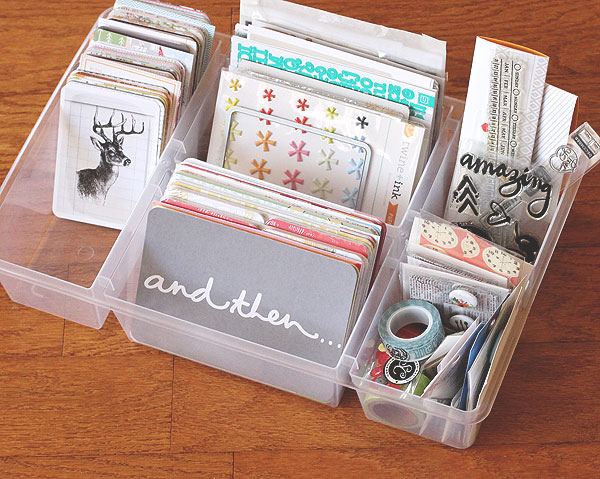 To make it different than other years where I'd start but then fizzle out, I went ahead and got organized. First thing! This has made a huge difference so far.  I did some googling and found where the IKEA Antonius basket insert is perfect for holding the cards. There's even extra spots for stamps and embellishments. And the cost? $3. Best of all, I had one already for organizing tubes of paint. YES!
Plus, I love that I can leave this sitting out on my desk so I can see everything. I'm the kind of person where if I don't see something, it doesn't get used. And I don't always have a whole lot of time in the day to play — this way I can jump in and do a pocket or two anytime.
My Goals
I actually started in December and it's working great! First I sat down and asked myself what my goals are and how this year would be different from other years — when I started collecting things and then stopped. I really got annoyed with myself ha.
So, my goals are:
To remember the moments. It seems like as we get older life just seems to go by faster and faster. Hopefully this way it will slow things down, at least a little.
To not stress or feel guilty. This will be hard for me, ha!
To have a place to keep all the little bits and of paper, tickets, menus, and other assorted pieces of life that I save. Right now they end up in a pile on my desk because I don't know what to do with them/don't have a spot for them. But I just can't bear to throw them away.
To print some photos from my phone. Back in the days of film cameras, I used to keep photo albums full of photos. Since I switched to digital I rarely print photos, if ever. I want to change that!
To make things for me. Being a cardmaker, I'm always making things and giving them away. Or I make things for assignments and send them in. This will be something for me with no rules and the freedom to play! I plan on using this Frame die to cut pieces of this and that. Like when I make a background for a card but I don't like how it turned out — I can just cut it out and save it. Love being able to position it, too!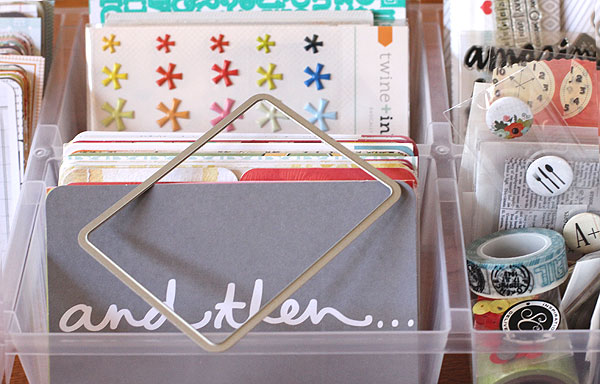 Any Advice?
How about you, do you do PL? If so I'd love to hear any tips! Especially if you're a cardmaker who has never done anything like this before.
Supplies
Thought I'd share some supplies that I'm using — some of these I've had for a while now, lol! The deer card (!) is from the January Studio Calico Copper Mountain Project Life kit, just love him.  (It's still available — for now!) The "and then…" is from a past kit — this is so me, I say it all the time! I may never actually use it — kinda like having it there. :)