Well here it is, my first ever pocket scrapbooking page that I've actually posted. I'm kinda nervous about showing you this thing. But here goes!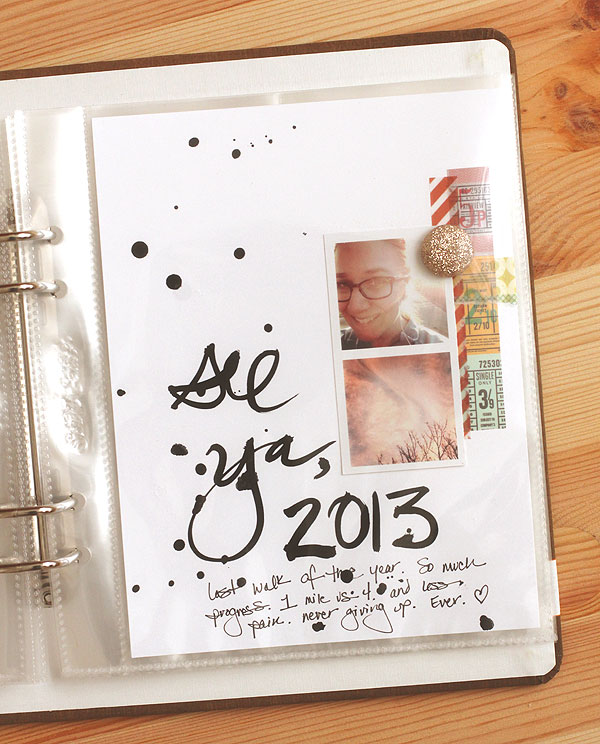 I played with some brush script as I've been practicing for the upcoming Studio Calico Life | Scripted class where I'm gonna be one of the contributors. I'll actually be doing cards for the class. (So if you're not a PLer or you hate this then never fear! lol!)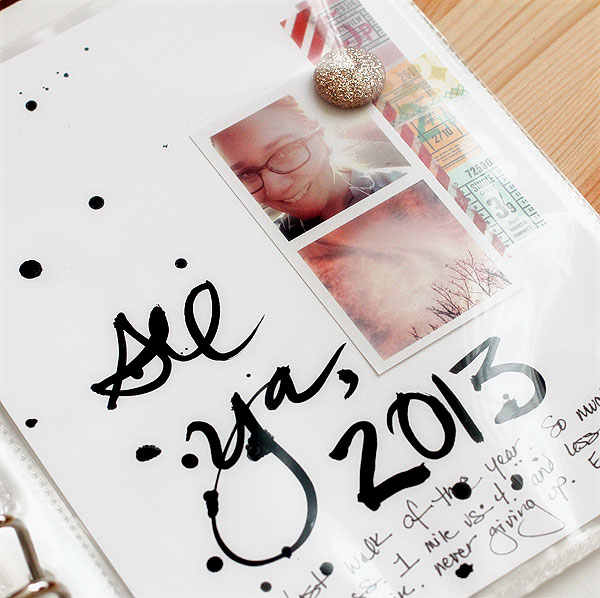 I've been practicing brush script for a few years now but I didn't do it for a bit and I've gotten rusty. I even had a class on Japanese caligraphy once! Just loved it.
Anyhow, I took these photos on my last walk of 2013, thinking about how far I've come with my leg. For those who don't know, I've had three surgeries on the thing to fix a torn ACL. It's been an uphill battle. But I'm not giving up! In any kind of weather, I'm out there walking when I can. Even if it's not a good day, I still go slow. This last walk of 2013 was an awesome one. The kind where it feels good to be alive. And I wanted to remember that. Plus I felt like this was a good page to start with.
Supplies
Studio Calico handbook with a 6×8 page protector
Brush and black gouache, on regular white cardstock
Glittery giant brad thing from an old Studio Calico kit — sorry don't know what one!
BasicGrey vellum tape
My Process
I wanted to start with the biggest page that's in the Handbook (6×8″) since that's the most intimidating for me as a cardmaker. The pockets are so much easier! I have some pockets done to share too! But next I'll be sharing a card. :)
First I printed out the photos in a strip, then placed on on the page (but didn't adhere it). Then I practiced writing "see ya, 2013" a few times on scratch paper and then went for it on the cardstock.
Next I added some BasicGrey vellum tape to give a little pop of color — but not too much. Love how the numbers in the vellum go with the miles and the "2013"! Then I adhered the photo and added the giant brad thingy to anchor it. And that was that!
I mostly like how it turned out — but the main thing is that I'm really happy to have that moment preserved. xo