Hey there! I've got a fun yet easy technique to share today: dauber layering! If ya hadn't heard, Hero Arts came out with pastel daubers in the 2014 catalog release. Love these so much! They have a white dauber base with a hint of color and are semi-opaque. I experimented with layering the pastel colors with coordinating non-pastels on regular white cardstock as well as watercolor paper and I gotta say that I love how it turned out!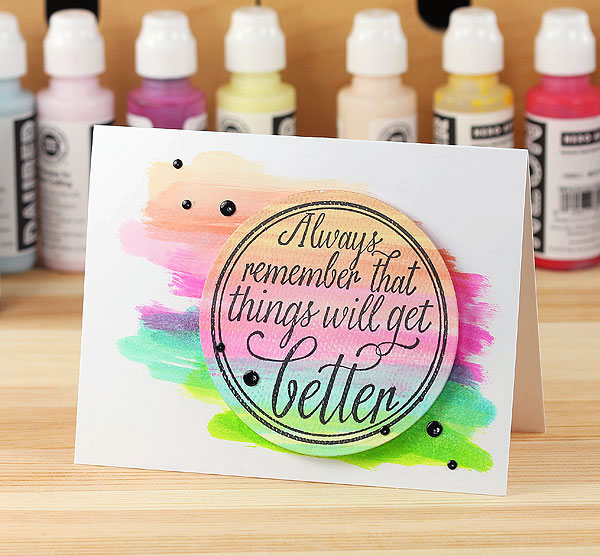 I just swiped on alternating colors of pastel and non pastel, sometimes in several layers. For example, the pastel yellow at the top and the pastel peach I did one layer each since they are both pastel. Then I added a swipe of dark quartz (fave!) over the pastel peach and then added another swipe of pastel peach over the dark quartz. Then I moved to pastel pink and ultra pink — I had to add a few swipes of the pastel pink since the ultra pink is super bright!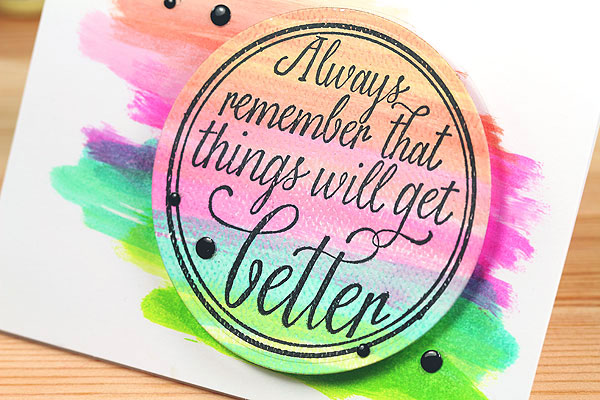 You can see how the colors are more vivid on the regular white cardstock and more muted on the watercolor paper. I also tried misting the watercolor paper blend the colors even more!
Gotta say that I like how the different textures look together, too.
Some good colors to layer:
This is just a small list — I haven't had nearly enough time to play with this technique!
Giveaway
Now then, how about a giveaway! Somehow I ended up with TWO of the Always Remember stamp, so I checked with Hero Arts and I can give one away, yay!  This stamp was newly released for CHA — it's not even available in stores yet. There are so many fun things you can do with this stamp — I haven't even scratched the surface here.
And! To make the giveaway even better, I'll be including my fave dark quartz and pastel peach daubers, plus some goodies from my stash! I'm planning to absolutely stuff a flat rate box, so US addresses only please. :)
To enter the giveaway, just leave me a comment on this post by Monday, January 27th with something that makes you smile. I'll announce the lucky random winner on Tuesday.
Updated on Tuesday, January 28th:  Comments are now closed. I asked J to pick a number …and the lucky random winner is #37, ~amy~! I emailed you for your addy! Thanks so much all who entered — seeing your comments really made me smile! :)
Supplies
Here are the daubers I used on this card — notice there's no purple because that was the ultra pink and the tide pool blending together! :)