Hi hello! I am honored to be the March guest designer for the Neat and Tangled blog, and I'm sharing my first of three cards today. When Danielle first asked me I was over the moon, as I love everything that she does. Just everything. She is just so talented. And so sweet.
She sent me some stamps to play with, and as soon as I saw the Hope Anchors stamp I knew just what I wanted to do!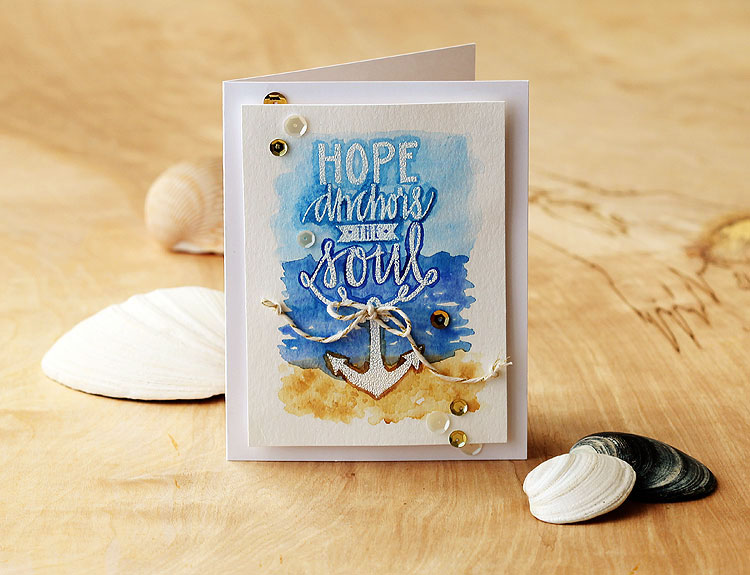 You see, I've had this pillow pinned on pinterest for a while now — maybe since last summer?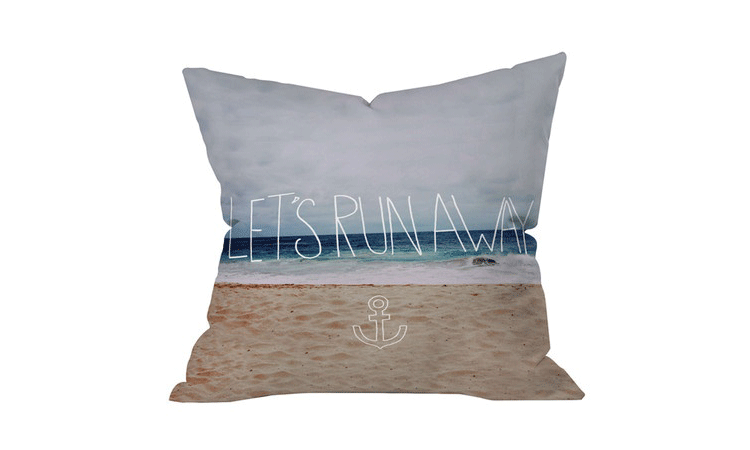 (source: Joss & Main)
I've been wanting to make a card inspired by this idea for ages, but I never had just the right stamp. But this one is perfect. So, I started out by painting a scene with watercolors, like so: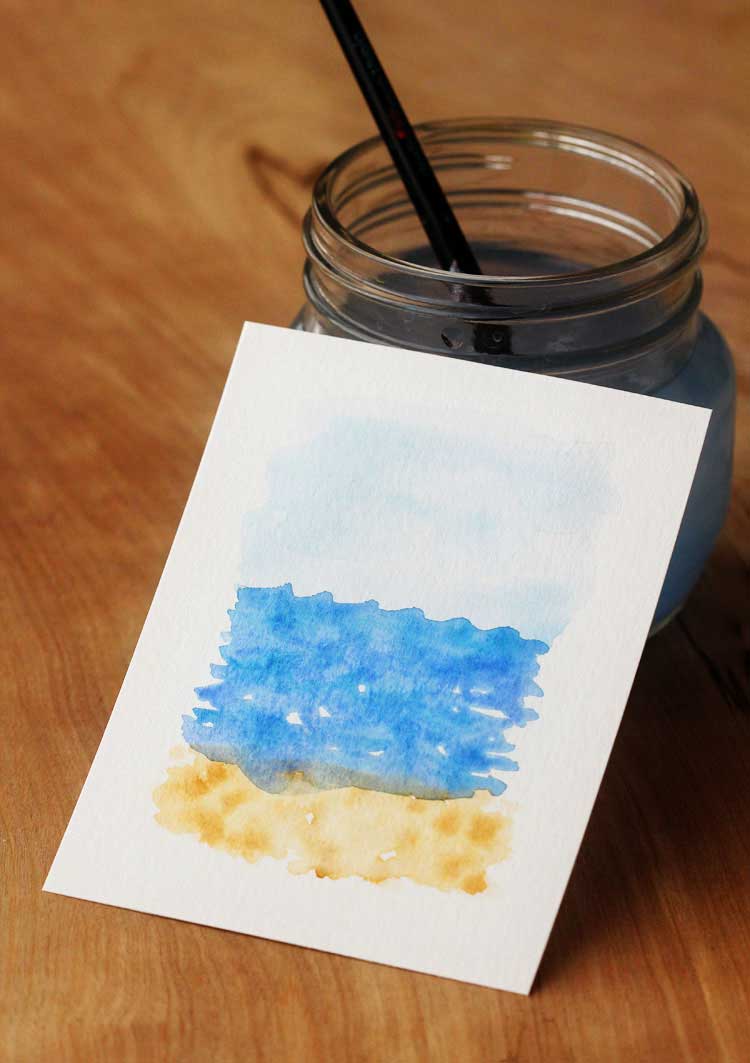 Here's my method — it's kinda easy now that I know how, but when I was first starting out watercoloring I wish someone had told me this, ha! So I wanted to share. :)
The sky is just a simple wash of blue — I just loaded up a brush with plenty of watered down blue paint and went to town. I did the sand by pre-wetting an area and then dotting on shades of light brown, then let it blend. Love doing this, it's so unpredictable!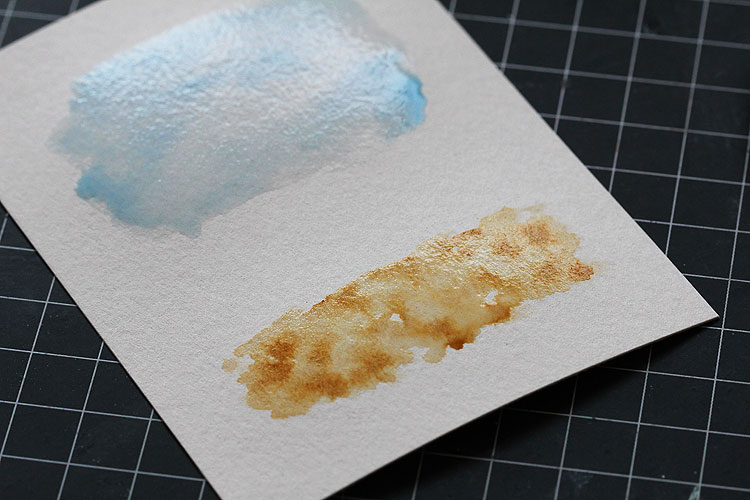 After the sky and the sand had both completely dried I  made some waves with a darker blue, overlapping the sky and making one wave look like it had washed ashore. The big trick here is to make sure that the sand and the sky are completely dry — otherwise everything will blend together and make a mess when you make the waves. If you're impatient like me you can hurry it along by zapping it with your heat tool. :)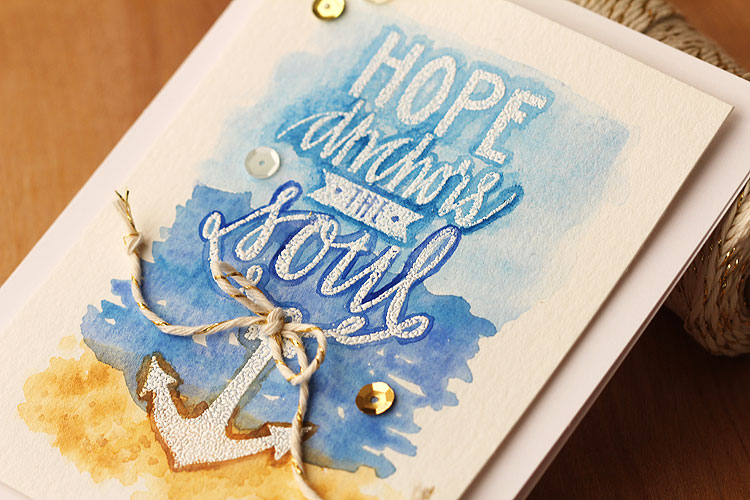 Then after the scene had dried I stamped the Hope Anchors with white pigment ink and then heat embossed it with white embossing powder. The watercolor paper that I used is pretty rough, so the embossing is not very smooth and even. But you know what? I like it like that — kinda reminds me of sand.
To make the image really pop, I went around the edges with coordinating colors.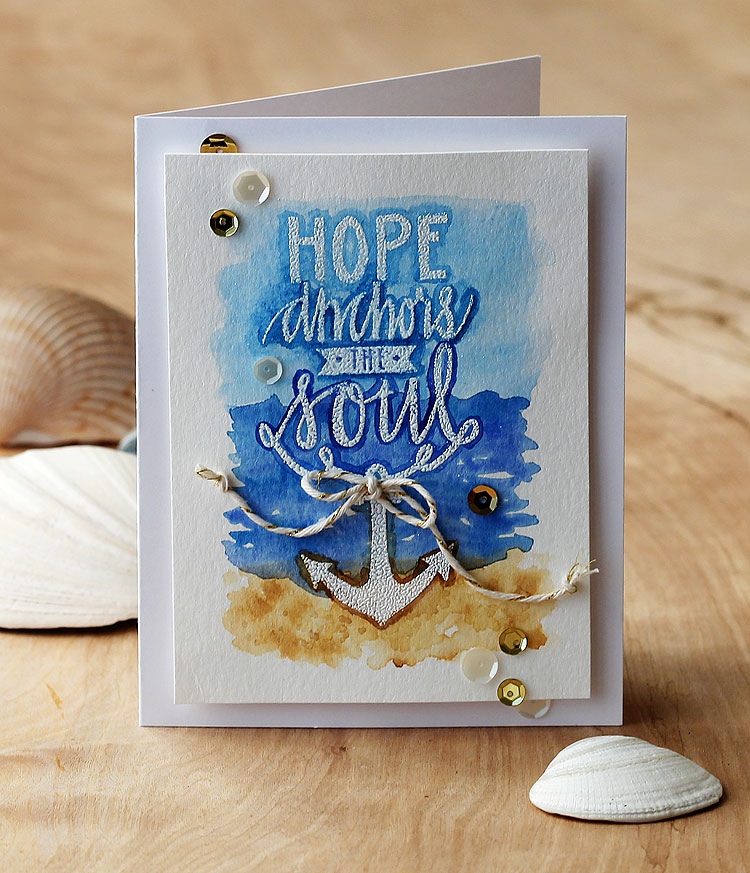 Then I added some sequins and twine and that was that. Such a beautiful sentiment, and isn't Danielle's handwriting just amazing? I'm so glad I have this card on hand, as I have a hard time coming up with meaningful cards like this in a time of need — much better to have them done ahead.
I've listed the supplies I used below, with links to Hope Anchors in both the Neat & Tangled shop as well as Simon Says Stamp.  The stamp is currently out of stock at Neat & Tangled but you can sign up to be notified when it's back, or you can reserve a copy at Simon Says Stamp. Danielle has many more awesome stamps in her shop, too. And sequins. You know how I love sequins. Oh yes!
Supplies
Have a great weekend! xo