What do you do when you have a rainy day? Around these parts we get rain so infrequently that it makes me feel all happy — like it's a celebration. I like to curl up and read a good book, take a nap — or even better, stamp. So when I spied the chipboard cloud sticker in the BasicGrey Fresh Cut collection I knew just want I wanted to do: make a card for my husband, J! I plan to sneak it into his laptop bag before he goes off to work. :)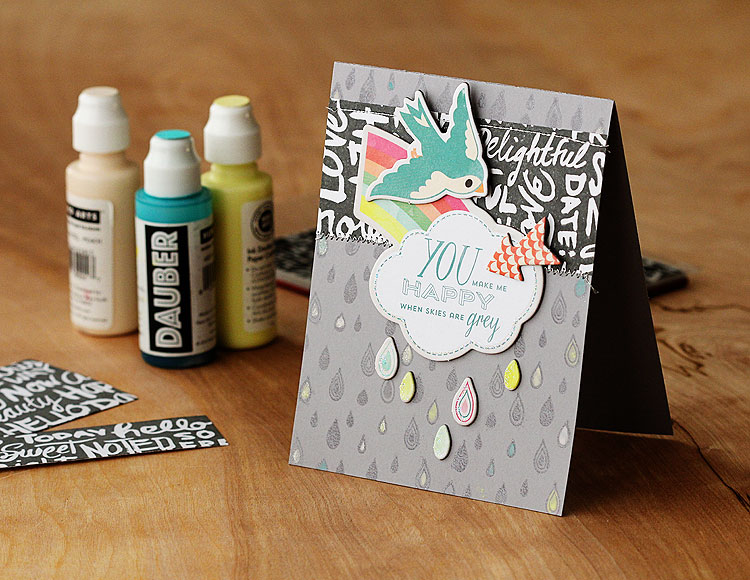 Raindrop Background
I started out by stamping the raindrop background with VersaMark dazzle ink, then I embossed it with clear detail powder. The VersaMark dazzle ink doesn't really have a color, but it makes it so that when you stamp it on regular "solid core" cardstock the area that is stamped gets darker. Kinda like a watermark. Note that this only works with regular cardstock and not papers that have been printed.
Then I broke out some Hero Arts daubers in pastel pink, pastel yellow, pastel peach and tide pool. The pastel colors have a white base, which makes them show up great on grey cardstock like this!
I just tapped some of the color out on a craft sheet, then used a waterbrush to pick it up and color the drops. If you don't have a craft sheet, any nonporous surface such as an acrylic block or a plate will do. After the drops were dry — dry raindrops ha ha ha — I added a touch of sparkle on some of them with a clear wink of stella pen. I'm kinda addicted to these pens!
A Little Something
Next I played around with positioning the rainbow and cloud chipboard stickers on my background but I decided it needed a little something so that the rainbow wouldn't just be floating. The new BasicGrey Chalkboard Background from the Highline collection just happened to be on my desk, so I grabbed it and inked it up with Hero Arts chalkboard black, then stamped it on a white piece. Love how this turned out! I think this is destined to be one of my favorite stamps!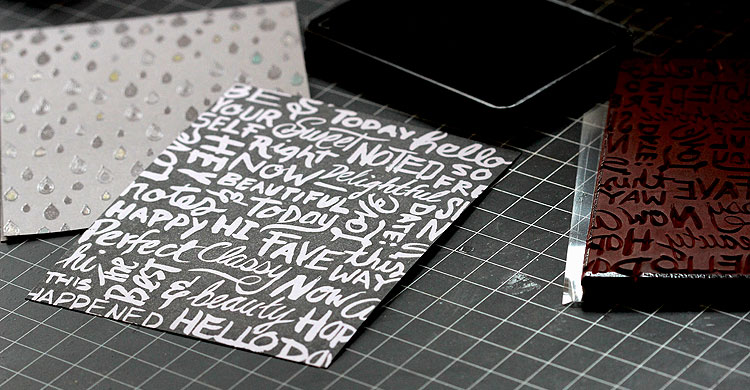 The Hero Arts chalkboard black ink is in their mid-tone formula, which gives you great coverage for solid stamps like this.
I adhered a strip on the card, then sewed it in place with metallic silver thread. It all came together really quickly after that!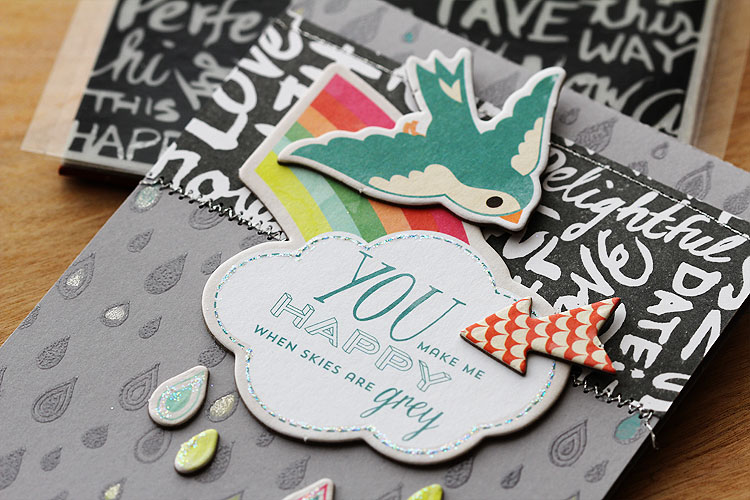 Putting It All Together
I first placed the chipboard pieces on the card but didn't adhere them — I just kinda played around with positioning. Then when I got it how I liked it, I took a picture with my trusty iPhone. This little tip has saved me so many times! Then I just adhered the chipboard pieces in place, and put glitter along the edge of the cloud and the raindrops.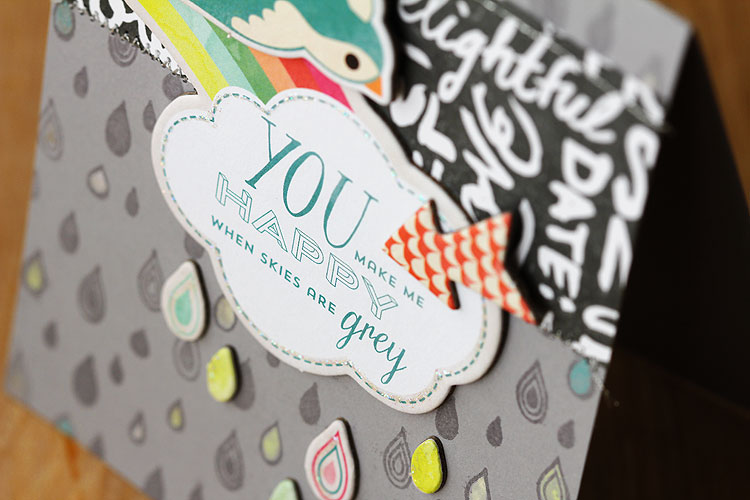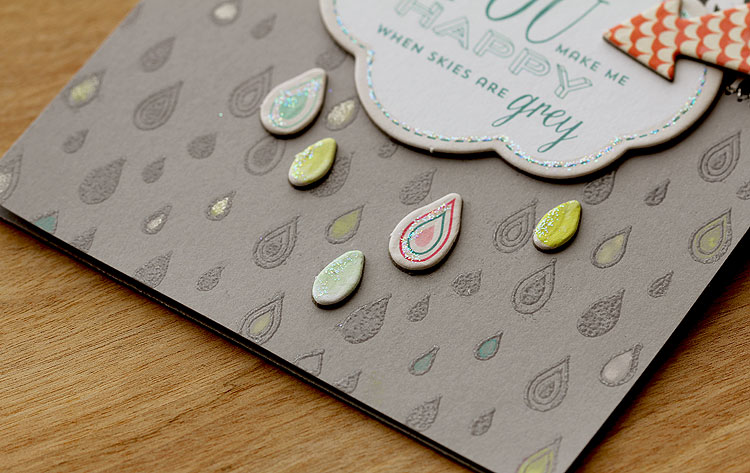 And that was that! Can you see from my photos how rainy and gloomy it was out? I kinda like them, I think taking photos of the card on a sunny day just wouldn't be right.
Supplies
Can't wait to give this to J! And hope you have a great day,