Hey you all! Hope that you're having a great weekend. Me? I've been playing around with my blog theme and I really love how it turned out! Every now and then I get the urge to try something new, although I had been using my old theme (and tinkered with it) for around 5 years now. This new theme is called Wintersong and it's responsive, so it should look great from no matter where you're viewing it. Let me know what you think!
Now for my first post with the new theme — and a confession:  I have a love/hate relationship with pocket scrapbooking. There, I've said it. I want to do it. Really I do! I have tons of supplies in my stash. I have a Studio Calico Project Life subscription. Sometimes I take out my supplies and look through them. Then I organize them and put them all back away. Earlier this year I got started again, but it only lasted a few weeks.
So I sat down and asked myself why. Why can't I do this, when I really want to? And I think comes down to a combination of things:
I feel guilty about doing it. I love to make stuff, but I always seem to give away everything I make. Cards, mini-albums, crochet, other crafty projects.  Things for work. Yep, I give them all away. Somehow it feels selfish to sit down and make something just for me.
I don't want to do it "wrong". Logically, I know that there's no right or wrong way to do this. But I have a hard time getting past it.
I don't have time. I can barely keep up with so many other things in life. And as I said in point number one, I feel guilty about taking time for me. I know that we can make time in our lives for anything we want tho, as long as it's a priority.
So armed with this knowledge I sat down and made a page about all about starting over. And it felt so good!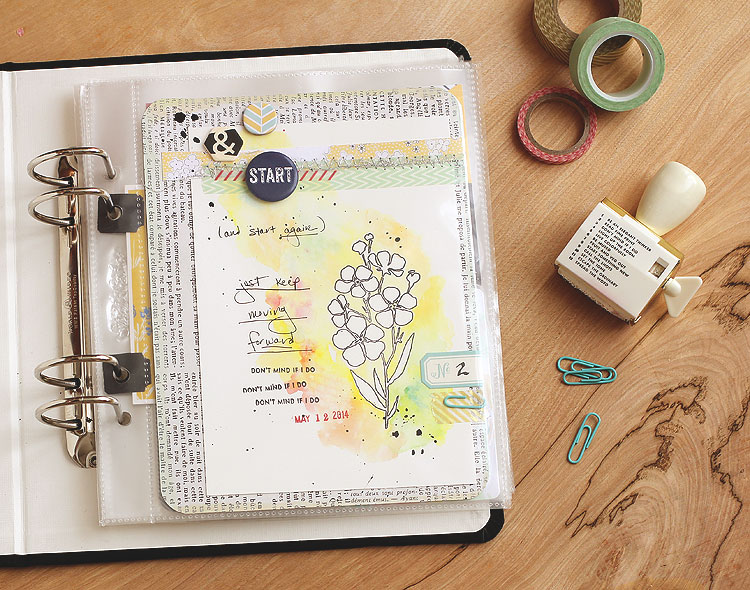 I started out by stamping the Hero Arts Night & Day Flowers on some watercolor paper, then watercolored around it. I didn't bother using any masking techniques because, well, I'm too lazy! Instead I just pre-wet the area with plain water. This makes a sort of barrier so that the color can't escape. Try it, you'll like it :)
And I gotta say that I just can't get enough of this stamp! When it was dry I put it on a page and then played around with some embellishments. I found this "start" badge from Studio Calico and it was perfect.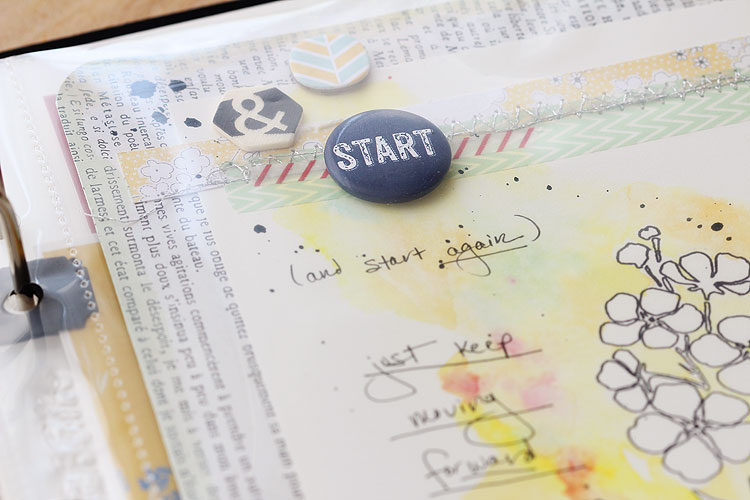 Also just had to use my roller date stamp from Kate Spade. Love.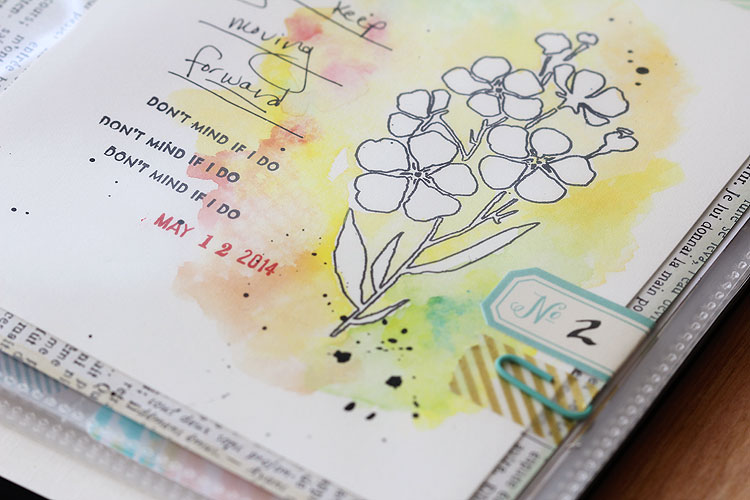 I had started another page with some brush script and I used the leftover black gouache to make some splats here and there.
Felt so good to start again. How about you, have you started pocket scrapbooking and started again? I'd love to hear your thoughts. xo
Supplies